by Major Van Harl
Buy yourself a Henry Big Boy Silver Rifle your great, great, great, grand-children will love it.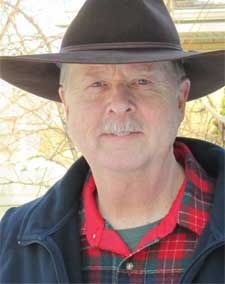 United States -(AmmoLand.com)- We will start off with the obvious fact that the new Henry Repeating Arms, Big Boy Silver rifle, is gorgeous.
I can probably state with some accuracy that John Wayne never used any gorgeous rifles to win the west and save the world.
He used rifles that were practical, that were functionally reliable, service ready, and he used rifles that could endure the hardships of lots of field wear.
Sadly Mr. Wayne one of the great American icons has been gone for thirty seven years and never had the chance to get his hands on a gorgeous Henry Big Boy Silver rifle.
Henry Big Boy Silver Rifle
I would suggest that the Henry Big Boy Silver Rifle would have been and can now be the quintessential cowboy "bling" rifle. The problem is in our current society the word "bling" brings to mind the over the top indulgence of a wasteful society. "Bling" is stuff that you buy and display that is too expensive, too flashy, of limited value considering the buying price, and most importantly not of any real practical use. While looking "sharp" and turning gun owners heads (after all it is about marketing) the Henry Big Boy Silver rifle is none of the above negative descriptions.
There is nothing at all wrong with having a darn fine looking repeating rifle in your hands as you drop that ten point buck this coming deer season. There is also nothing wrong with deploying a sharp looking and sharp shooting rifle when you have to stop a couple of "walkers" from eating the wife and kids.
"Walkers" do not understand beauty or ugliness; they only deliver evil and destruction. In that situation you need a rifle that works every time and stops the evil.
To be honest I do not really understand metallurgy. I spoke to some of Mr. Imperato's engineers at Henry Repeating Arms and they tried to explain the hardness characteristic and abrasion resistance of the metal used in the new Big Boy Silver receiver. The silver action is made from a proprietary alloy that is as strong perhaps even stronger than the Big Boy Brass receiver. The silver is not a type of plating or a coating. It is a solid, silver in color alloy inside and out, that can take the hard field usage and still look great fifty years from now.
It was described to me as a boutique metal—a manly boutique metal mind you. I personally look at it from the vantage point of I am the consumer not the manufacturer, and will enjoy the fruits of the Henry folk's labor and innovation.
What I believe is, Henry has a future legacy rifle on its hands. A hundred years from how when your great- great granddaughter, takes your "old" Henry Big Boy Silver rifle down from the fireplace mantel it will still be ready to go. She will be able to clean and polish the rifle, oil the moving parts and head out to your favorite spot in the woods to continue the family tradition of hunting with a Henry. Yes, I am sure after a hundred years there will be a few nicks and scratches but the rifle will clean up just fine, still sharp in looks and sharp in performance.
In the 1960s and 70s, the 38 special / 357mag handgun was the industry standard of the US law enforcement world. 357mag was and still is an excellent performing cartridge, even though it has been usurped by the high capacity semi-auto pistols of today's police and military. General George Patton carried a 357mag revolver during WWII.
What the "cops" of the above era needed was a rifle in 357mag. There was limited choice and limited product availability. Henry saw the continuing need for a lever rifle in 357mag and has built all its Big Boy rifle models out in 357mag.
The number one selling handgun in the US is the small framed 38 special revolver. Even with the move to 9mm and 40 S&W in the "cop" arena, there will always be a demand for 38 Special, and 357 mag ammunition. The ownership of a quality built, repeating rifle in 357 mag (also shoots 38 special) should be in every gun owner's inventory.
First off, even the hottest of Mr. Sundles' Buffalo Bore 357mag Ammo is of no discomfort problems to the slightest of framed persons when shooting a Henry Big Boy Silver Rifle. The shooting of the much lighter 38 Special loads out of the Henry is almost comical in the difference in recoil, but there is still a functional and useful purpose for 38 Special ammo used in a repeating rifle. The Henry Big Boy actions were designed to accommodate the 44 mag cartridge and 45 Long Colt, so it can handle the warmest of the factory 357mag ammunition on the market today.
Buffalo Bore Ammunition's 357mag 19C moves a 158 gr JHP bullet out at 1475 fps. The 19D, 125 gr JHP ammo hits 1700fps. If you need lead free ammo the 357 mag 125 gr Barnes XPB, Buffalo Bore ammo is rated at 1650 fps.
Now the Buffalo Bore 357mag ammunition I really like is the 19A, Outdoorsman ammo. This round has a 180 gr Hard Cast LFN that travels at 1400fps. I like big bullets exiting my lever action rifles. Bullets that make big holes in things that needs to be stopped, now.
A Montana State police officer personally tracked down Mr. Sundles at the Buffalo Bore factory to thank him for manufacturing the 357mag Outdoorsman Ammunition. The Trooper was fishing on his off duty time when he was charged by a black bear. He was carrying a three inch 357 mag handgun that day, loaded with the Outdoorsman ammo. He stopped the bear with one shot at three feet. It was not a bluff charge, the bear wanted fish and when he did not get any, the Trooper was on the lunch menu.
Buffalo Bore ammo was strictly business that day (buffalobore.com). The uninjured and still breathing Trooper, who continues to serve and protect the State of Montana, is proof of that.
All of these above types of Buffalo Bore 357 mag ammo will have an approximately 400-500 fps increase when shot out of a Henry Big Boy Silver rifle. 500 more feet-per-second means a lot more energy striking the black bear or "walker" who is charging you. Eleven rounds of rapid fire ammo, dispensing a flat 180 grain hunk of lead, gets the intended target's attention. Also, all this good and warm ammo can be safely used in the companion 357mag handgun you should be carrying with your Henry rifle.
The only negative thing I can say about the Henry Big Boy Silver Rifle in 357 mag is it is a shame they were not around in the 1960-70s when most of the "cops" in this country carried a 38/357mag handgun. There would have been thousands of squad cars with rifle racks positioned so the officer could get the Henry out in a hurry to stop evil.
A by-gone era for law enforcement, however a new era for the white tail hunter of today, or anyone who wants to own a quality lever action rifle.
Approximately 45% of Henry Big Boy rifles are manufactured in 357mag. Mr. Sundles advised me that his 19C, 357mag ammo if shot out of an 18 ½ inch rifle barrel supersedes 30-30 energies. This combination of a Henry rifle and Buffalo Bore ammo speaks for itself. In the military we call this a force multiplier.
Whatever the new word is 100 years from now that will replace the term "bling" I am sure it could be used in reference to the "future antique" Henry Big Boy Silver Rifle in your descendant's gun case. It will however be used as a positive to describe a quality made rifle and not a pejorative word that might imply excess. There is never anything wrong with owning beautiful, quality made and pleasant looking tools that also provide enduring function and reliability.
John Wayne's grandfather, Marion M. Morrison fought with two Illinois Infantry units during the Civil War. A lot of the Illinois boys bought their own Henry Rifles to improve their odds of surviving that war. It makes you wonder what types of rifles are sitting in the closets of Mr. Wayne's grand and great grandchildren.
Buy yourself a Henry Big Boy Silver Rifle your great, great, great, grand-children will love it.
Henry Big Boy Silver Rifle Resources:
Major Van Harl UASF Ret. / [email protected]
About Major Van Harl USAF Ret.:
Major Van E. Harl USAF Ret., a career Police Officer in the U.S. Air Force was born in Burlington, Iowa, USA, in 1955. He was the Deputy Chief of police at two Air Force Bases and the Commander of Law Enforcement Operations at another. He is a graduate of the U.S. Army Infantry School. A retired Colorado Ranger and currently is an Auxiliary Police Officer with the Cudahy PD in Milwaukee County, WI. His efforts now are directed at church campus safely and security training. He believes "evil hates organization." [email protected]