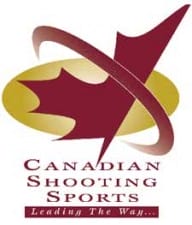 Etobicoke, ON -(AmmoLand.com)- June 7th dawned ominously. Rain clouds, high winds and cold temperatures threatened to wash out the 5th annual "Parliamentary Day at the Range."
However, by 8 a.m. the threat of bad weather had lifted, and we had a green light for one of the largest non-partisan events on Parliament Hill. And large it was: 101 MPs, Senators and senior staff assembled at Stittsville Shooting Ranges to partake in a exciting morning enjoying the best of the shooting sports. This event, the brainchild of the CSSA and the Parliamentary Outdoor Caucus Association of Canada, has grown in popularity every year since its inception.
Members of all the major political parties tried out everything from handguns and black rifles to long-range target shooting and trap/skeet. Smiles were very much in evidence.
There was a special surprise appearance by the Leader of the Official Opposition, the Hon. Rona Ambrose, M.P. She handily proved that her prowess with a .32 ACP Walther PPK was the equal of her considerable political skills. The Hon. Kellie Leitch, one of the leadership frontrunners, also tried every firearm she could and thoroughly enjoyed herself. Judging from her targets, Dr. Leitch is a straight shooter too.
Indeed shooting skills were found across all political parties. NDP MP Christine Moore proved to all that she is no stranger to precise shot placement. Liberal MP Gudie Hutchings showed us how it was done in northern Newfoundland. And, honestly, who knew that the Hon. Peter Kent, MP, had such amazing shooting skills?
The ranges were certainly busy. Businesses with the CSAAA held over their wares and displays from the "CSAAA Dealers Day" on June 6th. These businesses generously provided guns and thousands of rounds of ammunition for the event. A special thanks to Alison de Groot for so capably assisting in this huge task.
In all, the 5th Annual "Parliamentary Day at the Range" was an unqualified success.
Phil Morlock, Chair of the Outdoor Caucus Association of Canada said: "I believe that events like this do more to remove the false impressions and Hollywood negative stigma that surround firearms, hunting and sport shooting than any other approach."
The CSSA believes this too. No one leaves a shooting range without a smile. Once again, we walk the walk and get it done.
Thank you to the OCAC members and board, the CSAAA members, board and staff, Cindy, Sam, Angela and of course, Linda and Lisa Conley at the Stittsville Shooting Ranges for their amazing and generous support of this incredible event. And let's not forget the amazing participation and competent professionalism of our CSSA board, staff, RSOs and volunteers.
Well done Team CSSA!
About CSSA:
The CSSA is the voice of the sport shooter and firearms enthusiast in Canada. Our national membership supports and promotes Canada's firearms heritage, traditional target shooting competition, modern action shooting sports, hunting, and archery. We support and sponsor competitions and youth programs that promote these Canadian heritage activities.
For more information, visit the website at www.cdnshootingsports.org.