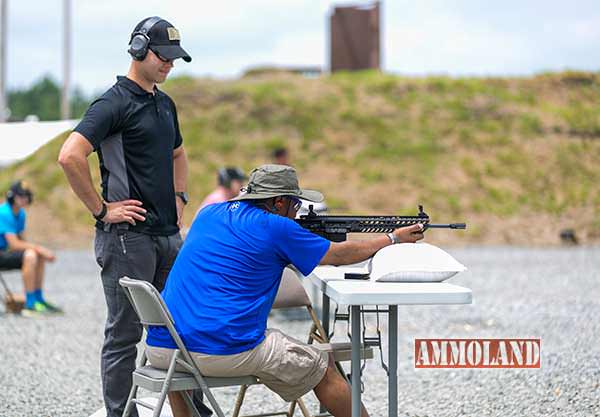 Moyock, NC– -(Ammoland.com)-Honored American Veterans Afield (HAVA) and ACADEMI announce another very successful National Family Day held June 4, 2016 at the 7,000-acre ACADEMI Training Center in Moyock, NC. Serving almost 200 disabled military, their spouses and children plus over 170 volunteers; the event featured exhibitions and training as well as veteran and spouse shooting at eight stages. The event also included youth airsoft urban tactics training simulations, gift bags, raffle prizes worth approximately $20,000, and the participant's exposure to a new high performance line of air guns. Additionally, each veteran received an entry into a drawing for a limited edition engraved Glock 30th Anniversary pistol available to all attendees at HAVA's family day events in 2016.
"HAVA's service to the military community continues to grow, now in its 8th year, funded by 4-dozen shooting sport industry companies committed to our mission of providing active outdoor events to help these American heroes and their families adjust back into civilian life," said HAVA Chairman Tom Taylor. "The ACADEMI training venue and their team of seasoned military veterans are one of our strongest partnerships in this work, and their long-term commitment will allow us to continue to serve these military families for many years to come. Just saying "thank you for your service" isn't enough – Americans and American companies owe these great people all that they can muster in long term support."

HAVA/ACADEMI

"Each year in the spring, HAVA Family Day affords almost two hundred ACADEMI employees and volunteers the opportunity to acknowledge and reward the brave disabled military families that have given so much to preserve our freedom," said Jason DeYonker, CEO of Constellis, ACADEMI's parent company. "More than half of our employees are former military or law enforcement personnel, so we truly understand the unique challenges that disabled veterans and their families can face. We uphold an unwavering commitment to serve those who have served so valiantly for this country and hope we're making a difference in the lives of these families for the long term."
About HAVA
HAVA is a 501(c)3 organization formed by companies in the shooting and outdoor industry with the purpose of raising awareness and further assisting disabled veterans with their healing process through guided hunts, shooting events and other outdoor sports activities. The sustaining sponsor companies are Smith & Wesson, NSSF, Sig Sauer, Academi, Arnold Defense, ATK/Federal, Barrett, Crimson Trace, Diamondback, FMG Publications, Glock, Hornady, Leapers/UTG, Leupold & Stevens, Mossberg, NASGW, Proof Research, Ruger, Surefire, Taurus, XS Sights, and Yamaha Outdoors among numerous contributing companies. Those who would like to learn more about the HAVA organization can do so at www.honoredveterans.org.
About ACADEMI
ACADEMI, a Constellis company and leading provider of elite training services, owns and operates the largest private training center in the United States. Located in Moyock, NC, the 7,000-acre, state-of-the-art training facility hosts more than 20,000 students each year. Able to train 1,500 students at a time, 24 hours-a-day, 365 days-a-year, ACADEMI delivers high volume, concurrent training and educational capabilities for government and commercial customers. Offering over 500 different curriculums, ACADEMI instructors come from a wide range of military backgrounds including U.S. Army Special Forces, U.S. Navy SEALs, U.S. Army Rangers, U.S. Marine Corps, U.S. Coast Guard and SWAT teams. ACADEMI also offers satellite training facilities in San Diego, CA; Salem, CT; and at customer sites. Learn more at www.academi.com or at www.constellis.com.