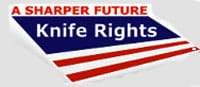 Atlanta, GA –-(Ammoland.com) – Knife Rights is pleased to announce that Hogue, Inc. is the recipient of its 2016 Freedom's Guardian Award which was presented to Mr. Jim Bruhns and Mr. Neil Hogue, two of Hogue's owners, during BLADE Show in Atlanta, Georgia.
The annual Freedom's Guardian™ Award honors a production knife manufacturer or industry partner that has demonstrated their commitment to a Sharper Future™ by leadership in the fight to protect or enhance our knife rights.
Knife Rights Chairman Doug Ritter said, "Although Hogue is relatively new to the knife business, delivering their first knife just seven years ago, they have stepped up big time to support Knife Rights' efforts to forge a Sharper Future. With over four decades of experience in the firearms industry fighting for their Second Amendment rights, they appreciate what it takes to fight for knife owners' rights and we sincerely appreciate their generous support."
Jim Bruhns said, "we are certainly proud and honored to be recognized in this way. We are just grateful to have an organization like Knife Rights; they are the second front in the fight for the Second Amendment. You have our support and appreciation."
A video of the presentation can be viewed at: https://www.facebook.com/KnifeRights/videos/1037058969708378/
About Knife Rights:
Knife Rights (www.KnifeRights.org) is America's grassroots knife owners organization, forging a Sharper Future™ for all knife owners. Knife Rights is dedicated to providing knife owners an effective voice to influence public policy. In the past six years, Knife Rights has passed pro-knife legislation repealing knife bans in 15 states, stopped anti-knife legislation in 7 states and helped defeat ivory and mammoth ivory bans in 18 states. Knife Rights also leads a federal civil rights lawsuit against New York City and the New York District Attorney over their persecution of knife owners. Knife Rights is the Second Front in Defense of the Second Amendment™.