By Judy Ragsdale, a director at Elite Arms Training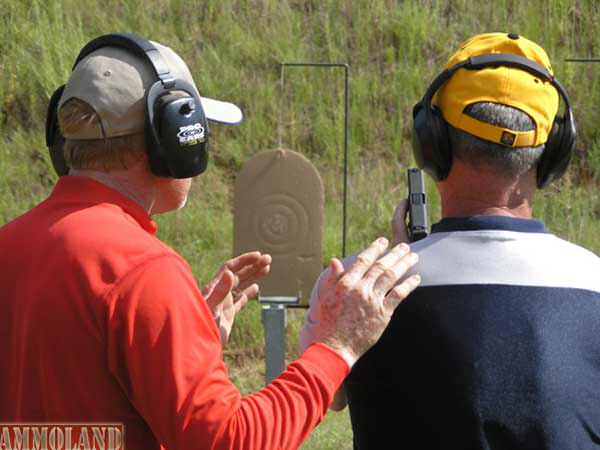 USA –-(Ammoland.com)- Heading to the gun range for the first time can be exciting, intimidating, and even anxiety inducing.
It's important to keep in mind, however, that anxiety is most often the result of a lack of information!
There are several tips, tricks, and suggestions on-hand to help you become an informed, prepared, and safe participant at the range during your first experience.
You MUST be familiar with the basic rules of firearm safety. Going over the rules not only increases your chances of staying safe, but also of having a pleasant experience overall. The basic rules serve as an excellent introduction to safe handling principles, guns, and ammunition. Better yet: take a firearms safety class before you even pick up a gun!
Check the range and the weapons it allows. While some ranges have few restrictions on the type of firearms you can bring, others may only allow pistols or rimfire rifles, for example. You'll also want to look up the rules in your state and county regarding the transportation of firearms in vehicles. Make absolutely sure that your gun is unloaded, that the magazine is out, and that the chamber is empty. Lock your case if laws require you to do so.
Think carefully about what you are going to wear out there. While most people recommend wearing long sleeves and long pants, some people don't mind wearing t-shirts and shorts. You'll want to wear clothing that washes easily that you won't mind getting a little dirty. Do NOT wear a low-cut shirt; hot brass that's just been ejected from a firearm that falls down a low-cut top is not pleasant! Always wear close-toed shoes to protect your feet, and a hat with a brim can help protect your head and face from ejected brass.
Checking in at the gun range is a varied process. Sometimes you can rent a gun at the front desk, sometimes not. Sometimes you'll be asked what you'll be shooting (the caliber/type of your gun), sometimes you won't. They may inspect your ammo, and they may not. Keep in mind that if the front desk personnel do ask you many questions, it's not to "trip you up" or get you into trouble. The point is to make sure everyone stays safe and that no equipment is brought in that will cause excessive damage. Range rules are always posted near the check-in area, so be sure to find them and read them.
Don't be shy about announcing that you're a newbie. Come right out and tell the range officer this is your first trip; most likely, he or she will be very helpful and friendly, and will offer excellent guidance. Range officers tend to have a real passion for shooting, and are often excited to see new people take up the hobby. In addition of course, he or she will also appreciate your sincere concern for safety and learning. Never be afraid to seek expert advice if you feel it is warranted; gun specialists love to talk shop with new shooters!
Get familiar with basic shooting range etiquette – really familiar. Inexperience doesn't matter– safety is what it's all about. Don't try to hide the fact that you're inexperienced. Be open about it and embrace it; people there will appreciate it and be more than willing to help in all the right ways. They won't get annoyed that you're there for the first time; they will get annoyed if you are unsafe or unaware of safety and don't ask.
Eye and Ear Protection is non-negotiable. Know that it's not even up for discussion, save for the fact that at check-in, the staff will most likely ask you if you "have eyes and ears", meaning protection. Glasses or shooting glasses and either earmuffs or earplugs are required at all times. If you haven't purchased both, be prepared to purchase or rent them there. You can even wear both earplugs and earmuffs at an indoor range! In addition to eyes and ears, you may be asked if you need any extra targets or extra ammo. Some ranges have limits on how many boxes of ammo you can buy; they also may sell you ammo when you're about to shoot, but not when you're about to leave.
Buy a Range Bag, which is very useful for holding everything you need neatly. It doesn't have to be one that is specifically designed for ranges; it can be a small duffel bag too. What should you have in your bag? Consider adding your gun(s), eyes and ears, two to five ammo boxes, a rag or towel, a multi-tool, notepad and pen, and masking tape. The style of your bag doesn't matter – what matters is protecting your gun and having a bag constructed to support the weight of your equipment.
Taking your lane and hanging your target is a cinch. You'll go to your assigned lane, put down your stuff, hang your target, then you can unpack you bag. Don't get flustered if you are approached by a range officer; they are there to ensure that you are familiar with the basic rules. This is the perfect time to relay the fact that you're new to shooting at ranges. Unpack only one gun at a time and only one box of ammo at a time.
Show others when your gun is NOT loaded. Many ranges now encourage the use of an empty chamber indicator. It is usually a florescent or colorful plastic rod that is inserted through the barrel or action. If you set your gun on the bench, lock the slide open or have the cylinder empty and open, them insert the an empty Chamber Indicator. There is no room for uncertainty in a gun range. NEVER point your gun anywhere but downrange. Always. This is usually a requirement, and failure to do this is usually the best way to get yourself asked to leave. Having your weapon pointed in the general direction of downrange is not good enough!
Even though there may be a lot to try to remember when you are new to attending shooting ranges, the most important thing to keep in mind is to NOT try to act like you know what you're doing if you don't know what you're doing! Ask for help, ask about the rules, ask about suggestions. If you are unsure of anything, always ask. The range is not a place for guesswork or ignorance that could be avoided.
Ask for help, have fun, and be safe.
You can best prepare for your first time at a range by participating in a firearms training course, which will offer you personalized attention in a comfortable, safe atmosphere designed for teaching and learning the knowledge you need to stay safe and successful with firearms.
About Elite Arms Training
Elite Arms Training provides firearms training to those who seek personalized attention and a comfortable atmosphere. We take a business-like approach to teaching you the skills and knowledge necessary to place your bullets where they need to be, whether it's self-defense, competition, hunting or just looking to improve your ability at the target range.www.elitearmstraining.com