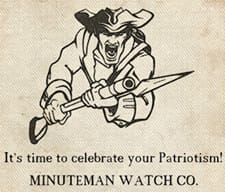 Bloomington, IL -(AmmoLand.com)- Minuteman is proud to announce our new American made knives!
We have teamed up with former Army Ranger Justin Gingrich at Gingrich Tactical Innovations to offer you this high quality American made knife.
We are offering this new design in multiple versions. The base version is set up for neck carry but can be converted to other types of carry. We are offering our base model for just $175.00 and here is what it looks like. For spec's and ordering info please visit our retail site here.
We are also offering a deluxe model which is outfitted with contoured G10 handle scales. This version is being offered for $225.00. For details and ordering info please check out the listing on our retail site here.
We are also offering a steel clip which can be easily added to the Kydex sheath that each of these knives ships with. Which will you to carry the knives on your waist or in a pocket. You can find that clip right here. Below is a photo of one of the sheaths equipped with this clip.
As of right now we are calling this model "The Adjutant" which is a name that was suggested to our brand by NY Times top selling author Brad Thor. We are accepting orders for these new products right now. We will build them as they are ordered so please allow 2 to 6 weeks for delivery of your completed knife.
If you have any questions email us at [email protected]
About Minuteman Watch Co:
Minuteman Watches was brought to life in 2013, for 3 reasons: 1. To raise funds for charities that assist Veterans and their families. 2. To provide work for Americans when and where we can. 3. To provide a quality product that will stand the test of time. Minuteman Watch Co. is dedicated to producing the best watch with the best materials at its price point. When you buy a Minuteman Watch, you are not just getting a fantastic and well built watch you can always rely on, but you are also helping support American Workers and US Veterans. All of Minuteman watches are built by highly skilled American watchmakers in the United States of America. Minuteman has cut no corners to offer you a quality, reliable, and good looking watch you can be proud to wear.
For more information, visit: www.MinutemanWatches.com.