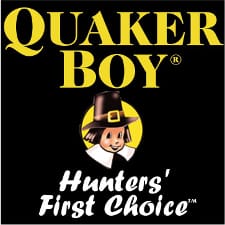 Orchard Park, NY -(AmmoLand.com)- The Original Hawg Trough call is an "Old School" turkey killer.
Hand Crafted to meticulous standards, the sleek narrow trough design aligns the Wildwood Ash striker tip naturally on the aluminum striking surface; allowing for deadly sweet hen talk.
The American Hardwood base holds a strategically placed slate striking surface on the backside to produce the subtle seductive early morning hen chatter.
Aluminum & Slate Striking Surface!
Hardwood Base!
Wildwood Ash Striker!
Item – #13695
MSRP – $44.99
About Quaker Boy, Inc.:
Quaker Boy Inc. is a manufacturer of wild game calls. Founded in 1976 in Orchard Park, New York.We pride ourselves on producing the highest quality and most innovative game calls in the industry.
For more information, visit: www.quakerboy.com.