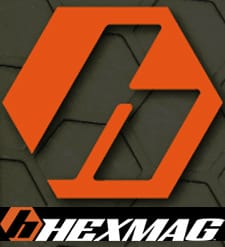 Loveland, CO -(AmmoLand.com)- Yes really! Hexmag, LLC; the maker of the most advanced and versatile AR-15 platform magazine in the market, announces the release of their new Series 2 magazine.
For years the Hexmag Series 1 magazines proved a reliable and durable hit with shooters across the country. As with the Series 1, the Series 2 will be available in .223/5.56 x 45 and will also reliably support .300AAC Blackout, .458 SOCOM and .50 Beowulf rounds.
The new Series 2 light-weight high-durability magazine has a revised catch pocket with improved magazine stabilization providing greater retention under the most demanding environments. Additional changes were made to the feed lips and a new stripper clip guide was added to increase efficiency in charging the magazine.
Engineered for greater overall performance than current magazines in the market and produced from tough and intensely tested proprietary fiber-reinforced polymer, the new Series 2 magazines are available in black, olive drab, grey and flat dark earth (FDE) and function in all mil spec AR platforms and most that are not.
"The Series 2 magazine's development is the result of much improved design and engineering that has resulted in an AR magazine with superior strength, minimal weight and most importantly a streamlined interior for greater durability and reliability." — George Brown, President of Hexmag.
Hexmag's unique patented exterior provides incredible grip in any condition or environment with or without gloves and can be augmented with optional extreme Hexmag Grip Tape. Combined with dual leg tilt-proof multi-color coded HexID magazine followers and base plate latch plate/identifiers, the Series 2 is durable, ultra-reliable, and affordable and represents the most versatile AR magazine in the market.
Shop Hexmag Magazines online at Brownells.com ~ https://goo.gl/9d37U5
Hexmag magazines are made in the USA and come with Hexmag's Lifetime Warranty!
About Hexmag:
Hexmag, founded in early 2013, was an exercise in 3-D design and printing. We chose an AR-15 magazine as our project. We found out it was not easy to create a working AR magazine. Getting the AR magazine to fit in a lower receiver and stacking exactly 30 rounds into the magazine was not easy. Then firing those rounds reliably made our task almost impossible. Rather than give up on our design efforts after one attempt, we kept working on the project. We refined our design again and again. We were driven to make it work.
For more information, visit: http://hexmag.com.