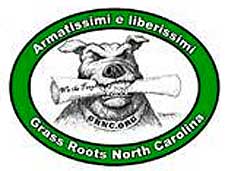 North Carolina –-(Ammoland.com)- Thanks to your generous support, since the beginning of 2016, Grass Roots North Carolina has embarked on one of its most ambitious election efforts. Today, the GRNC Political Victory Fund and its sister entity, the Judicial Fairness Project, crowned those efforts by kicking off three radio campaigns in major North Carolina markets.
The first advocates Senator Buck Newton for Attorney General. As you may recall, Newton (GRNC ****) was largely responsible for the three pro-gun omnibus bills successfully shepherded by GRNC in recent years. He is opposed by anti-gun leftist Josh Stein (GRNC 0-star). To hear the radio spot, CLICK HERE or go to: https://www.youtube.com/watch?v=lz9RhVOpo1I
The second ad advocates Bob Edmunds for Supreme Court. Edmunds has served since 2001 and faces liberal Michael Morgan for the seat. Like the US Supreme Court, conservative control of the NC Supreme Court hangs in the balance. To hear the radio spot, CLICK HERE or go to: https://www.youtube.com/watch?v=FkdNDcyT_Ko
The third ad is my personal message to gun voters reminding them that whoever wins the presidential election gets to make the next US Supreme Court nomination, and that a Hillary Clinton nomination will most certainly attack gun rights for decades to come, potentially paving the way for the Australia-style gun confiscation Clinton has already said she wants. To hear the radio spot, CLICK HERE or go to: https://youtu.be/5H7yCjnsIGw
We're Firing Every Round of Available Ammunition
As always, GRNC is "all in" on the election. Some highlights:
128,000 pieces mailed, including 75,000 "Remember in November" voter guides mailed directly to gun-owning voters;
110,000 Remember in November voter guides printed and distributed not only via mailings but also gun shops, gun shows and volunteers;
GRNC-PVF mailings and robocalls into 15 state House and Senate districts;
81,000 telephone election alerts;
3 radio campaigns (as described above); and
Hundreds of thousands of email election alerts.
How You Can Help Ensure Success
I can't tell you how this election will end. (Frankly, anyone who claims they can is probably a charlatan or a fool.) But here is how you can improve our odds:
USE GRNC CANDIDATE EVALUATIONS, by CLICKING HERE or going to: http://www.grnc.org/remember-in-november. Already used them? Make sure others do too!
CHECK GRNC-PVF CANDIDATE RECOMMENDATIONS: These are designed to give you insight into particular races and candidates. CLICK HERE or go to: http://www.grnc.org/documents/2016-GRNC-PVF-General-Election-Candidate-Recommendations.pdf. Once again, get others to use them too!
VOTE JUDICIAL RACES, and I don't mean just Bob Edmunds for NC Supreme Court, but also NC Court of Appeal races: Vote Phil Berger, Jr., Rich Dietz, Bob Hunter, Hunter Murphy, and Valery Zachary. For more information, CLICK HERE or check http://www.JudicialFairnessProject.org
VOTE FOR YOUR FAVORITE GRNC RADIO SPOT: Frankly, our coverage on the ads is still thin, so I'm asking you to vote with your wallet. All contributions will be used for purchasing additional air time. If you like the JFP spots for Buck Newton and Bob Edmunds, please donate at: http://www.judicialfairnessproject.org/index.php/donate But if you like the GRNC-PVF ad imploring gun voters to vote against Clinton, please contribute by CLICKING HERE or by voting at: http://www.judicialfairnessproject.org/index.php/donate
Armatissimi e lilberissimi
About: Grass Roots North Carolina is an all-volunteer organization dedicated to preserving the freedoms guaranteed us by the Bill of Rights. Our main focus is the right to keep and bear arms. GRNC was central to drafting and passing North Carolina's concealed handgun law and since that time has continued to push for improvements to gun laws. Visit:www.grnc.org