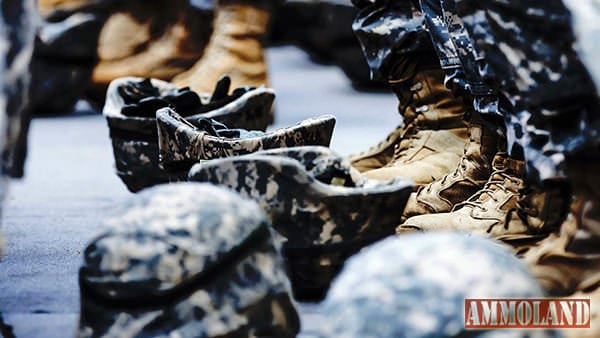 WASHINGTON, D.C. -(Ammoland.com)- Financial issues of military pay, changes to retirement benefits, and military spouse employment are the top concerns among military families, according to the 2016 Blue Star Families (BSF) annual Military Family Lifestyle Survey (aMFLS) released today.
However, quality of life and wellness concerns are increasing relative to financial concerns.
Three of the top issues for military families revealed in the 2016 survey are related to quality of life: impact of deployments on children, family stability and operational tempo.
"This year's survey results show a military community at a point of inflection," explained Cristin Orr Shiffer, Senior Advisor for Policy and Survey at Blue Star Families. "It shows the country needs to get smarter about what a healthy All-Volunteer Force really looks like and what it needs it to look like to ensure future success."
The survey is a yearly snapshot of the state of military families, offering crucial insight and data to help inform national leaders, local communities, and philanthropic actors.
Most critically, the survey is an opportunity to increase dialogue between the military community and broader American society, minimizing the civilian-military divide and supporting the health and sustainability of the All-Volunteer Force.
"The insight gained in this comprehensive survey doesn't just give voice to the financial and quality of life concerns of our nation's military families," said Mike Kelly, assistant vice president of Military Advocacy at USAA. "It gives the rest of the nation a blueprint for the kind of support the military community needs to stay strong on the home front."
The survey's findings indicate military families are assets to national defense and local communities. They are central to the health and capability of the All-Volunteer Force and are good neighbors actively engaged in making their civilian communities great places to live.
Service members may be employed by their respective services, but they work for all Americans – and so do their families.
The Comprehensive Report is a framework through which our national leaders and local communities can better understand why supporting military families isn't just the right thing to do – it's also the smart thing.
About the Military Family Lifestyle Survey:
This is the seventh iteration of the BSF Military Family Lifestyle Survey, which has been conducted annually since 2009. The 2016 survey, designed by Blue Star Families in collaboration with Syracuse University's Institute for Veterans and Military Families (IVMF) and analyzed by the Department of Research and Policy at Blue Star Families, was fielded in April and May of this year. More than 8,300 military families, including active duty service members and veterans, provided valuable insight regarding the true cost of sustaining the All-Volunteer Force. The Military Family Lifestyle Survey's response rate makes it the largest and most comprehensive survey of active duty, veterans, and their families.
Funding for the 2016 annual Military Family Lifestyle Survey is provided through the generosity of our presenting sponsor USAA and from Lockheed Martin Corporation, UnitedHealthcare Military and Veterans, Fisher House Foundation, Facebook, and the USO.
To read the complete Comprehensive Report for the 2016 Military Family Lifestyle Survey, visit their website.
About Blue Star Families:
Blue Star Families builds communities that support military families by connecting research and data to programs and solutions, including career development tools, local community events for families, and caregiver support. Since its inception in 2009, Blue Star Families has engaged tens of thousands of volunteers and served more than 1.5 million military family members. Blue Star Families believes that all military families should be able to serve and simultaneously build thriving and healthy families. With Blue Star Families, military families can find answers to their challenges anywhere they are.
Visit their website for more information.
About IVMF:
The IVMF is the first interdisciplinary national institute in higher education focused on the social, economic, education and policy issues impacting veterans and their families post-service. Supported by a world-class advisory board and public and private partners committed to advancing the post-service lives of America's service members, veterans and their families, the IVMF delivers class-leading programs in career, vocations, and entrepreneurship education and training. The IVMF also provides actionable and national impacting research, policy analysis and program evaluation; coordinates comprehensive collective impact strategies; and works with communities and non-profits to enhance service delivery for veterans and their families.
Please visit their website for more information.
About USAA:
The USAA family of companies provides insurance, banking, investments, retirement products and advice to 11.8 million current and former members of the U.S. military and their families. Known for its legendary commitment to its members, USAA is consistently recognized for outstanding service, employee well-being and financial strength. USAA membership is open to all who are serving our nation in the U.S. military or have received a discharge type of Honorable – and their eligible family members. Founded in 1922, USAA is headquartered in San Antonio.
For more information about USAA, follow us Twitter or visit their website.