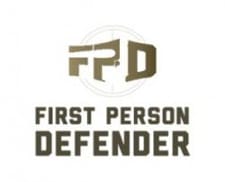 Mandeville, LA –-(Ammoland.com)- A quiet afternoon becomes a day he'll never forget! In the First Person Defender Season 4 episode "Home Invasion Foiled by Armed Homeowner," the participant, DoubleTap Ammunition owner Mike McNett, is surprised when a stranger enters his home uninvited.
Will he be able to protect himself or will he be caught unprepared? Find out what happens on this episode, and watch more "ripped from the headlines" scenarios as First Person Defender's "Defender Week" continues!
Watch a NEW episode from Season 4 every day, beginning at 12:00pm, through Sunday, Dec. 4 for free on Gun Talk Media's YouTube (www.youtube.com/guntalktv) and Facebook (www.facebook.com/guntalkmedia) pages, plus Gun Talk's Roku (bit.ly/GunTalkRoku), Amazon Fire TV (bit.ly/GunTalkAmazon), and Apple TV (bit.ly/GunTalkApple) channels, and enjoy past seasons of First Person Defender here:
Season 3: http://bit.ly/FPDSeason3
Season 2: http://bit.ly/FPDSeason2
Season 1: http://bit.ly/FPDSeason1
Plus, to celebrate "Defender Week," McNett is offering 15% off all purchases through December 4 at www.doubletapammo.net when you use the code FPD16!
First Person Defender is a web television series from GunTalk Media that puts regular people with varying degrees of firearm knowledge into force-on-force self-defense scenarios using Simunition conversion kits and FX Marking Cartridges. First Person Defender gives viewers a unique first-person look at what it's like to defend your life or the lives of your loved ones.
"Gun Talk" and "First Person Defender" are registered trademarks.
About GUNTALK:
GUNTALK airs on Sportsman Channel on Mondays at 10:00 PM Eastern, Tuesdays at 1:00 AM ET, Tuesdays at 9:00 AM ET, and Thursdays at 1:30 PM ET. Sportsman Channel can be found on DirectTV Ch. 605, DISH Network Ch. 395, AT&T U-Verse Ch. 642, and on your local cable provider. Watch show segments, get the latest news, and more, at https://www.youtube.com/guntalktv,http://www.guntalktelevision.com and http://www.guntalk.tv.
Find out more at www.thesportsmanchannel.com, and check your local listings for additional channel information.