By Mike Fernald
USA – -(Ammoland.com) –  L.L. Bean has hit the nail on the head with their Duck House portable pop-up waterfowl blind.
This light weight, extremely compact and portable blind is the perfect solution for the hunter who wants a go anywhere duck blind, that's actually made for waterfowl hunting. There are only a few other products that align within this category, and compared to the Duck House, they all fall well short.
L.L. Bean Duck House Waterfowl Blind
Like always, we put the L.L. Bean Duck House Waterfowl Blind through the ringer and it passed with flying colors. The aluminum support poles and weather resistant nylon fabric are surprisingly durable, and have all lasted very well through our cold duck season here in the northeast.
The entire blind weighs in at a mere 12.5 lbs. and all of the components role up nicely into a stuff sack that will most definitely keep it protected while traveling to and from your favorite duck hole. There are only three support poles, which make for a very simple and efficient set up. The blind has a classic "rectangular" duck blind shape that is very familiar with waterfowl hunters and can comfortably hold up to three hunters and one dog (comes with a dog door for easy retrieves). After getting proficient at setting up, we were able to have the blind set and stubble straps brushed in about 10 minutes.
"This is probably the coolest piece of duck hunting equipment I've ever used."
The blind has a roof panel that provides sufficient overhead cover and is designed to be easily retracted back out of the way with a pull cord if you prefer to stand while shooting. In the event that you have birds circling behind you, there are four zippered windows with mesh screening to view the angles that would otherwise be blocked.
When the action slows down and it's time to crack open that thermos filled with hot coffee, there are three integrated gun hook rests above each of the mesh storage pockets to hold your firearm and any other items you want kept in quick reach. It's the details like these as well as things like the rain gutter system that make this product stand true to the L.L. Bean name.
"Having the ability to bring a blind with you anywhere totally changes the game."
All in all, I am extremely happy that I stumbled upon this product, as it has aided in some fantastic mornings in the field, and I know that it can do the same for you. I'm looking forward to using it for many years to come.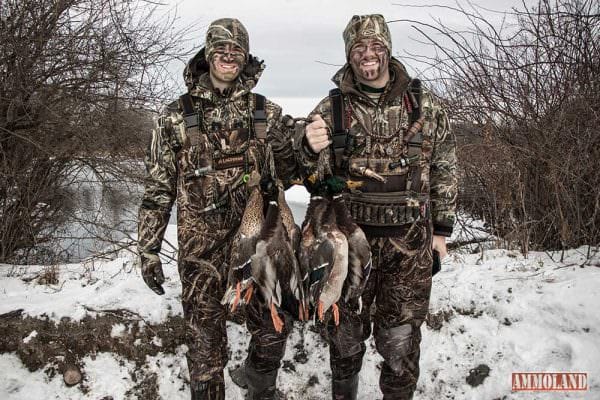 About Mike Fernald & Turkey Hill Outdoors:
Turkey Hill Outdoors, LLC is an organization devoted to sharing our experiences and love for the outdoors and conservation, through video production and photography. We are devoted to telling the stories and sharing the experiences that make the great outdoors truly so great. www.turkeyhilloutdoors.com