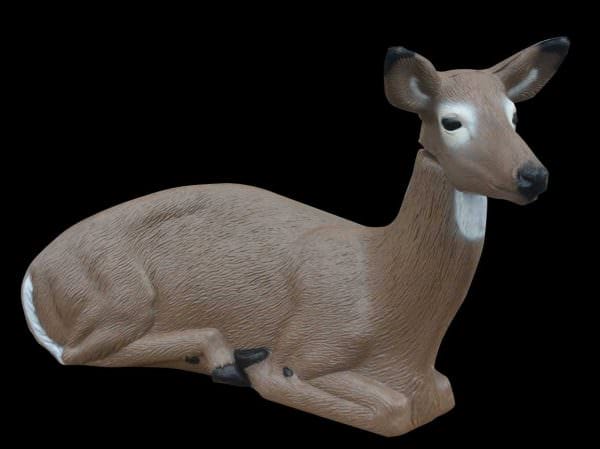 JANESVILLE, Wis. -(Ammoland.com)- For Rinehart Targets the launch of the entire motion-focused Doloma Decoy line was a great success in 2016.
For 2017, Rinehart has continued expanding on that product line with the introduction of the Doloma Bedded Doe decoy.
Cruising bucks certainly take interest when they spot a bedded doe—especially a bedded doe with another competing buck. With its patented design and lifelike movement, Rinehart's new Doloma Bedded Doe proves irresistible to monster bucks when paired with the Rinehart Doloma Buck.
Bowhunting for whitetails is all about fooling weary bucks just enough to get them within range, and the Bedded Doe has been created to help accomplish this, with the added benefit of calming of skittish does.
Its unique design, combined with award-winning sculpting for astonishing realism, arouses even the weariest animal's curiosity. The Doloma Decoy's compact easy-carry design, lifelike movements and exclusive Rinehart quiet foam eliminates the competition.
Put your next hunt in motion with the Rinehart Doloma Bedded Doe Decoy.
Features:
Patented Wind-Motion Design
Life-Size Silhouette
Rotating Head for Lifelike Realism
Lightweight, Compact and Durable
Ultra-Quiet Rinehart Foam Construction
Quick and Silent Set-up
MSRP: $154.99
About Rinehart Targets:
Since 1999 Rinehart Targets has been manufacturing the best 3D archery targets on the market, and Rinehart expanded their offerings with the introduction of the Doloma Decoys. A combination of quality, durability and unique offerings makes all Rinehart products one of a kind and true in both scale and detail thanks to Rinehart's award-winning team of wildlife sculptors. Rinehart's diverse target line has been extremely well received by all levels of archery shooters and will continue to introduce cutting-edge technology in the future.