by Bob Shell
Bob reviews and shot tests the Taylors & CO 1886 Ridge Runner Takedown Rifle in .45-70 with good results.
U.S.A. –-(Ammoland.com)- The 45-70 cartridge has been around for over 140 years and still is going as strong as ever with reproduction rifles like the Taylors & Co Inc. 1886 Ridge Runner Rifle.
Some folks wonder why such an old round is still very popular. One main reason is that it works. It started out as a black powder military round but, has changed with the times and today enjoys the technology that other arms enjoy. Most military rounds are successful due to the fact that components are available as are the guns. It doesn't matter how good it may be but, the fact that the military used it at one time gives it a boost.
Taylors & Company 1886 Ridge Runner Rifle in .45-70
This rifle is made in Italy by Chiappa and imported by Taylors. They have a wide variety of firearms available, I have purchased a couple through the years, and they always have been very good. For more info on Taylors you can go to www.taylorsfirearms.com One on my very favorites is the Smoke Wagon revolver in 44-40, but that is another article.
Early on, it became evident to me that the 45-70 was a good hunting round, capable of taking large game even with the available black powder loads. With that thought Winchester brought out a couple of rifles in that chambering. One was the model 86 which is a large well made lever action available in a number of chamberings including the 45-70. The model 86 is a strong rifle capable of taking modern loads, which increased its range and usefulness. Today a couple of companies make the model 86 in the 45-70.
The 1886 Ridge Runner Rifle is a modern take down version of the 86 as imported by Taylors. Using open sights, 2" groups at 50 yards are reasonable, perhaps a little better in the hands of a good shot. The 45-70 with good loads is capable of excellent accuracy.

It is evident that this rifle is made for hunting. It is a heavy frame and rugged rifle suitable for hunting across rough terrain and in all kinds of weather. With the ghost ring rear sight and a fiber optic front it should be easy to acquire a target in the woods. Shooting it shows that the sights are easy to pick up. It is also capable of mounting a scope if desired, with some planning.The problem is it is a top eject rifle so it has to be a handgun scope in order to stay away from the ejected empties.
With the strong 86 action, it will handle any reasonable load. In fact, your shoulder may give out before you reach a load that it can't handle. The muzzle break may help in the recoil department, although it can be removed.
Personally, I am not a big fan of the breaks but in this instance it may prove its worth. You can try it out with and without the break to see what your preference is. The situation may dictate its use or not. The rifle is black with a composite type of stock and forend which may not be as attractive as wood but would be less prone to damage from bad weather or a fall. Wood has a tendency to scratch or swell in a rainstorm. That could cause the point of impact to change at an inopportune time. The metal isn't shiny which is another plus.
45-70 Ammunition
Like most guns, 45-70 ammunition has benefited from modern bullet and ammo research. There are lead free and flex tip slugs available as well as a variety of cast bullets.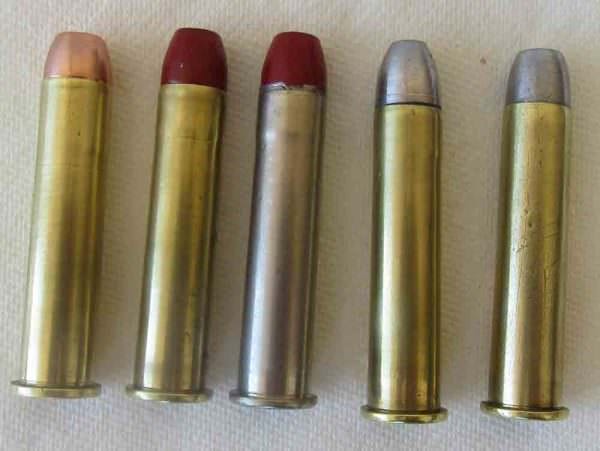 In all honesty, a good cast bullet will handle most hunting situations. I have had customers shoot large grizzly bears with a 45-70 and a 400-grain LBT bullet. At 2000 FPS, I don't think that there is much that can stand up to that load.
The handloader really has it good, as light loads can also be made. For really light shooting ammo a 45-60 case can be used as it is shorter so lighter loads can be used without worrying about excess air space. Lead shot loads can be made and they are decent out to 20 yards depending on load. I have used 45-70 shot loads to harvest small game and they are reliable up to about 20 yards depending on the load.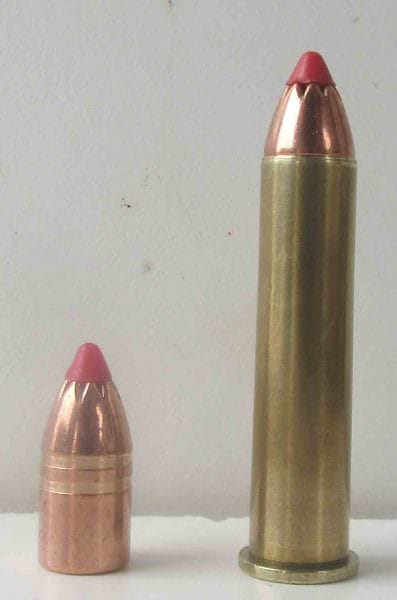 The 300-grain Acme bullet would be ideal for a youngster for deer. It has enough power for close shots and recoil is almost nonexistent. An interesting option is the Hornady Flex Tip Bullets. They come in 250 and 325-grain weights. I am working with the 250 because it has enough weight for deer and, with a moderate load the recoil is very pleasant. Due to the design, a slightly shorter case needs to be used which Hornady produces. Hornady manufactures ammo and reloading components and it has a very long list that you can go to their website to view their many quality products.
Shooting these in the Taylors & CO 1886 Ridge Runner Takedown Rifle I was surprised by the low-velocity loads during testing (see results below) but will add some powder and try again. I listed those slow loads for info purposes. With the pointed design range may increase somewhat.
With this activity I am focusing on light bullet loads with enough velocity to be useful for hunting without excess recoil. I have many heavy loads including one that propels a 500 grain at 1800 FPS, but it has so much recoil that few people can utilize it. For close up bear it would be ideal.
An up and coming company is Double Tap. They make a lot of full power loads that deliver the goods.Go to their website for info on their products. Black Hills has been making new and reloaded ammo for some years now. Any that I have used has worked well, indication good quality at good prices. For more information you can go to www.black-hills.com for a listing of their products. Winchester has been around for many years and like most other companies are updating their line as new products are developed and it always shoots well for information you can go to www.winchester.com for their extensive product line.
Shooting the Taylor's & Company 1886 Ridge Runner Rifle
Three shot groups at 50 yards were in the 1 & ½ to 2 & ½" are with a rest but not a real good setup. I have no doubt that those groups can be duplicated at 100 yards with a good rest and shooter. A scope and top loads can produce excellent accuracy at hunting ranges. With some of the modern bullets available, the weight can be reduced and still get good results. Such loads will reduce recoil, which is always a good thing. If you are sighting it in be sure that it is the same load as you are going to use on the hunt. For instance, if you are going to use the muzzle break then sight it in with that attached to avoid a change in point of impact.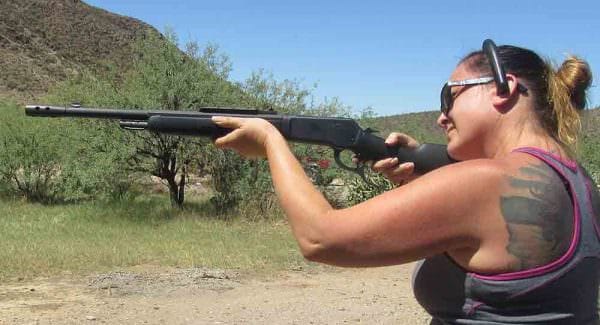 Most shooters liked the T&C 1886 Ridge Runner Rifle and its handling characteristics. The trigger pull is good which aids in accuracy. Due to the strength of the action virtually any hunting load can be employed. For dangerous game that would be a plus. The only drawback might be the price ( $1700.00 MSRP ). I am aware of what goes into these guns but the average consumer may balk at the tab. It is a gun that I would trust for a large game hunt.
For a serious big game rifle, I would give it a thumbs up.
45-70 Loads as Tested in Taylors & Company 1886 Ridge Runner Rifle
| LOAD | BULLET | VELOCITY | COMMENT |
| --- | --- | --- | --- |
| 20 Grains Trail Boss | 250 gr. Hornady | 906.4 | Way Too Light |
| 50 Grains H-4198 | 300 gr. Sierra HP | 1988 | Nice Load |
| Win Factory | 300 gr. HP | 1741 | Hunting Load |
| Mixwell | 300 gr. Cast | 1517 | Accurate |
| 30 grains 5744 | 300 gr. Cast | 1386 | Consistent |
| 17 grains Trail Boss | 300 gr. ACME Cast | 1312.9 | Very Consistent |
| Double Tap | 300 gr. Barnes | 1950.1 | Nice Load |
| Hornady Fact | 325 gr. | 2059 | Potent |
| 47.9 grains IMR 4895 | 325 gr. Hornady Flex | 1652.73 | Hunting Load |
| 15 grains Unique | 350 gr. Berry | 985.2 | Very High ES |
| Double Tap | 400 gr. Cast | 1740 | Nice |
| 52 grains RL #7 | 400 gr. Speer | 1894 | Recoil |
| Black Hills | 405 gr. Cast | 1208 | Mild |
| Double Tap | 405 gr. Cast | 1865.8 | Potent |
| 11 grains Unique | 500 gr. Cast | 906.4 | Very High ES |
About Bob Shell:
A Custom Reloader of Obsolete and Antique Ammo, Bob Shell, writes about the subject of Guns, Ammo, Shooting and Related Subjects. Visit: www.bobshellsblog.blogspot.com.