Reverend Norris reviews his picks of what he considers the best "must have" Glock accessories or parts for your trusted Glock handgun.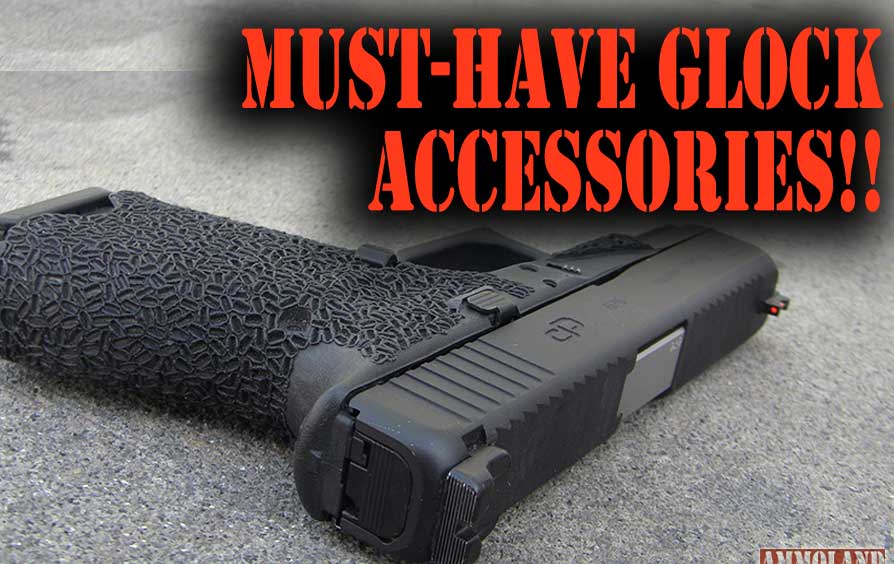 USA –  -(Ammoland.com)- It's no secret that Glock handguns have a cult-like following. As I write this, it's tax return time, so right now you can visit your local gun shop and observe the horde of gents wearing "Glock Perfection" hats. They'll be the guys zombie-stumbling into the shop, requesting to "see" the G30sf (or insert Glock model here) that they always wanted to "add to their collection."
Or you could observe one of their near-cousins purchasing a Glock 19 as he rambles about this being "lucky number 7." Yep, 7 Glock 19's… why not?
Those guys may already have firmly established opinions about the aftermarket upgrades that Glock handguns should be treated to, but there are plenty of you that are just wading into the deep Glock accessories water. Also, there are some of you, like me, who have your own opinion but like to learn from others, too.
As I alluded to, the Glock accessories market is vast indeed. You can easily spend thousands of dollars on a single Glock handgun parts. There are aftermarket slides, red-dot optics, barrels, silencers, triggers… you name it—they make it!
However, today we aren't talking about all the fancy bells and whistles. Rather, we're talking about those simple accessories upgrades that can be done to make a significant beneficial impact on your Glock handgun's performance. In the world of diminishing returns— these are the accessories that arguably make the most improvement with the least cost.
Glock Accessories: Pistol Sight Upgrades
Unless you buy a Glock handgun with factory night sights or with one of the special distributor upgrade packages (like Talo or Vickers), you should replace your sights first. In my opinion, plastic sights aren't the best idea on handguns. That being said, Glock sights do work. However, you absolutely CAN break them, melt them, and bend them to ineffectiveness via hard use.
Like most people, I have my preferences when it comes to sights. I like Trijicon HDs and Zev Combat fiber optics, depending on the handgun's primary role. There are lots of other great sight options (many of which I've owned), but these are my personal favorites. I bet you'll like them, too.
Product description: "The HD Night Sights were specifically created to address the needs of tactical shooters. The three dot green tritium night sight set's front sight features a taller blade and an aiming point ringed in photoluminescent paint while the rear sight is outlined in black and features a wider U-shaped notch. This unique configuration increases visibility and quickens front sight acquisition—even in transitional lighting. Additionally, the front surface of the rear sight is steeply hooked to assist in emergency one-handed slide operation. The HD Night Sights are designed to shine—even in the most demanding conditions. Green tritium lamps are warranted for 12 years from date of manufacture."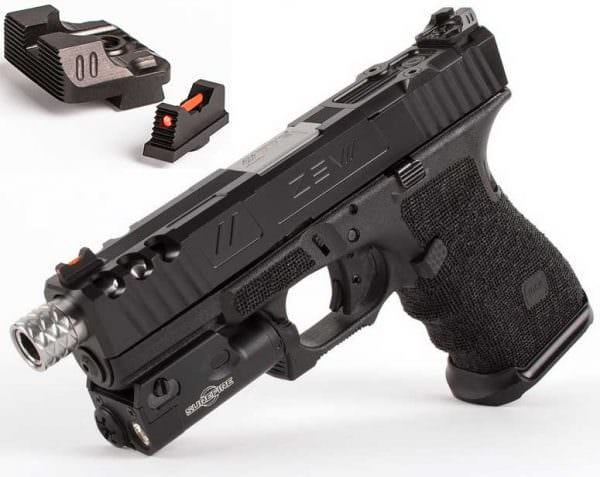 Product Description : "Zev Technologies, fiber optic sight sets are an inexpensive addition that a Glock owner can make to their firearm. Fiber optic sight sets have the highest resolution and greatest ease of acquisition. Higher visibility will allow you to keep your sights on target. The right Zev Technologies Sight set will improve your shots on target dramatically over a factory Glock sight set. Notch width of .140 & Notch Dept of .145 will allow you enough room to keep your eyes on target during transitions. Zev Technologies parts always incorporate design, feel, and performance, while Zev's fiber optic sight sets are machined and assembled from quality billet materials and built to last."
Glock Parts: Trigger Upgrades
Let's give the G trigger some love, too!
Now, I don't think you HAVE to do anything to a Glock trigger; they work fine. However, they can be greatly improved without much effort or expense, so why not? Honestly, with the mass of polymer striker-fired handguns coming on the scene – many with better triggers from the factory – you're probably gonna want to upgrade that trigger. I mean, if you own different handguns, you don't want your Glock to feel left out; and if you only own Glocks, you sure want to stay competitive…right?
In the future, we may talk about my favorite Glock triggers, but we're talking about a simple upgraded Glock accessories today, so you can absolutely get by with just upgrading the connector and polishing the trigger bar. Slightly better, you could upgrade the connector and springs.
For polishing that trigger bar you're gonna want some FLITZ— it's like magic.
Product Description : "A diluted version of FLITZ's original paste formula, this product is a high-performance cleaner and polish in a liquid form. Specially formulated to clean and polish with the ease and economy of a liquid, this concentrated formula goes three times farther than other liquids and leaves a brilliant shine in half the time."
Another easy Glock part to upgrade is the factory connector. An upgraded connector gives you better trigger feel, which results in better trigger discipline which results in better accuracy. My favorite connectors are from Ghost INC. I've tried lots of connectors but consistently circle back to the Edge, Evo Elite, and Minus connectors.
The Edge provides a smoother-than-stock and lighter-than-stock trigger like many others, but it adds a cleaner-than-others feel by removing the initial resistance typically felt when the trigger bar meets the connector.
Ghost says that the Evo Elite is the best self-defense trigger control connector that they've ever made. It does all that the Edge does, while reducing over-travel. It is good, but it is also more expensive— I think it's worth it, but your mileage may vary.
The Minus connector is a great budget option. Some would argue that polishing the stock connector will give them the same function, but this connector is less than ten dollars wherever you purchase it, and polishing takes time. Also, I rarely see garage jobs as smooth and clean as this. In my opinion, save your time and pop the minus connector in.
A lot of users replace the spring set, too. Though it isn't necessary, it is nice. If you choose to go that route, Zev's matched spring set is the go-to option.  This ZEV product's precisely calibrated spring weights deliver consistent force through the entire compression/release cycle to give you a light, refined trigger without sacrificing the reliability of your pistol's Safe Action system.
Speaking of Zev, I've heard good things about their V4 connector. Though I've used their triggers, I've never used the stand alone connector, so I don't have a personal opinion…but I've met folks who swear by them.
So there's a good budget, middle, and higher-end option for your trigger connector. All three are quality-made products that will serve you well.
Glock Accessories: More Metal
Making your polymer gun a little more metal.
Next, I like to replace a few polymer Glock Inc parts with metal parts. I don't do this because the plastic gun parts don't work or because I've had them fail; it's because I like metal. Don't you? Also, at least one of these particular firearms parts has a function advantage over its polymer counterpart.
The Vickers Mag Release is a stellar metal upgrade. While retaining a low profile, it makes the mag release easier to access without breaking one's firing grip. It's not like some of those big competition monstrosities. Those giant mag releases are likely to actuate if you sneeze. Install Vickers' release and actuate it, and you'll soon discover how positive this little part's function is. The Vickers is great; there are some other great options out there, too… CruxOrd has one worth mentioning.
You could go all in and get the whole Vickers accessory parts pack. That decision would even give you metal base plates for your Glock mags. Just sayin,'
I like metal Glock replacement pins. They add a little bling, and those gun parts just seem like they should be metal to me. However, the polymer pieces have proven to work well, so this one may be more aesthetic than anything.
Product Description: "Replacements for factory pins in lightweight, wear-resistant Titanium will outlast your gun's frame. Machined to precise dimensions for snug fit so they resist creeping out of the frame. Kit includes trigger pin, locking block pin, standard-length ejector housing pin, and extended ejector pin. Fits all Glock pistols, except Model 36, 42 & 43."
Glock Accessories: Gun Magazines
Since we're talking about a simple function-over-form Glock upgrade parts list, we'd be remiss if we failed to discuss keeping that handgun fed.
You can't have too many magazines for your defensive pistol. Buy what you think you'll need, and then buy some more. Buy them ten at a time if you like.
A quality magwell goes a long way. If you're going to shoot IDPA, you may find yourself sneaking a magwell onto your carry gun after you discover the competitive advantage they add when reloading. If you do, the Pro Magwell from Zev Technologies is a great option, and it's low profile enough to carry, too.
Product Description: "Zev Technologies PRO Mag-well is designed for the professional shooter that is looking for the competitive edge of a mag-well without the bulk of a Glock race gun. This mag-well is designed to fit both Gen 3 and 4 Glock frames which features a solid 1 piece design"
As I said at the beginning of this article, the Glock accessories aftermarket is vast. You can upgrade Glock handguns as much as you could a Honda Civic. We haven't scratched the surface of the Glock parts options available, but if you're looking for those essential upgrades for a fighting handgun, these should do nicely.
From one Glock guy to another – these Glock accessories are good to go!
About Brian (Rev) Norris:
Brian (Rev) Norris, in addition to writing and talking guns and gear via video, is a pastor (hence the "Rev") who specializes in mentoring young men in the urban context. If he catches a moment of free time, you'll likely find him enjoying his family or heading to the range on his motorcycle. Brian has enjoyed the shooting sports since his father introduced them to him as a child. He's an outdoorsman who enjoys life to the full.