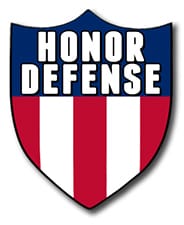 U.S.A. –-(Ammoland.com)- Honor Defense is pleased to launch the 2017 Pro Staff purchase program for Stocking Dealers.
Stocking Dealer employees can now purchase an Honor Guard Sub-Compact (HG9SC) or Sub-Compact Fist (HG9SCF) handguns for only $299.
This represents a savings of $200 off MSRP (40% discount).
"We want to support the retail stores that stock Honor Defense. It's important that store personnel experience why Honor Defense has been called "the best single stack 9mm pistol. We hope they take advantage of this program." said Gary Ramey, President of Honor Defense.
Only 5 units purchased by 4/1/2017 are required to be a Stocking Dealer and qualify for this program. All store employees are eligible to purchase either an Honor Guard HG9SC or HG9SCF FIST pistol at this reduced price. To obtain the discount, employees must email or fax the 2017 Pro Staff form to Honor Defense. The form must have the Dealer Manager's signature, be accompanied by a copy of the FFL and the name of Distributor where they qualified for stocking dealer status.
The Honor Guard will be shipped to the FFL via USPS for a $10 shipping/handling fee. Payment can be made via check or with a credit card ($10 processing fee) over the phone.
The Honor Guard models are the only American company modular single stack 9mm. The Pro Staff models (HG9SC and HG9SCF FIST) feature a 3.2-inch barrel, two magazines and two sizes of back straps for a custom grip. They feature a stainless steel modular chassis, ambidextrous controls, snag-free sights, custom slide serrations and are easy to rack. The FIST is designed for LE/military usage with an integrated standoff.
To qualify as a Stocking Dealer, be sure to purchase from an authorized Honor Defense Distributor or contact Honor Defense.
For more information about the Pro Staff Program, contact Honor Defense at 678-943-8035.
Click here to download form.
HonorDefense Pro Staff Program Form
About Honor Defense
Honor Defense firearms represent the next generation of modular handguns. Honor Defense firearms have more features than any other sub-compact pistol. Every part is manufactured in the U.S.A. to our highest standards. You can't buy a better pistol right out of the box. To create their pistols, Honor Defense secured input from a panel of professionals that have defended our nation or have extensive credentials in self-defense training.
For more information, please visit HONORDEFENSE.COM