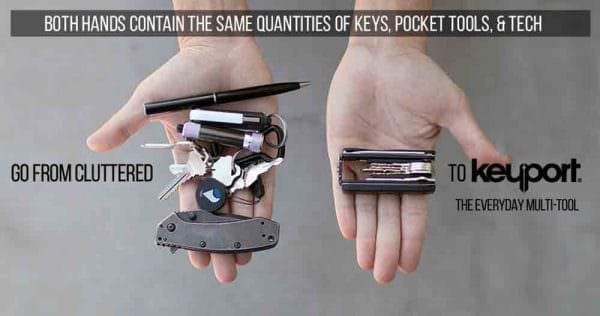 LAS VEGAS –-(Ammoland.com)- Keyport launched the all-new Pivot, a modular, everyday-carry multi-tool that is compatible with a number of other pocket tools including Stowaway Tools, Klecker Knives and the Griffin Pocket Mini.
Part key organizer, part Swiss Army knife, part lost & found … the Pivot consolidates keys, pocket tools and smart tech into a functional access device that bridges the gap between the conventional keychain — often crammed with an array of everyday carry items — and a connected world.
The Pivot accommodates standard keys – including house, deadbolt, bicycle lock, padlock and mailbox – and holds between two and nine keys, or more with expansion kit. The Pivot features a unique locking mechanism that provides the perfect tension to ensure smooth operation every time. It also features a 360-degree low profile swivel d-ring to attach loose items and that locks in place when not in use. The Slide 3.0 can be customized with useful tools like a flash drive (4, 8 and 32 GB) and pen with black ink.
To solve the biggest problem associated with keys and other daily carry items … losing them … the Pivot comes with a free 2-year subscription to KeyportID, an online lost and found service that connects finders to owners directly and anonymously at a click.
Optional Keyport compatible tech and tool modules include:
Bluetooth low energy locator module with mini-light that works with TrackR and that allows customers to locate their Keyport using their smartphone or alternatively find their smartphone using their Keyport. ($29.99)
Pocketknife designed by nationally recognized knife designer, Glenn Klecker ($19.99)
2-lumen mini-flashlight ($9.99)
The Pivot is priced starting at $19.99. For more information, visit www.mykeyport.com.