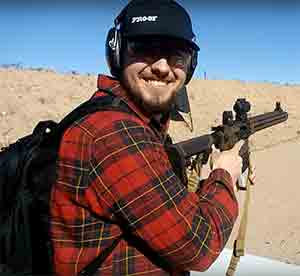 U.S.A. –-(Ammoland.com)- This past weekend, the NSSF hosted their 3 Gun Fantasy Camp, hosting seven professional shooters who helped educate almost 35 campers on how to shoot 3 gun competitions.  Campers were broken into teams, with one professional acting as a coach/captain of each team.
My group's coach was Ryan Muller, an excellent shooter, and teacher. If you have any interest in shooting 3-Gun competitions, Fantasy Camp was an excellent place to meet and learn from the pros. Shooting with professional shooters provides a unique learning experience that is hard to find anywhere else but the NSSF Fantasy Camp. Ryan was very helpful in walking me through the necessary gear, as well as how to find 3 gun matches and prepare to compete in the future.
I am absolutely hooked on the sport now and am looking forward to working with the 3 gun community more this year. In this interview, Ryan Muller goes over his shooting career, the gear he uses and gives some valuable tips to new shooters looking to shoot in 3 gun competitions.
What was your first experience with a firearm?
My first experience was most likely before I can remember, it probably involved a pellet gun and literally everything around me! The first experience I remember with a firearm was like so many other young boys and involved my dad's Ruger 10/22.

Of course, I thought the only goal was to hit what I was aiming at, little did I know that this outing was much more important and was more focused on teaching me the safety and respect for firearms than it was about me hitting a pop can.
How did you start shooting 3-gun competitively? What was your first competition like?
I got into competitive shooting through, my now wife, Dianna Muller. She had shot for several years and after seeing me spend a little time on the range told me that I should give it a try. I grew up like so many other little kids, roaming the woods with a .22 shooting at almost everything that moved and some things that didn't. I could hit what I was aiming at with about any gun and that was a good precursor for competition. Dianna taught me the ropes of the shooting ranges rules and we were off to our first competition.

Ryan and Dianna Muller competing against each other at Fantasy Camp. As you can see it was all business out in the desert. Top Shot winner Chris Cheng is having a good laugh while he runs the timer.

Your first 3-Gun competition is hard to describe. It's kind of like a storm. Everything is quiet and calm right up until the buzzer goes off, then all of a sudden the lightning zaps you and you forget how to do anything harder than spelling your name! I was a nervous wreck, and to top things off she made me go first, on the first stage, of my first match. The match, however, went great and even with major rifle ammunition problems I managed to place much higher than expected.
How did you become a professional shooter? Was that something you always wanted to do?
What started out as competitive shooting quickly became my full-time job. That is made possible by our Great Sponsors such as Stoeger, F-1 Firearms, Leupold Optics, Hornady, Rockcastle Shooting Center, and Hiperfire. We are their marketing arms!

A question I get a lot is how do I get sponsored? Well, I will tell you that it has as much to do with the type of person you are and the people you meet than it does how good you are.
What would you say to young people/ new shooters who are interested in 3-gun but don't have all the guns or gear for their first time?
Blasting clays with a Mossberg 930 JM Pro Series at the NSSF Fantasy Camp.

If you want to try 3-Gun and don't have the gear, the best advice I can give you is call a local range and ask around until you find a small local competition. Volunteer to help out the match director. Use this time to learn everything you can about competition. Ask the match director if they know of anyone that may let you try out some gear. The shooting family is a tight knit group and you will find no shortage of folks willing to help you out.

Make sure you bring your own factory 9mm, 12 gauge, and .223 (no steel core) ammunition as that is a little harder to let go of by most of us.
Why is it important for people to participate in shooting sports competitions and events like the NSSF Fantasy Camp?
Competition shooting is a highly debatable subject. Some seem to think that there is no way shooting can be done only for fun and the tactics used in such will somehow get you killed on the streets. On a more positive note, competition shooting allows you to become much more refined in your handling skills, it helps you do things like reloads on a subconscious level. Your conscious mind is very simple, it can only handle one thing at a time, however, your subconscious mind is very powerful and can do many things at once.

Simply put, competition helps you become very familiar with firearms, firearm use, firearm safety, and most importantly competition shooting is FUN! It is also important to take classes from others that are better than you.

The single most important piece of advice I have ever got in relation to competitive shooting was "Try to pay attention to those that are better than you". Events like the NSSF Fantasy Camp allow you to have a great time AND pick the brains of the instructors that are better than you.
What did you think of the NSSF Fantasy Camp? It definitely has me hooked on shooting 3-gun. Any recommendations on a competition that I should go to?
The NSSF Fantasy Camp is an event like no other found in the shooting sports. The hospitality is unmatched as they try to do anything and everything that you want or need to make you happy. You having a good time is their number one goal and it shows.

If you are new to 3-Gun and want to give it a try I would recommend hitting up local matches until you are comfortable with the event. If you are brave enough to jump in the deep end right off the bat, then I would recommend the Pro-Am at Rockcastle Shooting Center in Park City, Kentucky.
What guns do you use in competitions? What modifications have you made to each of them and why?
For competitions, I'm lucky enough to have the absolute best equipment. My livelihood depends on my equipment running great all the time.
My Rifle is a 16" F-1 Firearm BDR-15-3G topped with a Leupold Mark 8 1.1-8 that sports a Hiperfire Eclipse trigger.
My Shotgun is a Stoeger Industries M3K, I helped with the release of this model so very little modifications are needed
My Pistol is a Hayes Custom 2011. Hayes builds the best pisols I have ran across, ever. You may find as good, but you will not find better. Everything about the gun was built to my specifications so no modifications are needed.
What 3 guns do you recommend to the budget conscious shooter? What 3 do you recommend to the shooter not worried about a budget?
The nice thing about 3 gun is that you can play the game with whatever guns you have but if you are shopping with a tight budget I can help there too. I would pick up a full-size polymer 9mm from a major maker like Glock, Smith and Wesson, Sig, or Springfield and put in a match trigger. Stoeger makes the best bang for the buck shotgun in the M3K. For a rifle, I would get any flat top receiver AR-15 and add a Hiperfire EDT3 trigger and a Miculek muzzle brake. Is this the best setup, of course not, but I will get you in the competition for as little money as possible.

If money is simply no object, I would start with a Hayes custom 2011 in 9mm, add a Benelli M2 that has been upgraded by Hayes Customs, and an F-1 Firearms BDR-15-3G. Top your rifle off with a Leupold Mark 6 or Mark 8 and you are off to the races.
What is the most important thing to do before you make ready on the line in a competition?
When you are standing on the line, making ready, and fixing to burn down a stage the most important thing is to rehearse the stage in your head. You need to know exactly where you are going with those guns! This will help to calm you down and make you more consistent and smooth throughout the stage.
You have helped a pretty big Youtuber, Demolition Ranch, get started in 3-Gun. What was it like working with him at his first competition?
Two years ago I helped Demo of Demolition Ranch run his first 3-gun match. It was great working with him. Obviously, he had plenty of experience with firearms but was lacking on the range time and competition. He listened well, implemented everything we covered, and most importantly he was safe! That really hits on one of my passions, I like to help new people get into the shooting sports!
When is your next 3-gun competition? Do you compete in any other shooting sports?
We shoot just under 20 shooting events per year and our next one is in Shreveport Louisiana at the Miculek range. The event is called Babes with Bullets and is a very good match that I suggest to anyone at any skill level. Other than just 3-Gun I have also dabbled in the Precision Rifle Series and have a national title in the Sportsman's Team Challenge.
Outside of shooting 3-Gun competitions, you told me about some of the hunting you've done. What was your most memorable hunting trip?
Hunting was my first love, in fact, that is still the most fun I have with guns, but hunting hasn't found a way to pay the bills yet! The most memorable hunting trip I have was with my dad and brother. We had the chance to go to Africa this last year! While it was great to take some amazing animals what made it memorable was the fact that I got to be there with them. We saw animals that just can't be appreciated in a book, they were real life, right there, standing 50 yards from us and it was amazing.
You work with F1 Firearms and their trophy truck that competes in the Baja 1000. Have you ever ridden in that race?
Yes, something else outside of my wheelhouse is the Baja. F-1 Firearms has a Trophy Spec truck that we raced for the first time in the San Felipe 250 and San Felipe Mexico this year. Baja is an adrenaline rush like no other, a story and pictures simply don't do it justice. The trucks are so off road capable that it is hard to imagine. As I have found out, what they are not capable of is hitting a 3-foot shelf at 70 mph. In our first race, we went end over end 3.5 times but still managed to finish the race. I have never done the Baja 1000, but it is on the calendar for this year!
Where can people follow you on social media?
The best way to keep up with all of my shenanigans is on Facebook or Instagram. You can find Ryan Muller – Competitive Shooter at 3Gunryanmuller or on Instagram @Rmuller_3gnr .
About Duncan Johnson:
Brian Duncan Johnson is a graduate of George Mason University in Fairfax, Virginia. His focus of studies were on History and Government. Duncan is a regular contributor to AmmoLand and assists in the everyday gun-news publishing as an assistant editor.