by Bob Shell
Ammunition reloader & writer, Bob Shell, organizes a family reunion of the 45 caliber ammo, meet the many cousins of the popular .45 ACP handgun round.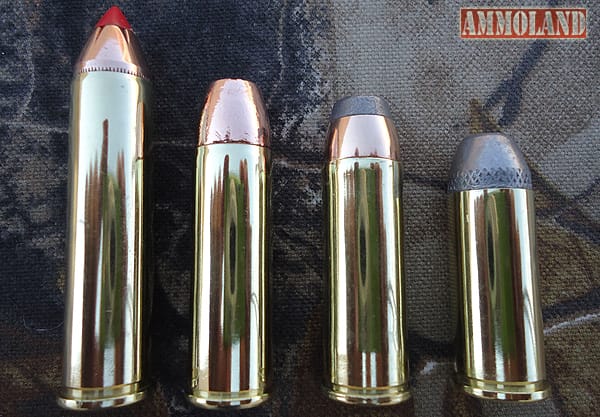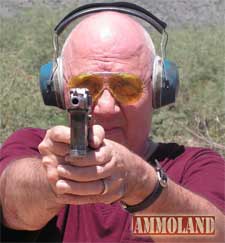 U.S.A. –-(Ammoland.com)- Anyone who has had their head above ground for any length of time is aware of the best .45 caliber ammo the 45 ACP and perhaps the 45 Colt. Both have been around for many years and served in the US military which gives them a lot of press.
Unknown to many are some of the other 45 caliber rounds that were or are still in circulation.
In power they range from somewhat anemic to a T-Rex killer. There are a number of rifles chambered for a couple of rounds such as the 45 Colt and 454 Casull bullets. The rifles gives these rounds another 3-400 FPS which is considerable. I have a 454 rifle and a Freedom Arms revolver and if you want a good heavy duty combo with a shared ammo, this deserves serious consideration. With that combo virtually any large game animal can be harvested. To my knowledge no one makes a rifle in 460 S & W which is surprising considering how powerful it would be. The typical bullet diameter is .451 or .452 though there may be some slight variation such as the .454 that was used in the old black powder 45 Colt.
To give you an idea of what is available we will list them.
450 Adams Bullet
One of the early rounds was the 450 Adams. Great Britain brought it out in 1868 for the military using the Adams revolver. It served until 1880 when it was replaced by the 476. One thing about the British rounds is they are very confusing with their naming system. It was a black powder round with a short case and was somewhat feeble. The military load is listed with a 226-grain bullet at 700 FPS, which would limit its range. I fired some BP loads with a 230 grain and obtained about 650 FPS. One benefit is it can be fired in the later revolvers with longer chambers. However, it was a parent to the 455 Webley rimmed as well as the 455 Eley.
476 Ammunition
The 476 is a longer version of the Adams and was introduced in 1880, the round also was sometimes called the 475 Eley/476 Enfield. Originally, 18 grains of black powder and a 265-grain slug, though later Cordite powder was used, and eventually a jacketed bullet was used. In 1897, the case was slightly shortened to better utilize smokeless powder. There are so many variations and names that it is difficult to keep them straight. The next listing is an example of this.
45 Webley Ammo
Another obscure round was the 45 Webley. It was not the military round though it would probably interchange with some. It was chambered for the double action Bulldog and Webley revolvers. The listed load was a 230-grain bullet at 550 FPS though smokeless loads improved that somewhat. Why they introduced this is anyone's guess, as it wasn't very common.
455 Mk ll Round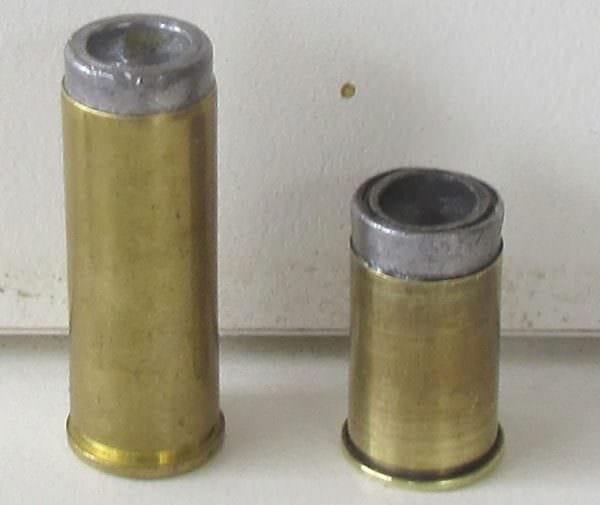 One of the better known British rounds is the 455 Mk ll. It was adopted in 1897 and was used to an extent until WW-II. The military load was a 265-grain FMJ that traveled at 600 FPS. While it has a curved trajectory, it had a good reputation as a close range stopper. Fiocchi still loads it on occasion and it used the same 265-grain bullet but is boosted up to 700 FPS. Brass can be found with some searching and good loads can be fabricated. I have shot quite a bit of ammo in those with good results. Some are modified to shoot 45 auto with moon clips or 45 auto rim rounds. Of course, that takes it out of the collector's status. The British were big on large caliber slow moving bullets for their military handguns. Even when they dropped the 45's the 38 caliber used a 200-grain bullet at a low velocity.
455 Eley Ammuntion
If you are not confused yet there is another 455, AKA the 455 Eley. I have a revolver chambered for this that was originally issued to the RCMP. The case is slightly longer than the 455 Webley. At one time Dominion made the 455 Eley with a longer case and called it a 455 Colt. My revolver is a large gun and like many of its type it is sturdy and reliable but the trigger leaves something to be desired. You can shoot all of the older and shorter rounds which is a desirable feature. Cases can be made from 45 Colt or auto rim by cutting down the rim and trimming to length.
455 Webley Automatic
Staying with the British rounds there is a 455 Webley automatic. The British Navy adopted the cartridge and a 45-auto pistol in 1912. Unfortunately, it was not a satisfactory round because of its low power. The case is slightly longer then our 45 auto but has a lighter load. One load was a 225-grain bullet at about 700 FPS, which the military used. It lasted only a short period of time and was discontinued after WW-I.
45-Auto Rim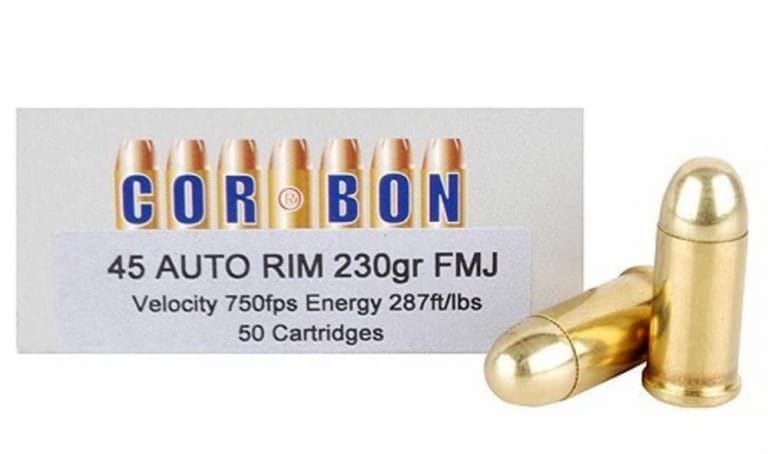 The 45-auto rim was introduced in 1920 for use in Colt and S&W revolvers that use the 45 auto with moon clips. While the case is the same as the 45 auto, the rim is very thick in order to work in those revolvers. Some Webley revolvers that are modified can also shoot this round. Loading data and the 45 dies are the same as the auto though cast bullets are generally preferred. It also has the ability to feed WC type of bullets making it good for some hunting. As for factory ammo, Double Tap makes it and some Remington ammo can be found. Starline makes the brass and as with all of their products, the quality is good and priced reasonably.
.45 Schofield Cartridge
The 45 Schofield was introduced because the US military wanted a single action revolver break open and the 45 Colt case was too long. When it was opened, the Colt cases would not come completely out which slows down the reloading process. Therefore, the Schofield case is shorter with a slightly larger rim to enhance extraction, which is important during a battle. Consequently, it isn't as powerful as the Colt though it still packs a punch. The military introduced it in 1875 in the S&W revolver and saw service until 1892. The factory loads produced from 700 to 750 FPS with a 230 to 250 grain and was loaded with both black and smokeless powder.
Some historians believe that General Custer had one at the Battle of the Little Big Horn. It is popular with cowboy shooters as they use light loads and the shorter Schofield case makes it easier to achieve that. Starline makes the brass saving you from trimming 45 Colt cases.
45 Colt Ammunition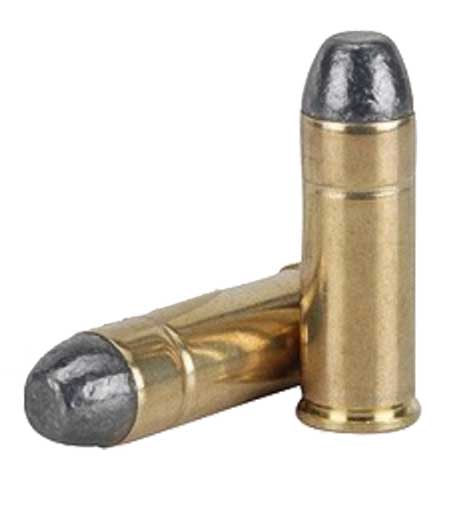 The 45 Colt came out in 1873 and was adopted by the military and used until 1892. The 45 Colt is one of the great cartridges having been in continues use since 1873 making it 144 years and more popular than ever. It has been chambered in everything from derringers to rifles. The loads run from black powder to some that will equal or exceed any 44 magnum round offered.
In 1892, the US military dropped the 45 caliber rounds in favor of the 38 Long Colt a decision they regretted. The Spanish-American war put American soldiers in the Philippines against the Moro tribes. It became obvious that the 38 rounds did not do an effective job as the natives were hacking our soldiers apart with machetes while being repeatedly shot with the 38 caliber rounds. The 45's were brought back into service and eventually, the 45 ACP was put into service as the greatest military handgun ever used.
45 Short Auto
The 45 short auto, an obscure round is virtually the same as the 45 Gap. The short was made because some countries do not allow civilians to possess a military caliber. Therefore, they took the 45 auto and shortened it by 1 millimeter to comply with the law. It gives the same ballistics as a 45 auto which makes one wonder what was its purpose. This cartridge is evidence that stupidity in many legal systems is still alive and well.
45 Gap Round
The 45 Gap as noted above is virtually the same round as the 45 short auto though the purpose is different. Glock wanted to use a slightly smaller 45 so they brought this out to fit in their magazine. You can use 45 autoloading data but if you are loading hot ammo then the powder charge should be reduced slightly because with a shorter case pressures will increase with the auto load. Brass and ammo are available for the Gap round.
45 Win Magnum
The 45 Win mag was brought out in 1979 for the Wildey auto pistol and the Thompson center single shot. Later the Desert Eagle and the LAR Grizzly also chambered it. It is a seriously high powered auto pistol round and can be used for hunting large game.
The guns are large and costly but are designed for this type of round. My LAR Grizzly is very accurate and somewhat flexible making it desirable for large game. Factory ammo is difficult to get and as far as I know, Double Tap is the only company that produces it. However, brass by Starline is available and any sturdy 45 caliber bullet will work. Starline comes to the rescue by manufacturing the brass.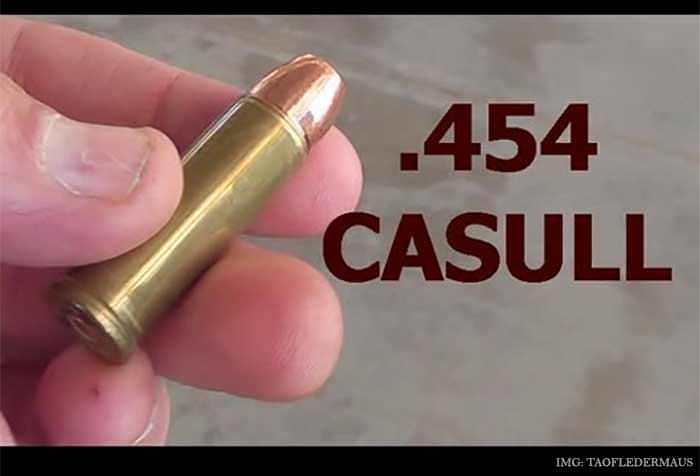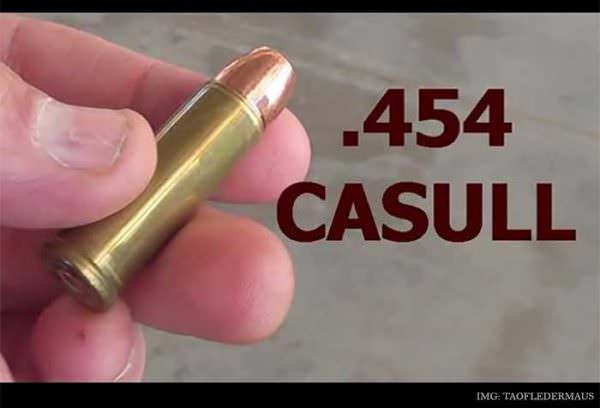 If you like some power then the 454 Casull might be for you. It came out in 1957 being developed by Dick Casull. It has enough power to hunt anything that can be done with a handgun and is flexible especially for the hand loader. It has taken virtually every species on this planet.
One thing to keep in mind is not to use bullets with thin jackets as they may come off in the barrel causing a bad situation. You can use reduced loads easily and using the 45 Schofield or Colt case will make that easier because of less airspace to deal with.
If you use shorter cases, be sure to clean the chambers well as residue can build up causing difficult chambering or excess pressure. Like most high-pressure rounds, rifle primers are needed.
Accuracy is excellent as with my Freedom Arms, 2 to 3" groups are possible at 100 yards though recoil is an issue after a few rounds.
There is some factory ammo available such as Double Tap and brass is available from Winchester, Federal, and Starline. (read more on the 454 Casull)
460 S&W
If you must have the largest 45 caliber then the 460 S & W is the way to go. The case is longer than the 454 giving it some more power, in case a T-Rex is in the yard. The 460 is also given the credit for being the fastest large caliber handgun round, giving over 2,000 FPS with some loads.
The S & W that shoots it is a massive affair which is necessary given the brutal recoil. They have a model with a short barrel and a bit lighter for someone who may be stranded in Alaskan bear country. It is advised not to shoot it with full power loads unless a bear is attacking you. Due to the recoil and muzzle blast I would certainly follow that advice. I have fired the full size model and it is no picnic to fire.
There you have it a list of the 45 rounds from the oldest to the most powerful. One of the desirable features is the flexibility and the availability. If you want to shoot any of them it is possible because someone makes the brass and of course, 45 caliber bullets are available anywhere ammo and reloading supplies are offered.
You really can never go wrong with a 45 caliber handgun.
About Bob Shell:
A Custom Reloader of Obsolete and Antique Ammo, Bob Shell, writes about the subject of Guns, Ammo, Shooting and Related Subjects. Visit: www.bobshellsblog.blogspot.com.