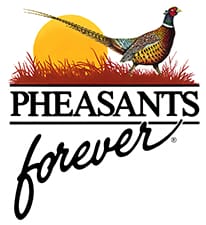 St. Paul, Minn. –-(Ammoland.com)- Pheasants Forever & Quail Forever is proud to announce the continued partnership of Nestlé Purina PetCare Company as a national sponsor and Purina Pro Plan as the official dog food brand of "The Habitat Organization." The long-term relationship provides support of Pheasants Forever & Quail Forever's wildlife habitat conservation mission, while marketing the innovative brand of Purina pet products and services to the nation's largest collection of upland hunters and dog owners.
"It's great working with corporate partners who also share our passion for habitat conservation and bird dogs. We're very pleased to have a well-respected company like Purina continue on as one of our longest tenured national sponsors," explained Bob St.Pierre, Pheasants Forever & Quail Forever's vice president of marketing.
With 70 percent of Pheasants Forever & Quail Forever members owning one or more dogs, the expertise that Purina provides on canine nutrition, conditioning, and training is highly valued by the organization's members and followers. Purina shares this knowledge monthly with the organization's members in the "Tips from Purina Pro Plan" section of the On the Wing eNewsletter, quarterly in the youth-oriented Forever Outdoors Magazine, and periodically in the Pheasants Forever Journal of Upland Conservation and Quail Forever Journal of Quail Conservation.
"Purina is a proud sponsor of Pheasants Forever and Quail Forever and helps provide the specialized nutrition that sporting dogs need in the field," said Karl Gunzer, senior manager of Purina's Sporting Group. "Being part of the National Pheasant Fest and Quail Classic and contributing content to Pheasant Forever and Quail Forever's publications allows us to share our expertise in sporting dogs with members who enjoy their dogs in the field."
As the official dog food of Pheasants Forever & Quail Forever, Purina Pro Plan will be featured at the organization's more than 700 local chapter banquets in the coming year, giving members a chance to experience "Nutrition That Performs" for their bird dogs. Because it is backed by 85 years of research and over 400 scientists, including veterinarians and nutritionists, Pheasants Forever & Quail Forever recommends Purina Pro Plan for member use due to its expertise and quality standards in the canine nutrition market.
In addition to advertising in the Pheasants Forever Journal of Upland Conservation, Quail Forever Journal, and the organization's websites and social media channels, the following points highlight key components of the partnership:
National Pheasant Fest & Quail Classic – Purina Pro Plan will co-sponsor the Bird Dog Parade as well as the Bird Dog Bonanza Stage as a diamond sponsor of the 2018 National Pheasant Fest & Quail Classic in Sioux Falls, South Dakota. Additionally, the Purina booth will host the nation's top dog trainers who will provide informative seminars throughout the weekend for bird dog owners.
Bird Dogs for Habitat – Purina Pro Plan is a co-sponsor of the organization's Bird Dogs for Habitat campaign, a promotion which challenges upland hunters to cast a vote and make a tax-deductible donation on behalf of their favorite sporting dog breed. Online voting for the 2018 contest will commence again during the first week of April 2018.
On the Wing eNewsletter – As one of the most sought after sections of Pheasants Forever's eNewsletter, "Tips from Purina Pro Plan" is sponsored by Purina and offers monthly articles on bird dog nutrition, training, and exercise regiments.
Bird Dog Bootcamp – Presented by Purina Pro Plan and SportDOG brand, Bird Dog Boot Camp is a digital content series chronicling a new dog owner and her pup, from the early steps in the training process through opening day of pheasant hunting season.
About Nestlé Purina
Nestlé Purina PetCare, a global leader in the pet care industry, promotes responsible pet care, humane education, community involvement and the positive bond between people and their pets. Part of Swiss-based Nestle' S.A., the world's largest food company, Nestlé Purina PetCare's North American headquarters is located at Checkerboard Square in St. Louis, Mo.
About Pheasants Forever
Pheasants Forever, including its quail conservation division, Quail Forever, is the nation's largest nonprofit organization dedicated to upland habitat conservation. Pheasants Forever and Quail Forever have more than 149,000 members and 720 local chapters across the United States and Canada. Chapters are empowered to determine how 100 percent of their locally raised conservation funds are spent; the only national conservation organization that operates through this truly grassroots structure. Since creation in 1982, Pheasants Forever has spent $708 million on 517,000 habitat projects benefiting 15.8 million acres nationwide.