By Jeff Knox : Opinion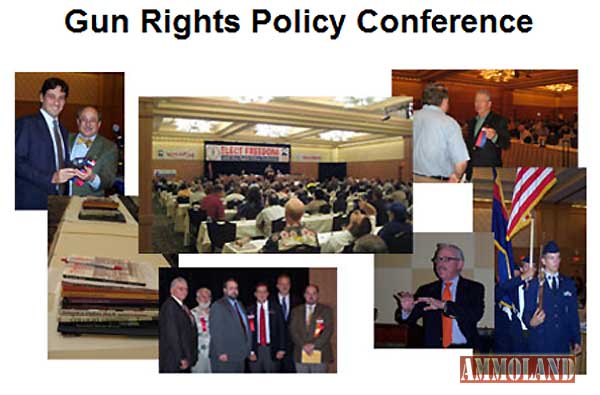 Buckeye, AZ –-(Ammoland.com)-  Once a year, gun rights leaders and activists from around the country get together to discuss the state of the movement, and strategies for advancing the cause, at the Gun Rights Policy Conference, sponsored by the Second Amendment Foundation and Citizens Committee for the Right to Keep and Bear Arms.
The weekend conference is routinely scheduled for the last weekend in September at different locations around the country.
2017 Gun Rights Policy Conference & Alternative Mass Media Conference
This year's conference is taking place in Dallas, Texas, beginning on Friday evening September 29, and wrapping up on Sunday October 1. An Alternative Mass Media Conference is scheduled to take place in conjunction with GRPC this year, running all day on Friday the 29th. GRPC 2017 will be the 32nd year for this annual gathering, and offers attendees the opportunity to network, share ideas, and make plans.
The events this year will be held at the Westin hotel and conference center at DFW Airport. As always, top leaders of national and state level rights organizations will be in attendance and serving on information panels, along with leading writers, bloggers, and radio personalities. Attendees will have opportunity to meet and talk with these folks during breaks and multiple receptions surrounding the formal conference schedule.
Attendance is free, but you must pre-register at www.SAF.org to guarantee yourself a seat. The Second Amendment Foundation usually supplies attendees with a large stack of books from their online bookstore, often including books and DVD's from some of the presenters. They even provide free box lunches during the Saturday session.
If you live anywhere near the Dallas – Ft. Worth area, be sure to make plans to attend.
The new media conference, dubbed Amm-Con, is being promoted as a workshop for podcasters, bloggers, online video creators and anyone else in new media that has a connection to the Second Amendment Community. They say the objective is to help you "learn to make your media more effective and more successful." It is being organized by the crews from the Polite Society Podcast and the Self Defense Radio Network, and is expected to cover a variety of aspects of production and distribution, from technical challenges, to interview techniques, to promotion and distribution, to advertising and monetization.
Registration for Amm-Con 2017 is separate from GRPC registration, so if you plan to go, head over to www.ammcon.org to get registered.
I have a family connection with GRPC. Dad helped get it started, and was a regular attendee and presenter for almost 20 years, receiving the conference's Lifetime Achievement Award – twice. I first presented at the conference in 1998, and have only missed a few of the conferences since 2004. My brother Chris has also been a frequent participant, making the annual event a long family tradition.
One of the core purposes of the GRPC, is to bring together national and state grassroots leaders, to give them an opportunity to network, share ideas, learn from one another's successes and failures, and build cooperation to make all of our efforts more effective. Infighting and competition among different groups can be detrimental to the cause, and the GRPC offers an opportunity for some of these groups' leaders to sit down and work through differences face-to-face, in a supportive environment. While most prominent groups are represented, a few are sometimes conspicuous in their absence. While that's disappointing, it offers some insight into those groups that decline to participate.
For the individual activists who attend, it affords an opportunity to meet and mingle with some of their favorite authorities and experts, like John Lott, Alan Gura, and David Kopel, along with national leaders like Alan Gottlieb and Larry Pratt, as well as media types like Tom Gresham, Mark Walters, G. Gordon Liddy, and Emily Miller.
The days are filled with back-to-back presentations on issues and information of value to rights activists, and the evenings include official and unofficial receptions and hangouts, where everyone can share their thoughts and work together to solve problems great and small.
Special pricing is in effect at the Westin, which is right next to DFW Airport, making it very handy for those of us flying in, and less expensive rooms are available at other nearby hotels.
If you live in the Dallas – Ft. Worth area, and you care about Second Amendment rights, you owe it to yourself to come join us. It's always a fun, educational, and productive event, and I hope to see you there. I'll be attending Amm-Con on Friday, and presenting at GRPC on Saturday morning on the Federal Legislation panel. I might also participate in other ways, but definitely look forward to visiting with friends, old and new, throughout the weekend.
Go to SAF.org and www.Ammcon.org now to register for both events. I hope to see you there.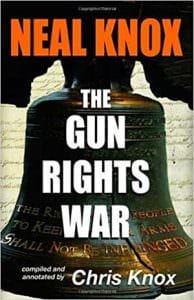 About Jeff Knox:
Jeff Knox is a second-generation political activist and director of The Firearms Coalition. His father Neal Knox led many of the early gun rights battles for your right to keep and bear arms. Read Neal Knox – The Gun Rights War.
The Firearms Coalition is a loose-knit coalition of individual Second Amendment activists, clubs and civil rights organizations. Founded by Neal Knox in 1984, the organization provides support to grassroots activists in the form of education, analysis of current issues, and with a historical perspective of the gun rights movement. The Firearms Coalition has offices in Buckeye, Arizona and Manassas, VA. Visit: www.FirearmsCoalition.org.