by Mike Searson,
In this review, Mike takes a look at a powerful combination of tools with the Yankee Hill Machine Turbo 5.56 Suppressor and Nordic Components' NCT4 Suppressor Shield handguard.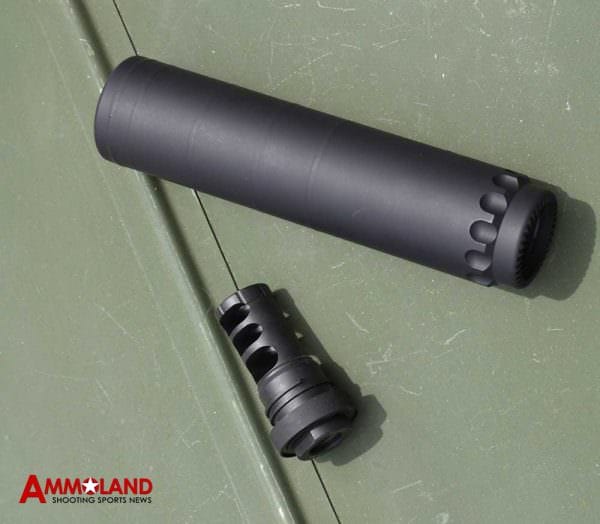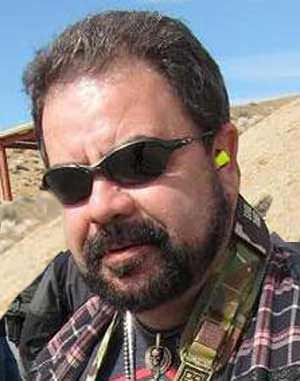 U.S.A. –-(Ammoland.com)- We have been testing out a new rail system from Nordic Components called the NCT4 Suppressor Shield.
Basically, it is a rail system that allows you to detach about 6″ of the front section at the click of a button.
This allows you to run a silencer on a pistol or SBR underneath the rail to both protect the silencer and allow you to sport the SD look.
As usual, we ran a few of our silencers on it, but then asked our good friends at Silencershop.com if they had something newer, just because nobody getting into the NFA game cares a whole lot about our old shot up cans.
They had the newly released Yankee Hill Machine Turbo 5.56 Suppressor and got one out to us right away.
Yankee Hill Machine Turbo 5.56 Suppressor
Yankee Hill Machine's new Turbo 556 silencer is a tubeless design with heat-treated 17-4 stainless steel baffles and a 718 Inconel blast baffle. It is full-auto rated.
At 6.5″ in length with a 1.5″ diameter and a weight of 13.5 ounces, the Turbo 556 silencer can fit under most extended hand guards for the SD look.
We tried it under the Nordic Components NCT4 Suppressor Shield and rail on a 10.5″ SBR and found it to balance perfectly without sacrificing sound reduction. Out of Nordic's 10.5″ barrel it metered at 135 dB.
(For the uninitiated, this is about the noise level of an Air Raid Siren or front row face in the amp at a Guns N Roses concert only at a split second as opposed to the duration of a siren or said concert.)

Yankee Hill Machine Turbo 5.56 Suppressor : The Good
One of the things we hate about silencers is buying all the "extras" that you need to get the can up and running. You can be smart and pick them up while you're waiting for it to get out of NFA jail, but we prefer them to come with the silencer. Apart from the wait, is the expense and even the mount can run you $50 to $200. Thankfully the Turbo comes with the QD/mount, so you get everything you need right out of the box. So the MSRP of $489 is a steal when it comes to having a QD mount silencer ready to go.
But it gets better.
The tubeless suppressor design reduces weight without even going to Titanium or Stelite in the build. This is simply Inconel and stainless steel. The 6.5″ length makes for a nice balance on a 16″ rifle, but it's downright perfect if you go shorter by means of an AR pistol or SBR.
Our earlier trials with the Nordic Components NCT4 Suppressor Shield and rail made for what we thought was a heavier system (because we were using a heavier can), but with the YHM Turbo 556 silencer, it made for something we could comfortably carry all day long.
Yankee Hill Machine Turbo 5.56 Suppressor : The Bad
Usually, there are multiple tradeoffs with a low priced silencer, but for the price point and a week of playing with this silencer, it was hard to find any.
Could it be made lighter? Absolutely, but that pushes your price point up with regard to material and labor costs. Titanium components could cut that weight in half, but now you are looking at an $800 or $900 5.56 silencer instead of a sub $500 one.
If we really had to split hairs it could be over the mount itself. We would prefer more of a thread-over muzzle brake design for less POI shift. Precision rifle shooters who need to dismount their cans to get them to fit in their rifle cases might appreciate that more, too.
Unless you permanently attach the can to the mount to make it a thread-on or never remove it from your 5.56 or 223 bolt gun, we would probably not recommend it for that use.
Yankee Hill Machine Turbo 5.56 Suppressor : The Reality
The YHM 556 Turbo is not only a great entry level suppressor, it will fit the needs of any seasoned shooter of 5.56 as well be it an AR type rifle, Ruger tactical Mini-14, Tavor or what have you in a semi auto 5.56 rifle.
You can wait for a removal of silencers from the purview of the NFA Branch by way of three bills that may never come to pass, or you can get your hands on one of these right away. The NFA rumor mill is reporting Form 3 transfer times as short as 1 day (dealer to dealer) and as the backlog of 41F forms is clearing (thank you President Trump), individual or trust transfer times should shrink accordingly.
YHM Turbo 5.56 Suppressor Specification Information
Caliber Rating: 5.56mm (.223)
Color: Black
Length: 6.5″
Diameter: 1.5″
Weight: 13.5 oz
Full-Auto Rated: Full-Auto Rated
Manufacturer: Yankee Hill Machine
Build Material: 17-4 Stainless Steel, Inconel 718
MSRP: $489
https://www.silencershop.com/yhm-turbo-5-56.html
About Mike Searson
Mike Searson's career as a shooter began as a Marine Rifleman at age 17. He has worked in the firearms industry his entire adult life as a Gunsmith, Ballistician, Consultant, Salesman, Author and was first certified to teach firearms safety in 1989.
Mike has written over 2000 articles for a number of magazines, websites and newsletters including Blade, RECOIL, OFF-GRID, Tactical Officer, SWAT, Tactical World, Gun Digest, Examiner.com and the US Concealed Carry Association as well as AmmoLand Shooting Sports News.