Mike Searson reviews the stupid light, braided carbon fiber, Brigand Arms Blade Handguard, that recently hijacked his latest custom AR build.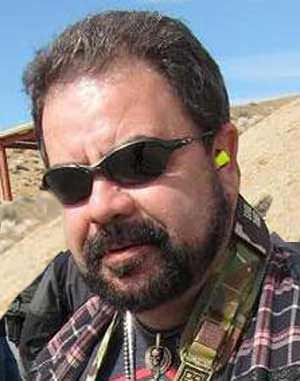 U.S.A. –-(Ammoland.com)- One of the heaviest components on an AR system can be the rail. When the Picatinny rail system debuted it seemed like a Godsend. Shooters could easily outfit their rifles with lights, lasers, scopes, IR illuminators, night vision, forend grips, back up sights and everything but the kitchen sink.
There was a problem, though. The rails were heavy and so were the add-ons.
Manufacturers responded with M-Lok, Key-Mod and other systems that did away with unnecesarry rail space and allowed users to customize their rifles with only the accessories they needed.
There was still a problem. The weight was more than it needed to be.
Most shooters did not want to take a step back to plastic handguards and a barrel nut that gave up the ability to free float on a minimalist rifle.
Thankfully other companies were looking at a stronger and more rigid material that could give the shooter free float and do away with the unwanted weight.
One of them was Brigand Arms and their fore ends made from braided carbon fiber weave.
Braided carbon fiber is composed of several composite yarns of the space age material in a lattice that minimizes weight and maximizes rigidity and strength.
We were drawn to this type of hand guard for its looks. It reminded us of cargo nets on a ship or a spider web, but we found out it was incredibly functional and lightweight. Frankly, it changed the direction of our build and we think it did so for the better.
Brigand Arms Blade Handguard – The Good
When the handguard arrived, it came in a simple mailing tube. It was so light that we thought it was a poster. We were absolutely floored when we removed it from the cylinder. It was a 15″ hand guard that weighed 5 ounces; three of which was the barrel nut!
We were very familiar with carbon fiber and its strength and saw pictures and videos of the folks at Brigand Arms hanging Olympic plates and dumb bells from them without distorting the tube. According to Brigand the handguards can support a force of 90 pounds in any direction, and 600 pounds along their length – more than even extreme users require.
Not only that, but they fire thousands of rounds through their rifles with the hand guards attached and discovered no serious detriment. On top of that, the barrel and handguard cool faster after firing than they would with any type of rail or conventional hand guard system to prolong barrel life.
Wielding it like a Louisville Slugger we slammed it against work benches, drill presses, tables, exterior walls and anything that might possibly destroy it.
The end result was no dents, no flex and no damage of any kind.
When we mounted it on our rifle, we were amazed at the lightweight and balance. The barrel was a heavy profiled 18" ER Shaw with spiral fluting and the lower receiver was a Spike's Tactical/ Sharp Bros Jack. The upper receiver was an American Spirit Arms side charging upper, so this was not exactly built from ultra-light components. We did however change out our butt stock to a SIG Carbon fiber stock that weighed substantially less than the one we had mounted.
Brigand Arms Blade Handguard – The Bad
It's almost always the price, isn't it?
These hand guards are not cheap [$240 – $350 or so depending on size], nor would you want them to be. Carbon fiber is not a cheap material. Nor is it particularly easy to work with and of course production and research costs takes their toll.
One of their other models (the Atlas) incorporates some Picatinny sections and add-on rails can be ordered to get a sling, light or laser on the rifle. Again, though, if you are looking for infinite options to install miscellaneous accessories beyond a sling and a light, this is probably not the hand guard for you.
When it came time to install the Blade hand guard, we had to do a few "do-overs" to get the tip of the forend to index properly. This should not be a problem with the other models that lack the scalloped flare of this one.
Brigand Arms Blade Handguard – The Reality
Shooters looking to reduce the weight of their rifle without compromising strength can do well with the Brigand Arms Blade hand guard. It is not meant for every shooter out there, but if you need to shed some weight on a PRS or other build, this may be the one to try out.
We were originally captivated by the unique look of the Brigand Arms Blade Handguard and soon found out that beyond the look was a function that we had not even considered. As a result, our latest rifle build took a completely different direction.
About Mike Searson
Mike Searson's career as a shooter began as a Marine Rifleman at age 17. He has worked in the firearms industry his entire adult life as a Gunsmith, Ballistician, Consultant, Salesman, Author and was first certified to teach firearms safety in 1989.
Mike has written over 2000 articles for a number of magazines, websites and newsletters including Blade, RECOIL, OFF-GRID, Tactical Officer, SWAT, Tactical World, Gun Digest, Examiner.com and the US Concealed Carry Association as well as AmmoLand Shooting Sports News.