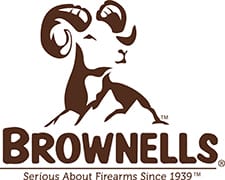 Grinnell, Iowa –-(Ammoland.com)- Retro rifle fans, rejoice! Brownells announces M16A1-style furniture in 3 different colors, allowing enthusiasts to complete authentic-looking replicas of classic early AR-15 variants.
Colors available include black, Air Force contract green, and brown for builds replicating early Eugene Stoner prototypes.
Available separately or in complete furniture sets, the early-pattern stocks, pistol grips and iconic triangular handguard sets are made with fully-modern materials, and are attractively priced compared to hard-to-find originals.
Handguards fit into triangular handguard caps. Stocks are based on the Type D pattern, without a trapdoor compartment, and fit onto A-1 length buffer tubes.
"Customers have a deep desire for nostalgia, and they wanted to be able to build their own version of an early AR-15 or M16A1," said Brownells CEO Pete Brownell. "We're proud to offer these classic-looking parts to help accomplish those builds."
The following Retro AR-15 Furniture can be seen on the Brownells website:
The Retro furniture complements the other Retro M16A1 parts Brownells also offers, including both upper and lower receivers, barrels, bolt carrier groups and other small parts.
To see all of Brownells Retro parts, click here.
About Brownells
Serious About Firearms Since 1939, Brownells is the world's leading source for guns, gun parts and accessories, ammunition, gunsmithing tools and survival gear. With a large selection of both common and hard-to-find items, and an extensive collection of videos, articles, and gun schematics, Brownells is the expert for everything shooting-related. Committed to maintaining our great traditions, Brownells has more, does more and knows more – and guarantees it all, Forever. For more information or to place an order, call 800-741-0015 or visit Brownells.com. Stay up-to-date with Brownells on YouTube, Facebook, Twitter and Instagram.