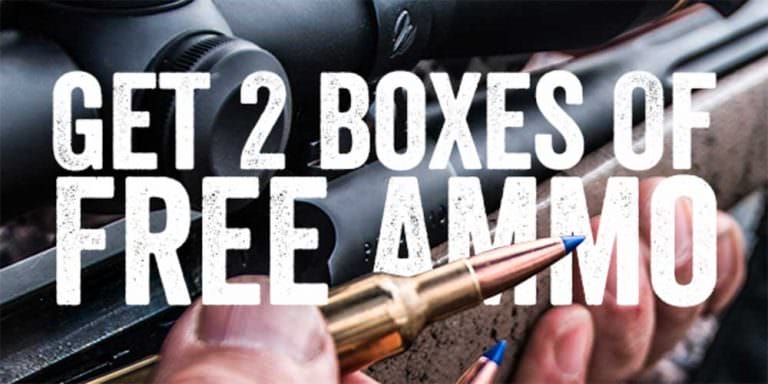 PASO ROBLES, Calif. –-(Ammoland.com)- Nothing shoots faster, hits harder or is more accurate than a Mark V firing a Weatherby Magnum cartridge. For a limited time, hunters who purchase a new, qualifying Mark V rifle will also get two free boxes of Weatherby Select or Select Plus ammunition in the Weatherby Magnum chambering they selected for their Mark V.
Rifles qualifying for this special offer are Mark Vs with the prefix "PM" or "PS" in the serial number thatare purchased between September 1 and December 31, 2017. After purchase, customers can pair their Mark V with 40 rounds (two boxes) of free Weatherby Magnum ammunition by applying online or by mail no later than January 31, 2018. New rifle owners will receive their free ammo within 8-12 weeks following their submission. Complete rebate program details are available at www.Weatherby.com/Rebate.
"Wildcatter" Roy Weatherby began developing these fast, flat-shooting, hard-hitting cartridges back in the 1940s. Throughout the decades, Weatherby has added innovative calibers to provide hunters withmagnum performance on everything from long-range varmints to close encounters with the world's most dangerous game. Today, the complete list of cartridges includes: 224, 240, 257, 6.5-300, 270, 7MM, 300, 30-378, 340, 338-378, 375, 378, 416 and 460.
Roy Weatherby first developed the Mark V rifle because no other action was strong enough to handle the fierce power of his Weatherby Magnum cartridges. Today's Mark Vs still feature the ultra-strong 6- and 9-lug bolt actions along with precise LXX Triggers, hand-lapped barrels for SUB-MOA accuracy and the craftsmanship that has made the Weatherby brand legendary.
"Hunters choose the Weatherby Mark V chambered for Weatherby Magnum calibers for the ultimate in speed, power and accuracy," said Weatherby Vice President of Sales Jason Evans. "By offering customers free ammunition, this special offer ensures the best possible experience at the range and in the field," he added.
About Weatherby
Founded in 1945, Weatherby, Inc. is a family-owned company that continues to fuel the passion of hunters and shooters around the globe by building some of the world's finest firearms. With a legacy of setting new standards in ballistics and performance, the company is committed to redefining excellence on the range and in the field. The Weatherby line features popular Vanguard rifles, legendary Mark V rifles (production and custom), Weatherby Shooting Systems Rifles, Threat Response shotguns and other shotguns in over/under, semi-auto and pump designs. Weatherby's premium ammunition and shooting accessories are also thechoice for discerning shooters worldwide. The company is based in Paso Robles, CA and invites all hunters and shooters to visit their free online communities at www.weatherbynation.com, www.facebook.com/Weatherbyinc and @weatherbyinc on Twitter. The latest Weatherby films can be viewed at www.wby-tv.com. For more information, go to www.weatherby.com.