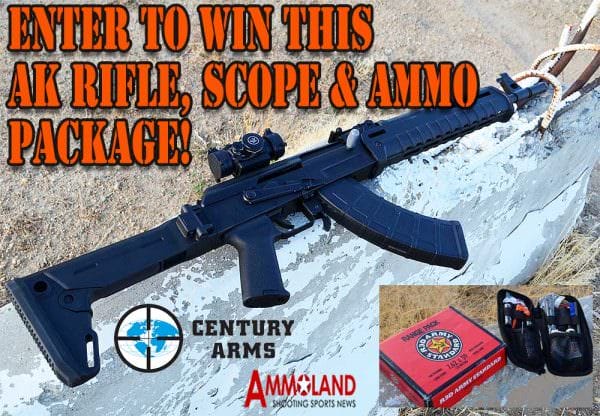 Manasquan, NJ -(Ammoland.com)- New and existing subscribers to the AmmoLand Shooting Sports Newswire emails will ALL be eligible to win an awesome Century Arms Zhukov AK Rifle & Vortex Optic Package.
One Lucky AmmoLand Subscriber Will Take This Gun Home!
AmmoLand Shooting Sports News, Century Arms and Vortex Optics are giving away a $1300.00+ Chicom inspired rifle package to one lucky email subscriber and that could be you!
---
This contest is over. The Winner was AmmoLand subscriber, Jeronimo Macias of Florida, Congratulations on winning an awesome new rifle.

If you want to be sure you have a chance to win our next big gun giveaway make sure you are subcribed to our daily email newsletter.
---
The lucky AmmoLand News reader will win:
Century Arms C39 Zhukov AK Rifle
Vortex Optics SPARC II Red Dot Sight
500 Rounds of Red Army Standard 7.62×39 Ammo
A complete AK cleaning Kit
Century Arms C39 Zhukov AK Rifle Specifications
100% American made
Barrel 1:10 twist, concentric LH 14×1 metric thread and ready for a variety of muzzle attachments
1st AK side scope rail mount to offer a return to zero capability, also offers four times clamping improvement over traditional side scope rail mounts and improves sight acquisition for follow-up shots
Chrome moly 4150 nitride treated barrel
Milled 4140 ordnance quality steel receiver
RAK-1 Enhanced Trigger Group
Larger T shaped magazine catch
Compatibility with AKM furniture
Standard AKM sights
Retaining plate
Bolt hold-open notch on the safety selector
Proprietary Chevron muzzle brake
Bolt carrier tail heat treated to ensure maximum performance and life
Accepts all standard AK mags.
Comes with one 30 rd. mag., Zhukov-S stock, MOE AK pistol grip and Zhukov handguard
Barrel: 16.5″ with a 1:10 twist, Overall: 26″ folded, 35.5″ collapsed, 38″ extended, Weight: 8.65 lbs.
Vortex Optics SPARC II Red Dot Sight Specs:
Finish: Black
Magnification: 1x
Max Magnification: 1x
Reticle: 2 MOA Dot
Weight: 5.9 oz
Read AmmoLand's recent Century Arms Zhukov AK Rifle & Vortex Optic Package review found here.
But you can't win it if you are not in it!
How Do I Enter?
The giveaway enter dates runs from October 15st, 2017 to November 30th 2017 with the winner drawn on December 1stth, 2017.
Everyone who signs up, or is an active existing subscriber, to the AmmoLand Shooting Sports News daily & monthly emails is eligible to win.
Eligible Winners, must be 18 years of age, a legal resident of the United States and be lawfully eligible under local, state and federal rules to accept the transfer of firearms through a licensed Federal Firearms License. NOTE: Residents DC, CT, NJ, IL (Cook County only) and NY may not be eligible to win. Take your complaints up with your local anti gun lawmakers.
No monetary compensation or substitution for ineligible winners. You are just out of luck.
Do you get our daily email? Then you are already entered. Do you need to sign up? Then you can do so at the link/box above : Sign up for AmmoLand in your Inbox!
About Century Arms:
Born over 50 years ago with its roots in the surplus business, Century Arms has an extensive history of providing unique and affordable products to the American Collector, Hunter, and Target Shooter. That tradition is carried on today, with a state of the art manufacturing facility located in the U.S.A, as the company continues to offer unique, innovative, and quality products to the U.S. Consumer and U.S. Government.
For additional information on Century Arms, visit their website.
About Vortex Optics:
American owned, Middleton, Wisconsin based Vortex Optics designs, engineers, and distributes a complete line of premium binoculars, riflescopes, spotting scopes, tripods and related accessories. Dedicated to exceptional quality, value and unrivaled customer service, Vortex backs its products with its unconditional, transferable, lifetime VIP – warranty. Built on more than 20 years of experience in the optics industry, Vortex is rapidly emerging as a leading brand in the optics market. Vortex – The Force of Optics | www.vortexoptics.com
About AmmoLand.com – Shooting Sports News:
Ammoland.com is the web's leading Shooting Sports News Service for the Ammunition, Firearms, Shooting, Hunting and Conservation communities. AmmoLand has a FREE Shooting Sports News Service that is seen by 10,000's of Ammunition, Shooting and Pro Firearms enthusiast every day. Visit them at www.AmmoLand.com
Don't delay! Be sure and Sign Up before we pick a winner.