Preston Bankson check out a special pistol from CZ, the CZ 75 SP-01 Tactical Suppressor-Ready Pistol.

U.S.A. –-(Ammoland.com)- I recently bought a CZ 75 SP-01 Tactical Urban Grey Suppressor-Ready chambered in 9mm. I was so impressed with this firearm that I decided to write an unsolicited article detailing its performance.
For less than $650, the fit, feel, and features that are packed into this pistol are outstanding!
The CZ SP-01 was designed as a duty sidearm; however, target shooters have taken up this firearm as it offers exceptional accuracy and superior handling right out of the box. To start, I have to highlight the features of this pistol. After you see what we're dealing with, I'll get into the full range report.
Stand-Out Features
Finish – Right away the urban grey finish grabs your attention. Per CZ's website, the color is a mix of grey and flat dark earth. The finish is seamless and unique. While the color did not affect my purchasing decision, it has grown on me.
Threaded Barrel – Given the "suppressor-ready" marketing, it's safe to assume the barrel is threaded. The thread pitch is ½ x 28.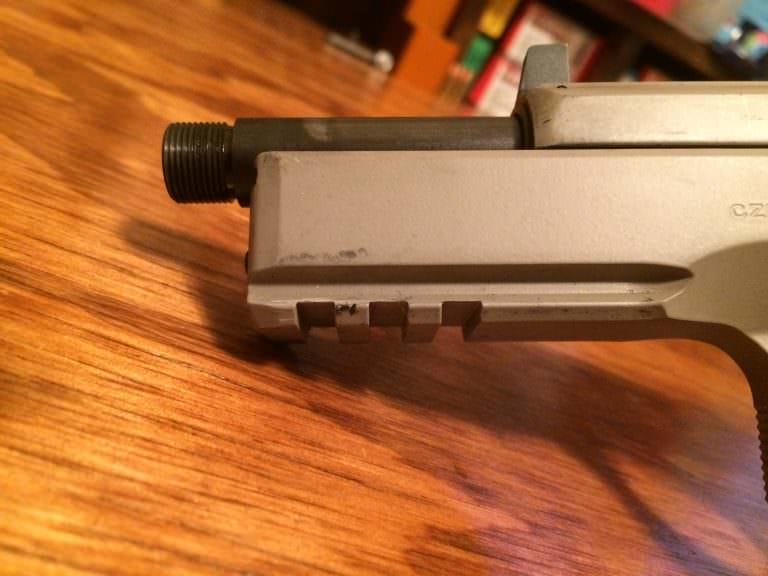 Raised, Tritium Filled (Night) Sights – The sights on the CZ 75 SP-01 Tactical Suppressor-Ready Pistol are perfect for suppressed shooting. They are high enough to just peek over your suppressor to give you a normal sight picture of your target. They are tritium filled and provide easy aiming for low-light shooting.
1913 Accessory Rail – The front rail allowed me to mount a scope for accuracy testing. While it's convenient to mount a plethora of gadgets, it also adds the constant benefit of additional mass which results in a small reduction in recoil.
Decocker – The SP-01 Tactical Suppressor-Ready Pistol model has a decocking mechanism where you might otherwise find a thumb safety. This feature allows you to convert the gun from single-action to DA/SA where the first shot is double-action with successive shots being single-action. By converting the gun to DA/SA, the trigger now requires over two times the trigger pull force to fire off the first shot.
For many, DA/SA is an ideal way to carry a defensive firearm. When drawing from your holster and beginning to engage your target, you have a little extra insurance against an unintended discharge with the benefit of smooth, quick firing (in single-action) once you've decided to commit to a second shot.
Ergonomic Detail – For a reasonably priced pistol, CZ went all out on fit in addition to function. The beavertail, rubber grips, and checkering combine to create a strong shooting platform that combats recoil and keeps you on target for quick follow-up shots. Note the checking on the front and back of the grip as well as on the front of the trigger guard for use if you're into leveraging the pointer finger of your non-trigger hand to get back on target more quickly.
CZ 75 SP-01 Tactical Suppressor-Ready Pistol First Shooting Impressions
Handling
Given all of the features mentioned above, this full-framed gun feels good in your hands and manages recoil very well. The all-steel construction, extra features (rail and larger sights), and 5.21" barrel make this CZ stout at nearly 42 oz. unloaded with a magazine. Loaded up with 18+1 rounds of 9mm, this gun is four or five ounces heavier than a loaded up standard GI 5" barrel 1911 chambered in .45 ACP!
As a 6'2" male with larger hands, this pistol suits me well. On the flip side, while my wife finds the gun quite comfortable and enjoys shooting it, she wouldn't take this as her all day range toy with a suppressor. That total package is just too heavy to be comfortable for her over a long period of time – no judgment there. After I've held it on target for an hour with a suppressor out front, my shoulders can feel it. The weight of the gun, coupled with a tried and true action that has been used in CZ 75s for decades makes for a well-controlled, smooth recoil impulse. When you slap a silencer on the front, there's not much more felt recoil than shooting a 22lr pistol.
Take down is straightforward. All you need to do is place your thumb within the trigger guard and use your index finger on the same hand to push the slide from muzzle to breech just a tad to align the hash at the back of the slide with the hash on the frame just behind the decocker. Once aligned, simply push the takedown lever through from the right side of the frame to the left side of the frame and then pull the lever out completely. Once that lever is removed, the slide slips off the front of the frame and you are left with the typical upper guts of a semi-auto pistol. The guts of the frame are more unique, and details can be found via YouTube and Google.
---
---
Trigger
Keeping in class, this is as nice a trigger as I have ever pulled. For the sake of comparison, I will compare against the venerable 1911, as many of us have experience with this pistol and can use it as a benchmark. I have a Smith & Wesson 1911 E-Series that cost twice as much as this CZ and would say the 1911 trigger is only slightly smoother to squeeze. Yes, I am comparing a $650 modern semi-auto to a Cadillac firearm. That's how freaking nice this trigger is. My 1911's trigger pull is 4 lbs. and buttery smooth, whereas the CZ's single action pull is 5-6 lbs. and feels only marginally less smooth.
The reset happens more slowly on this CZ than on my 1911; however, the reset is still positive (there is a physical click sensation that lets you know the trigger is reset). Don't let this fact turn you off. I intentionally purchased this handgun as an entry gun to competition type shooting, with the intent to improve the speed at which I can accurately shoot. For me, reset is critical to putting rounds on target quickly. The reset on this CZ still happens more quickly than I can realign my sight picture and get off my next shot. That's all you can ask for at this price point.
Finally, let's talk double action stacking. This point will be quick because there is no stacking in this CZ's double action trigger pull. The DA mechanics in this gun provide consistent tension against the trigger finger which ends in a crisp break. Thanks to good engineering and a heavy platform, anyone with a focused trigger pull can properly place that first shot.
Accuracy
I was very pleased with the precision this pistol provided after all of my testing was done at 25 yards. Using 115-grain Hornady Action Point and Hornady FMJ bullets my average five-shot group, center to center, was under two inches! As you will see in the chart below, I had numerous loads that generated five-shot groups in the mid-one inch measurements, and when the least consistent shot was removed, a handful of 4 shot groups measured under one inch. The best performing loads are highlighted in yellow and will undergo more testing before I decide which one to load en masse.
For those not terribly familiar with pistol accuracy, any ~$650 stock gun shooting 2.5-inch groups at 25 yards exceeds expectations. Given that this gun is full size and built for performance rather than concealment, maybe one could argue that a 2.5-inch group is to be expected. That being said, two-inch and 1.5-inch groups certainly exceed expectations for me.
Stepping up to 124-grain bullets, per one factory load and a handful of hand loads, this weight of bullet was less accurate than the 115-grain bullets; however, there were two or three loads that performed well.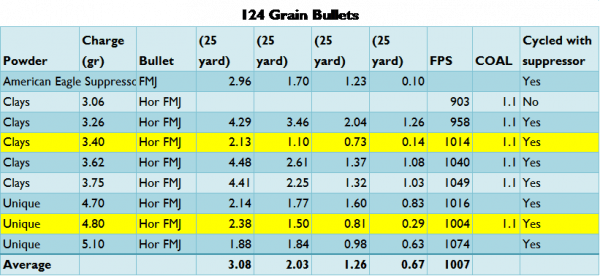 If you are a handloader and plan on running this pistol suppressed, buy a pound of Hodgdon Clays (start with Titegroup if you have it on hand) powder. This powder produced accurate results with the added bonus of being a quick burning powder. See my article here for further detail. The moral of the story is that loading with certain powders prevents powder blast coming back at the shooter from the action when shooting suppressed.
Upgrades
After a few hundred rounds fired in the stock configuration, I decided to buy a few inexpensive "upgrades", if you will. For a total of $20 I bought and installed the following items and headed to the range:
11 lb. Wolff Recoil Spring ($8)
Recoil Buffer ($8)
The hammer spring puts tension on – you guessed it – the hammer! So, by bringing this tension down using a 15-pound spring, compared to the stock roughly 20 lb. spring, I could tell that both the single action and double action trigger pulls were lighter. I did not notice any change in crispness to the trigger break, which was fantastic out of the box. I recommend this upgrade and in the right circumstance could suggest a lower weight spring if someone were to use this pistol strictly for target shooting and not self-defense.
The recoil spring is the spring under the barrel that gets compressed when you rack the slide. I took the stock spring off of the guide rod and placed the aftermarket buffer onto the guide rod. Then, I put on the lighter, 11-pound spring, (I could not verify, but it appears the stock spring is 18-pounds). The buffer is supposed to smooth the end of the recoil impulse while the lighter spring should smooth the entire recoil impulse and allow lower power loads to cycle. In my shooting thus far I have not noticed a lot of change out of these two amendments to the cycling process.
I hope you have a chance to get your hands on one of the CZ 75 SP-01 Tactical Suppressor-Ready Pistol soon! This is my first CZ, and I guarantee you that it will NOT be my last.
---
IV8888: CZ 75 SP-01 Tactical Urban Grey
---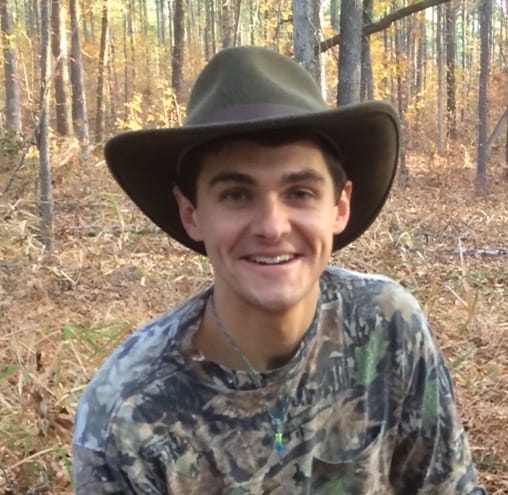 About Preston Bankson
Preston Bankson is grateful to be a byproduct of upbringing by a hunting family and marriage to a shooting family. While he primarily hunts in his home state of South Carolina, he enjoys the occasional excursion to a waterfowl flyway or trip out West for deer. Since the introduction to his in-laws, Preston has educated himself on concealed carry and become an avid reloader. He enjoys perfecting reloading techniques which have produced big results in his hunting. When not pulling the trigger himself, Preston enjoys introducing these pastimes to others and dabbles in shooting competitions.