The Gurkha Grey Ghost Will Be Available via Special Order.
Tamarac, FL –-(Ammoland.com)- Gurkha Cigars and Grey Ghost Precision have joined forces to create a limited edition rifle. The Gurkha Grey Ghost Rifle is available for purchase by special order.
Only a thousand rifles will be made and each rifle will come with individualized sequential alphanumeric numbering, 1-1000 (GGG-0000). Gun collector and Gurkha Cigar CEO, Kaizad Hansotia owns the first Gurkha Grey Ghost created, GGG-0001.
"Gurkha Cigars and Grey Ghost Precision have a symbiotic relationship," said Hansotia. "Our companies share similar brand attributes and a common demographic, so it is only natural that we would partner to create the Gurkha Grey Ghost rifle."
Each rifle is customized with Gurkha "GHOST" Tribal Logo and is available in various Cerakote colors, including Tactical Black & Tabaco Bronze. Several elite personnel already possess Gurkha Grey Ghost Special Limited Edition Rifle. The Rifles will be available in several different calibers to meet our elite customers' preference.
Grim in 6.5 Creedmoor
Heavy in .308 (7.62 x 51mm)
Light in .223 (5.56 x 45mm)
Dark in .300 Blackout Remove, we are DIC that caliber selection
The Gurkha Grey Ghost Rifles will be delivered eight weeks after purchase as a lot of care go into the manufacture of each of these made-to-order rifles.
Grey Ghost Precision decided to develop rifles due to a real-world need for elite military professionals to get the necessary system to complete their mission, as well as increase their team's lethality and survivability. They make every rifle to endure the most rugged of conditions that will be faced in the field. This does not mean that the rifle has to be ugly. The clean lines and attention to detail will be evident to the pickiest of collectors. The Gurkha graphics applied by the Master Cercoater make the package complete. This solid shooting platform looks great on the range, performs at a very high level, and will be the envy of those that see it.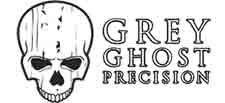 Grey Ghost Precision is a group of professionals who have an extensive background in the military and manufacturing. The company enlists a network of industry and shooting sports experts to help refine rifle specifications and lend their expertise as the company continues to develop and expand its weapon system offerings. Grey Ghost Precision develops products that are accurate, reliable and attainable. For more company information or to purchase a rifle, please visit www.greyghostprecision.com.
Gurkha Cigars are known throughout the world for their premium and luxurious cigars, so it's no surprise that they are the most sought-after cigars around the globe. Gurkha produces millions of cigars per year that are sold in more than 70 countries worldwide. And while Gurkha is known for its exclusivity, it has an impressive array of 250 brands of flawlessly handcrafted, premium cigars created in a variety of strengths, tasting profiles and price-points. No matter what your taste, there's a Gurkha cigar that's perfect for your palate. For additional information visit www.gurkhacigars.com.