Disclosure: Some of the links below are affiliate links, meaning at no additional cost to you, Ammoland will earn a commission if you click through and make a purchase.
Tom reviews the Spyderco Bill Moran Drop Point Knife.
USA – -(Ammoland.com)-  I've worked with and carried knives all of my life. I've been cut quite a few times and helped send quite a few others to the emergency room for cuts and stab wounds. You'd think I would be totally comfortable around knifes but every now and then I run across one that is so sharp it scares me. I know one slip and it's going to be a bad slice.
I hate getting cut. It burns. And there's no good spot on the human body to get cut or stabbed. Inside the torso are vital organ. In the legs and arms are big arteries and in the hands are ligaments and tendons that don't do well when cut. There's not really any spot that is good to get cut or stabbed!
I say all of this because when I pulled my new Spyderco Bill Moran Drop Point Knife out of the box, it was so sleek and sharp that it scared me to handle it. A couple of weeks later I was headed to Texas for a hog hunt and threw it in my gun case so I could test it out.
From the looks of it, it appeared that it should be a good skinning knife. It has a drop point which you need for high speed skinning if you're wanting to save the hide and yet, the spine had been ground down enough to have an ok point, which should work for cutting the pattern. (The pattern is the original "H" skinning pattern you make down the belly line and out each leg to the hooves).
It comes with a molded Boltaron sheath. I used to not like these plastic type of sheaths but after starting to slowly use them 10 years ago I've gradualy started changing my opinion of them. They're light weight, they don't trap moisture as bad as leather thereby rusting your knife, they're more compact and the knife snaps tightly down into them.
As I type, I'm enroute via airplane to Texas for the hunt. After hunting with the knife, I will resume typing….
Wow, having some great hog hunts. Hunting with a company named Slow Glow. They invented an LED light that slowly illuminates so the hogs don't even know that it is getting lighter. It is motion activated. Then you sneak in just like on a normal stalk. You have to play the wind, be silent and everything else just like a normal hunt. These things are great. The first night we got within 11 paces of a group.
---
---
On this hunt I was to use the Benjamin Airbow for our close shots and stalks but I was also supposed to bring a rifle for long shots. But anyway, back to the Spyderco Bill Moran Drop Point Knife. On our first hog kill I tested out the Spyderco Moran. Everyone knows how much dirt a hog has on it which can really dull your skinning knife.
I wanted to take back some backstraps and forequarters to Idaho to smoke. I whipped out my Spyderco Bill Moran Drop Point and as expected, it was razor sharp and sliced through the tough hog hide like the proverbial hot knife slicing through butter.
It is a thinner bladed knife which I somewhat favor. I don't like cutting with a knife that is as thick as a chisel. I'm sure a thick knife won't snap as easy when prying open doors or whatever people do with them but that's not why I carry a skinning knife, I carry it to skin game.
I think you'll like this knife for use as a hunting knife. It's lighter weight and like I said, razor sharp. I had a lot of knives I had to test out on this trip so I didn't get it very dull. So I can't say yet how easy/hard it is to sharpen or how long it will hold an edge.
Well, time to kill more hogs. I'll probably have some follow-up hog skinning articles. That is if these Texas boys don't hunt me to death. I haven't stayed up until 3:00 every morning since maybe college! I don't know what they have against sleeping???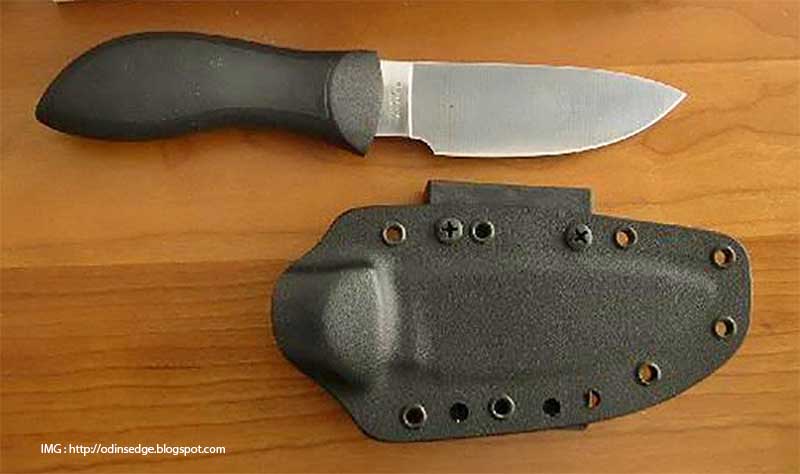 Bill Moran's Back Story:
"Bill Moran is recognized as the grandfather of American custom knifemaking and the founding father of the American Bladesmith Society. He started making knives more than fifty years ago. If you're lucky enough to find a custom-made Moran, expect to shell out five-figures, minimum. His work and designs are that revered."

"Spyderco is privileged to offer a production fixed-blade collaboration patterned in Bill Moran's ageless tradition. It is offered in two blade shapes. The FB02 has a drop-point shape, the FB01 has a clip-point. Both are flat-ground VG-10 and carry Bill's signature. They are tapered, starting thick where the blade joins the handle, thinning down the spine to a fine, uniformly ground tip. In the hand the knife conveys a unique feeling of balance, called by some a sweet spot. The sweet spot is due to the blade and handle being comparable in weight. This balance transfers into a feeling of steady control over the cutting edge. The FRN handle three-dimensionally fills out the palm and is inlayed with a panel of non-sliding Kraton. Recommended for hunting and camping both models come in a molded Boltaron sheath with multi-position G-Clip fastening system."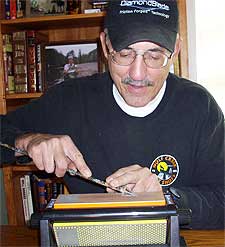 About Tom Claycomb
Tom Claycomb has been an avid hunter/fisherman throughout his life as well as an outdoors writer with outdoor columns in the magazine Hunt Alaska, Bass Pro Shops, Bowhunter.net and freelances for numerous magazines and newspapers. "To properly skin your animal you will need a sharp knife. I have an e-article on Amazon Kindle titled Knife Sharpening for $.99 if you're having trouble"