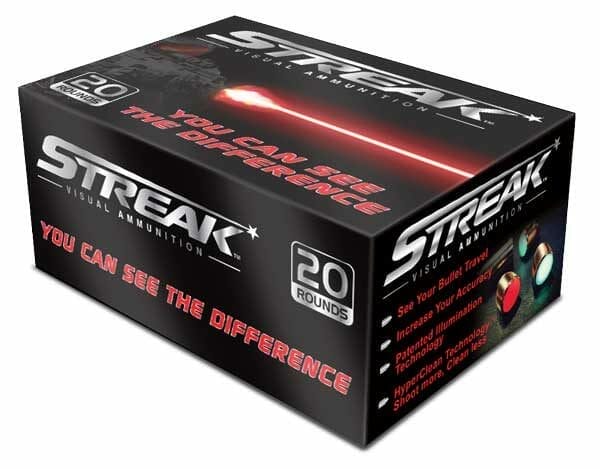 SCOTTSDALE, AZ –-(Ammoland.com)- AMMO, Inc. (OTC:POWW), a technology leader and premier American ammunitions manufacturer, today announced that the Company has started its initial shipments to leading outdoor retailer Gander Outdoors. The Company is providing its full suite of ammunition brands to Gander Outdoors' stores nationwide, with dozens of additional placements expected this year as Gander Outdoors continues to expand.
"We are extremely excited about gaining entry into Gander Outdoors. Gander Outdoors is rapidly opening its national store base and we are proud to be represented in its stores," commented Fred Wagenhals, AMMO Inc.'s Chief Executive Officer. "This is a great opportunity for us to engage with shooting sports and outdoor enthusiasts and introduce our complete line of innovative ammunition products. AMMO Inc.'s patented STREAK Visual Ammunition is experiencing a groundswell of interest based on organic user experiences. We continue to expand our retail distribution, which helps us get our products to consumers. We look forward to growing alongside Gander Outdoors as they begin ramping up their business."
Gander Outdoors is an outdoor retailer that currently operates 31 stores in local communities across the United States and online, dedicated to servicing the hunting, camping, fishing, shooting, and active sports markets. Under the leadership of its new owner, Camping World Holdings, Gander Outdoors is rapidly opening its store locations, targeting a total of over 70 stores to be in operation by mid-June, ahead of the seasonally important fall hunting season. AMMO Inc.'s agreement with Gander Outdoors includes the placement of a freestanding endcap exclusively highlighting AMMO's three premium ammunition brands, STREAK Visual Ammunition, Jesse James and One Precise Shot (OPS) in each Gander Outdoors store.
---
About Camping World Holdings
Camping World Holdings, headquartered in Lincolnshire, Illinois, is the leading outdoor and camping retailer, offering an extensive assortment of recreational vehicles for sale, RV and camping gear, RV maintenance and repair and the industry's broadest and deepest range of services, protection plans, products and resources. Since the Company's founding in 1966, Camping World has grown to become one of the most well-known destinations for everything RV, with over 140 retail locations in 36 states and a comprehensive e-commerce platform. Coupled with an unsurpassed portfolio of industry-leading brands including Erehwon Mountain Outfitters, Gander Outdoors, Good Sam, Overton's, The House, Uncle Dan's and Windward/W82, Camping World Holdings has become synonymous with outdoor experiences. Camping World's stock is traded on the New York Stock Exchange under the symbol "CWH".
About AMMO, Inc.
With its corporate offices headquartered in Scottsdale, Arizona, and a manufacturing facility in Payson, Arizona, AMMO, Inc. (the "Company and/or AMMO") designs and manufactures products for a variety of aptitudes, including law enforcement, military, hunting, sport shooting and self-defense (see www.ammo-inc.com). The Company was founded in 2016 with a vision to change, innovate and invigorate the complacent munitions industry. AMMO promotes branded munitions, including the Jesse James line of munitions and accessories, /stelTH/ subsonic munitions, and OPS (One Precise Shot) a lead-free frangible tactical line of munitions for self-defense, and Streak Visual Ammunition.