North Carolina –-(Ammoland.com)- "…the weapon described is a weapon of mass death and destruction, but because it falls within an exception listed in N.C.G.S. 14-288.8(b)(5), its possession alone would not constitute a crime."– Office of NC Attorney General (emphasis added)
Win a Mossberg 'Shockwave!'
To continue our tradition of politically incorrect gun raffles to raise money for the purpose of electing pro-gun candidates, we cast about for a worthy successor to the wildly successful "Hillary Clinton Special" of 2016.
Well, we've found it: The W.M.D.* Raffle, featuring the gun that GRNC made legal in North Carolina!
And how did GRNC make this gun legal, you ask? Let us tell you the story.
The left wants to define certain guns as "bad guns," as though semi-automatic firearms (or concealable guns, or bump stocks, or whatever the left wants to ban today) are somehow capable of independent action.
So imagine the "Schadenfreud" we felt when we discovered that the efforts of Grass Roots North Carolina had rendered legal, in North Carolina, one of what they will undoubtedly consider the "baddest" guns of all, namely the Mossberg "Shockwave."
Back in 2011, when we passed Castle Doctrine, we drafted and quietly slipped into the bill a provision designed to resolve conflicting statutes on legal ownership of machine guns. Of course, we made sure not to use the words "machine gun" anywhere, and it passed into law without debate.
Now cut to 2017, when the BATFE determined that because it was not designed, made, and intended to be shot from the shoulder, the Mossberg "Shockwave" is not a shotgun, further deciding that the Shockwave was an ordinary firearm, and therefore not regulated as a short-barreled shotgun under the highly restrictive 1934 National Firearms Act.
But just because it's legal under federal law doesn't make it legal under North Carolina law and, indeed, many read our statutes as prohibiting the gun despite the fact that it was being sold around the state.
When we learned that a North Carolina sheriff had asked the Attorney General for a determination on the gun, we feared the worst.
So we were pleasantly surprised when we read the letter from a representative of the Attorney General's office concluding: "…the weapon described is a weapon of mass death and destruction, but because it falls within an exception listed in N.C.G.S. 14-288.8(b)(5), its possession alone would not constitute a crime."
So we looked up the statute in question, and were gratified to discover it was the very same statute we had quietly slipped into law in 2011, proving that GRNC's foresight in drafting the language had paid off.
GRNC-PVF will now raffle off *2* of the shotguns we made legal in NC!
First prize – 590 Mossberg Shockwave: to be drawn May 8th
Second prize – 590 Mossberg Shockwave: to be drawn Nov 6th
Third prize – XF-7 Tac-Pak: to be drawn Nov 6th
Still wondering if you really need one of these awesome firearms? Watch this video from Thunder Ranch.
Moreover, tickets are cheap: $10 ea, 3/$25, 7/$50 or 15/$100.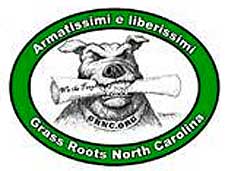 About Grass Roots North Carolina:
Grass Roots North Carolina/Forum for Firearms Education is a non-profit, all volunteer organization devoted to educating the public about trends which abridge the freedoms guaranteed by the Bill of Rights, and engaging in grass roots activism to preserve those freedoms. Formed in 1994 to conduct a highly successful rally for the Second Amendment, GRNC has gone on to conduct projects like "Remember in November: A Gun Owner's Guide to Voting," bringing concealed carry to North Carolina. Visit:www.grnc.org