U.S.A. –-(Ammoland.com)- Long range shooting is something I enjoy. I am not the best precision shooter, but I am not bad either. I really enjoy the math that goes into hitting targets at long range. My go-to rifle for long range shooting is my Remington 700 chambered in 300WM. I have been looking to do a few upgrades to my rifle for a while.
One of the biggest upgrades a shooter can do to their rifle is adding an aftermarket chassis system, and there are plenty of different models to choose from that are made for the Remington 700. The chassis market for long action rifles is a little smaller than for short action rifles, but there is still plenty of choices for the long-range shooter.
There are several advantages to adding an aftermarket chassis to your rifle platform. One of the biggest is the amount of customization that an aluminum chassis allows the user to do to the gun. This customization allows the firearm owner to tailor the rifle specifically to them a lot easier than if they were using a fiberglass or wood stock which are basically "one size fits all."
Another advantage of using an aluminum chassis over a wood stock is that the elements have far less of an effect on aluminum than wood. Since the platform is more consistent in all conditions, the shooter will be more accurate with the firearm. Precision shooters will look for any advantage to squeeze out any amount of improved accuracy of their rifle.
The third reason to go with a chassis over the standard stock on your rifle is that the chassis will accept detachable magazines which save time that it would take to reload the gun. The shooter can keep several magazines loaded instead of loading the gun by hand after every five shots. This advantage might not be a big deal for the hunter but helps a long-range shooter stay on target.
After looking at different chassis, I found one made by Modular Driven Technologies (MDT) that was exactly that I was looking for. They make different chassis at different price points. I went with the LSS-XL Gen 2 Chassis System.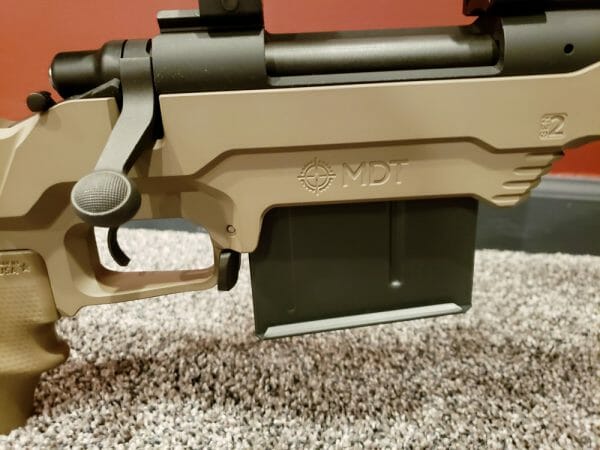 MDT made the LSS-XL Gen 2 Chassis System out of CNC machined 6061 aluminum. It is sturdy material and the CNC work is impeccable. They offer the chassis in a Cerakote black or flat dark earth. I went with FDE because I have plenty of black bolt action rifles and wanted something different. The Ceakoting was also perfect. Overall the chassis was strong and light (under 2lbs).
The LSS-XL uses a M-Lok system for attaching accessories to the rifle platform. I used a bipod that attached to the rifle by using the M-Lok system.
A cool thing about the MDT LSS-XL Gen 2 Chassis System is that it can use any AR15 buttstock. All the operator has to do is attach a buffer tube and their choice of a buttstock. The system will take both commercial and mil-spec buffer tubes which is a bonus.
This strength is also one drawback to the chassis system. The MDT LSS-XL Gen 2 Chassis System will require a user-supplied magazine, buffer tube, pistol grip, and stock. Since I pretty much knew what I wanted to use it wasn't a big deal to me.
I went with a mil-spec buffer tube and used an FDE A*B Arms Urban Sniper Stock with the optional butt pad. I have used this buttstock on other rifles I own, and I love it. So, I was happy that I could use it on the LSS-XL. This butt stock is comfortable for me.
Another reason for choosing the A*B Arms buttstock over the MDT skeletonized buttstock is the price. The MDT buttstocks sell for between $249 and $299. They are very nice. A friend of mine has one and it is great, but also currently out of my price range. The A*B Arms stock cost $99 plus another $24 for the extra butt pad. This cost savings stopped my wife from killing me.
The MDT LSS-XL Gen 2 Chassis System also takes most AR-15 pistol grips. I once again I went with an A*B Arms pistol grip. This grip is the same pistol grip I have installed on my Ruger AR556. I love it on my Ruger, so I decided I would probably like it on my Remington 700 and I was right.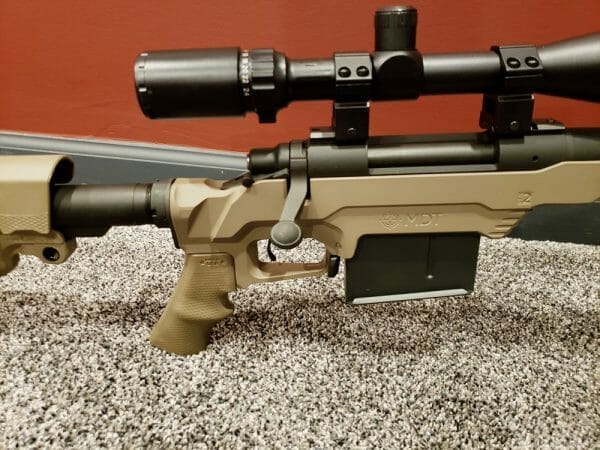 Another cool thing about the LSS-XL Gen 2 Chassis System is the position of a thumb rest above the trigger guard. This little addition might seem marginal, but it shows the thought that went into the Gen 2 version of the LSS-XL.
The barricade stop grooves in front of the mag well on the LSS-XL Gen 2 Chassis System is also an excellent addition. These barricade stop grooves help the shooter when shooting from behind cover such as a wall.
The MDT LSS-XL Gen 2 Chassis System accepts AICS style magazines. This choice in magazines seems to be the most common magazines that are used by aftermarket chassis. The mag was a tight fit with no wobble.
According to MDT, the chassis will improve the accuracy of the firearm by 21%. I cannot say for sure if it was a 21% improvement, but it did improve my shooting. I was able to push the rifle out to 1000 yards with no problem.
I am not the best shooter in the world, but I was able to shoot a sub-MOA on the target from a prone position at this distance. To me, that is a win. I would have liked to push the rifle out a little further than I did, but I didn't have the time to drive out to my usual long-range shooting spot, so I used a friends property.
The biggest complaint I have about the MDT LSS-XL Gen 2 Chassis System is that to remove the bolt; the shooter has to remove the stock. Some companies make adapters that let the user turn any rifle that uses a buffer tube into a side folder, but these can get a little pricey, so I will stick to removing the stock.
The MDT LSS-XL Gen 2 Chassis System sells for $499. It is a good deal for a great chassis. I am definitely interested in upgrading my Remington 700 with more MDT parts.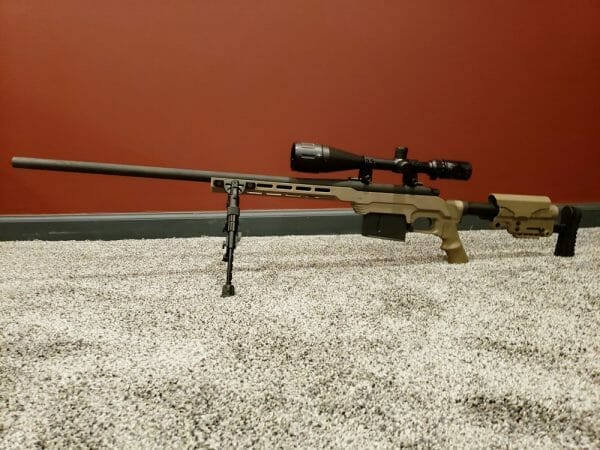 The MDT LSS-XL Gen 2 Chassis System can be purchased online that https://www.mdttac.com
---
About John Crump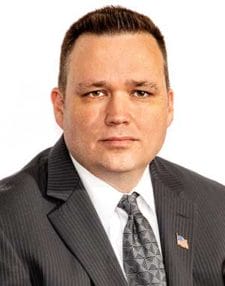 John is a NRA instructor and a constitutional activist. He is the former CEO of Veritas Firearms, LLC and is the co-host of The Patriot News Podcast which can be found at www.blogtalkradio.com/patriotnews. John has written extensively on the patriot movement including 3%'ers, Oath Keepers, and Militias. In addition to the Patriot movement, John has written about firearms, interviewed people of all walks of life, and on the Constitution. John lives in Northern Virginia with his wife and sons and is currently working on a book on a book of deplatforming and can be followed on Twitter at @crumpyss, Facebook at @realjohncrump or at www.crumpy.com.