Reloader, Bob Shell, tests a range of assorted powders loads and bullet weights in 30-30 Ammunition and finds it still is an effective round 120+ years later.
Editors Note: Caution, Reloading is dangerous, read our "Reloading Disclaimer". The reloading data published by this website is intended for discussion purposes only. As with all data collection, mistakes are possible. You have been warned.**
Apache Junction, AZ –-(Ammoland.com)- One of the very first smokeless rounds designed for sporting purposes was the 30-30 cartridge introduced in the Winchester model 94 rifle.
It became generally available in 1895. The original factory ammo offering was a 160 grain at 2,000 FPS.
In that day such velocities were almost unheard of. Typical black powder rounds usually produced 12 to 1400FPS. While 2,000 FPS sounds pedestrian by today's standards, it did the job and hunters quickly realized that this was the wave of the future. For much of the woods hunting the 30-30 has plenty of power. Later on, the 150 and 170-grain bullets were added, and velocity increased.
A few years later other manufacturers realized the potential of the 30-30 ammunition round and brought out their versions as the Winchester model 94 rifle was selling like hotcakes, and they wanted a piece of the pie.
Savage brought out the 303 Savage also in a lever action though it had a box type of magazine and Remington introduced the 30 Remington round in some pump and semi-auto rifles. I have owned and shot all of them, and ballistically they are virtually identical to the 30-30. It would be a personal choice as to the type of gun as they all perform the same. The 30 Remington and 303 Savage were popular for some years, but they are no longer made. Guns can still be found as well as ammo and reloading components with a little shopping.
However, the 30-30 Ammunition Cartridge is as popular as ever.
One of the companies that makes manually operated firearms have been around for a number of years and they advertise that everything is made in America. Another unusual thing is they advertise on TV which few others do. Evidently it works or they would drop it. If you want something different you should definitely check out Henry Arms. They have a large variety of rifles including rimfires. They have the mares leg handgun, a lever action in 410 gauge and the Henry 45-70 rifle among other arms. Single shot shotguns are available as well. For info you can go to www.henryusa.com for info.
Henry Lever Action .30-30 Rifle
One of their products is a lever action rifle chambered for the 30-30 in various models. My model is a Henry Lever Action .30-30 Rifle, model H009 which is a blued steel model with a round barrel.
It is drilled and tapped for a top mounted scope which will enhance accuracy beyond a hundred yards. A Hawke scope is the planned one for this review. I have used the Hawke on many occasions and they always come through. They are reasonably priced and the rifle selection is good so for info you can go to us.hawkeoptics.com on their products. For a budget conscious hunter who wants a good scope at a reasonable price, you would be missing out if you don't check the HAWK Scopes out. I have done quite a bit of testing with this scope and everything checks out. It is clear at all ranges and power settings. With this scope, you have the ability to take a long shot if available and using something like the Flex Tip bullet. Based on my experiences with the Hawke brand I recommend it.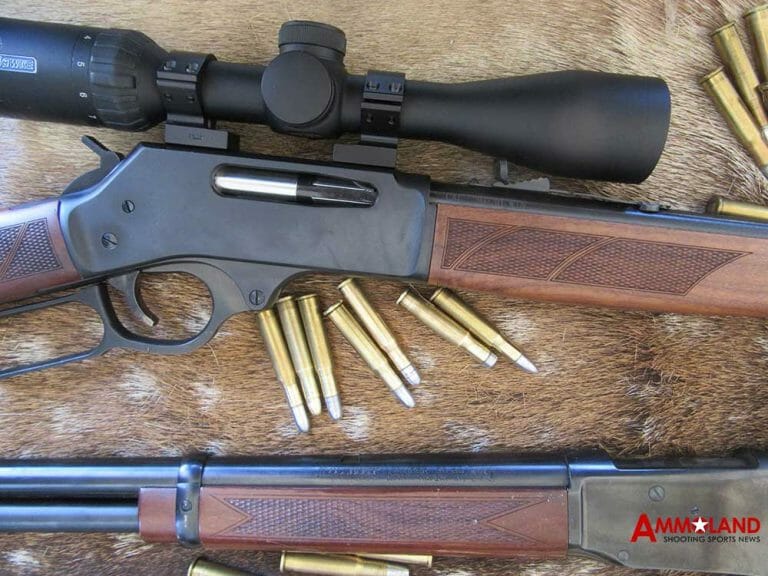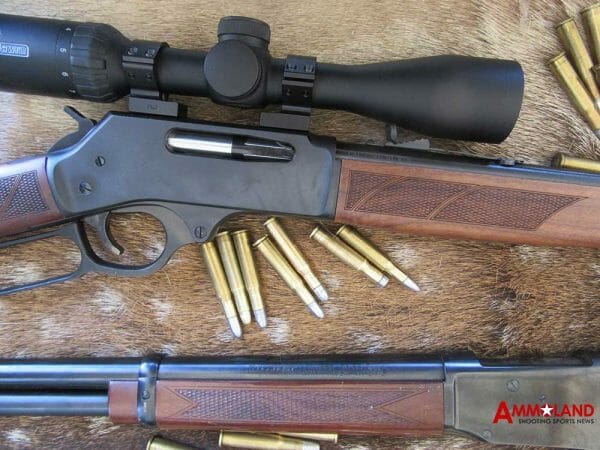 The wood of the Henry Lever Action .30-30 Rifle has a pleasing figure while the bluing is not glossy but even. Another odd feature is it loads by a tube under the barrel as many 22 RF guns do. Most 30-30 lever guns load through the receiver. There is no politically correct safety of any kind which is a plus. Common sense gun handling tends to prevent those types of accidents. The trigger pull is good not too light or heavy.
We did find that the lever screw and a tang screw were loose. Not a big deal but perhaps they might want to look at during production.One other thing we noticed is the way it loads. Most people will put a round in the chamber in order to get the seven rounds. However, when loading the tube your hand may be in front of the muzzle at various times. So, if the chamber has a round in it and is cocked a small misstep may cause it to fire. Such an incident may cause a serious hand injury so be careful see pix.
One thing that was noticeable is the figure on the stock. It has some of the most attractive wood I have seen for a while. Yes, composite stocks are more durable but if looks are important to you then this rifle will definitely have a place in your cabinet.
There are other chamberings and styles available plus some shotguns. So why a 30-30 rifle? It has been around for over 120 years, and one would think that it would be obsolete and no longer made. Nothing is further from the truth. There are several other rifle makers, and the Henry 30-30 is one of the top sellers. Most are lever guns, but some single shot and bolt action rifles are available. The 30-30 round has been used by many hunters, and when used as designed it produces good results often ending with a deer in the pot. It is usually considered a woods gun meant for moderate ranges. However, with the new and improved powders and flex tips the range can be extended. Some people feel that as long as a bullet produces 1,000 FT-LBS of energy at the target, it is considered adequate for deer sized game. With Hornady Flex Tip bullets that number can be obtained at 300 yards with safe loads and regular lever action.
30-30 Cartidge Loadings
Here are some examples when the powder charged is increased by one grain. Some brands of bullets were more consistent than others which is normal. That is why if you are working up a load for serious purposes it is important to try different powder and bullet combos. Each gun has its preferences.
| LOAD | BULLET | VELOCITY | MY COMMENTS |
| --- | --- | --- | --- |
| 32gr RL #7 | 110gr FMJ-RN | 2521.6 | Very Consistent |
| 18gr 5744 | 150gr Berry | 1478.9 | Consistent |
| Barnes | 150gr Vortex | 2404.6 | Good Hunting Load |
| 32gr 8208 | 150gr Speer | 2212 | Ok but can increase |
| 33gr 8208 | 150gr Horn | 2263.36 | Ok |
| 34gr H-4895 | 150gr Combined | 2304.4 | Decent |
| 37gr CFE-223 | 150gr Horn | 2250.55 | Very Consistent |
| 37gr Leverrevolution | 150gr Barns | 2385 | Nice Load |
| 36.5gr Leverrevolution | 160gr Flex | 2335 | Long Range Potential |
| Hornday | 160gr Flex Tip | 2369.80 | Nice Load |
| 18gr 5744 | 160gr Cast | 1573.89 | Consistent |
| 10gr Unique Mossberg | 165gr cast | 1347.60 | Very Consistent |
| 10gr Unique Henry | 165gr cast | 1336.44 | Very Consistent |
| 31gr 8208 | 170gr Speer | 2060.71 | Deer Load |
| 32gr 8208 | 170gr Speer | 2107.4 | Consistent |
| 35gr Leverrevolution | 180gr Horn RN | 2144 | Consistent |
| 30gr 8208 | 180g Horn RN | 2008.8 | Decent |
| 14gr 5744 | 220 gr cast GC | 1286.7 | Ok Load |
| | | | |
| | | | |
Just for info, the 10 grains of Unique and the 165 gr cast was fired in a Mossberg and Henry both lever actions and a 20" barrel. The results were very similar, and Unique is one of the very best powders for reduced loads.
For those who are interested in the potential of a 30-30 at different ranges here is some info that may help.
150 grain RN
Muzzle 2390/1902 – 100 yards 1959/1278 – 200 yards 1581/832
160 grain Hornady FTX which is a pointed bullet safe in a tubular magazine.
Muzzle 2400/2046 – 100 yards 2150/1636 – 200 yards 1916/1309 – 300 yards 1699/1025
As you can see the 150 grain drops below 1000 LBS before reaching 200 yards while the FTX extends the range to 300 yards a 35% increase in usable range. The 170-grain flat point launched at 2200 FPS drops below 1000 FP LBS of energy at over 150 yards so the 160 grain FTX would double the useful range. Therefore it would be a mistake to sell the 30-30 short.
I wanted to see what 30-30 ammunition could do in a stronger rifle and I have a TC single shot and used it for the test.
I wont be listing the loads here as someone would try them in a lever action which could cause a catastrophic event. It would probably hold them but would cause excess wear and could damage the gun. So why take the chance especially if you don't understand the ramifications of using such loads.
For this experiment, here is list of the top velocity of the bullets tested. It will become obvious quickly that these velocities are quite a bit above normal and I know that they are that is why the loading data isn't included. If you have a TC or strong bolt action then these velocities can be safely obtained. This is a little off the subject but it shows that the 30-30 is more than just a short-range woods load. The Henry rifle is well built and has as good an action as any 30-30 but I would not try these loads in it. If you were carrying a 30-30 in grizzly country them one of the heavy bullets may serve but for 99% of us the factory spec loads will do just fine. These are the velocities obtained in a single shot rifle.
| Bullet Weight | Velocity |
| --- | --- |
| 110gr RN | 2897 |
| 123gr | 2730 |
| 150gr | 2637 |
| 165gr | 2392 |
| 180gr | 2304 |
| 200gr | 2232 |
| 220gr | 2053 |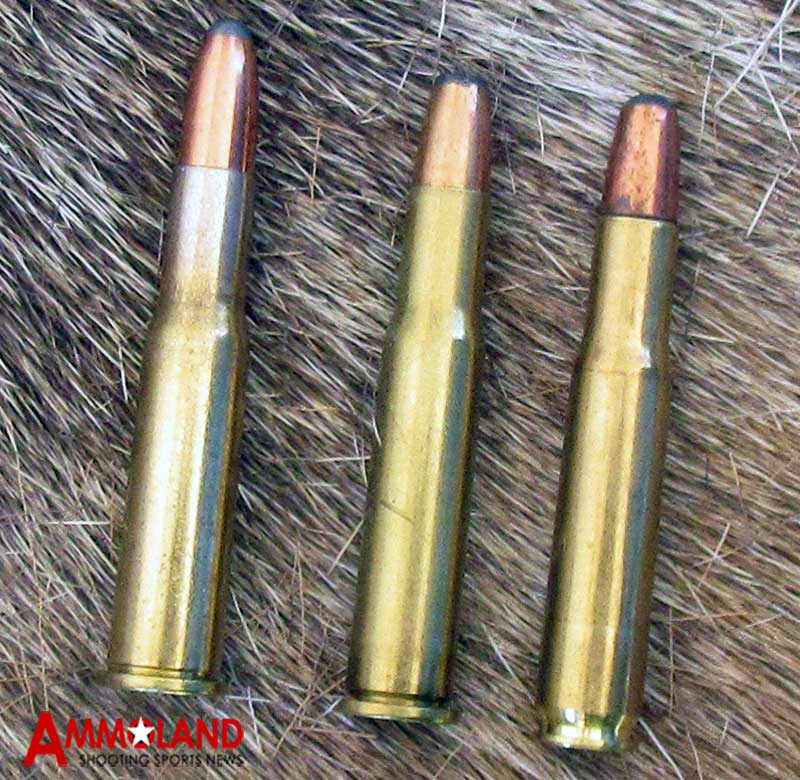 Factory 30-30 ammunition is usually produced with a 150 or 170 grain bullet. That takes care of most hunting situations that a 30-30 should be used for. Recently they added a 160 grain Flex Tip which enhances its range. One thing that puzzles me is they never offered a 180 or 190 grain RN. The 303 Savage offered it in the 190 grains at one time and it had a good reputation.
The 180 would give a little extra penetration if you were hunting large black bear or large boar. They shoot well and have their uses through a 150 or 170 would cover deer and similar game. The Hornady 180 grain feeds ok but care must be taken to seat deep enough in fact with any gun and ammo types you should cycle them before you go hunting. You can't seat it in the cannelure, doing so will make it too long. Since it has a long neck a cannelure isn't needed. However, if you have a bullet that needs that procedure that is an easy task. I have a CH cannelure tool which comes in handy on many occasions. In the last decade or so factory ammo has improved a lot.
In fact, it can be a challenge to do better than the factory loads. The only downside is the cost. An indication of how popular round is the variety offered by various ammo companies. Hornady a leading ammo maker offers 5 different loads for this round. For more info, you can go to www.hornady.com/ammunition for a listing on their products. Another fine ammo maker is Barnes. They brought out the copper bullets which have turned out to be great hunting bullets. They offer the 30-30 ammunition in the 150 gr Vor Tex and they shoot well for info you can go to www.barnesbullets.com for more info.
Handloading, the 30-30 ammunition, brings out the potential and with a Henry rifle with the Hawke scope your usable range will increase. Some hunters tend to look down on the 30-30 ammunition as obsolete and no longer effective. Apparently, since 1895 deer have grown tougher and may have some armor at least that so is the thought process for many when buying a rifle these days. They go with the short, medium and long magnums for woods hunting. They feel that a bullet screaming along at over 3000 FPS is needed to kill a deer at moderate ranges.
After some years pass some of those super magnums will be a footnote while 30-30 ammunition will carry on.
---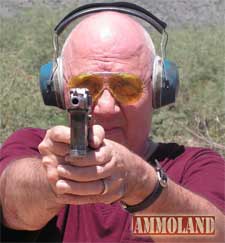 About Bob Shell
A Custom Reloader of Obsolete and Antique Ammo, Bob Shell, writes about the subject of Guns, Ammo, Shooting and Related Subjects. Visit: www.bobshellsblog.blogspot.com