By Major Van Harl USAF Ret

Henry Arms Mare's Leg Lever Action Pistol Review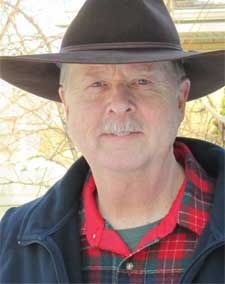 Wisconsin –-(Ammoland.com)-  "That is beautiful" the Colonel said as I pulled the Henry Arms Mare's Leg Lever Action Pistol out of the box (she very much enjoyed shooting it later).
As far as I can tell, Henry Arms (www.henryrifles.com) is cornering the market on a firearms genre that was not even a player in the gun industry ten years ago.
They have taken their brass framed lever action rifle, replaced the butt stock with a short pistol grip and affixed a 12.9 inch barrel on the firearm and sell it as a pistol.
I took a Henry Arms Mare's Leg Lever Action Pistol in 357 mag out to the farm to test.
You cannot shoot it like a rifle, and you cannot shoot it like a pistol, therein lies the unique attribute of the Mare's Leg.
However after shooting only ten rounds of ammo I had figured out how I was going to adapt to the Henry and then it got fun. The Henry Arms Mare's Leg Lever Action Pistol comes in rim-fire (22lr & 22mag) and center-fire (357 mag, 44 mag 45 LC). I specifically wanted a Henry in 357 mag.
I figured if I used to shoot metallic ram targets at 200 yards with a six inch 357 mag revolver, having a pistol with a 12.9 inch barrel would greatly enhance my long distance handgun shooting.
The strangely practical part of the Mare's Leg is the 12.9 in barrel. If you are thinking about getting one of these pistols do a little research on pistol ammo ballistic when moving from a 4 or 6 inch revolver, to a 13 inch barreled firearm in the same handgun cartridge. I would suggest going to www.ballisticsbytheinch.com , they have already done all the work for you.
What you will find is a 13 inch 357 mag barrel produces ballistics about 100 FPS slower (plus or minus a few FPS) than a 18 inch rifle chambered in 357 mag. This tends to be the same if you are using other handgun cartridges such as 44 mag or 45 LC in a Mare's Leg.
So what does this mean? It means you have 100-125 yard rifle killing capability coming out of a small, easily transportable package (by long gun standards). Hunting white tail or hogs or stopping a "walker" are results the Mare's Leg can deliver.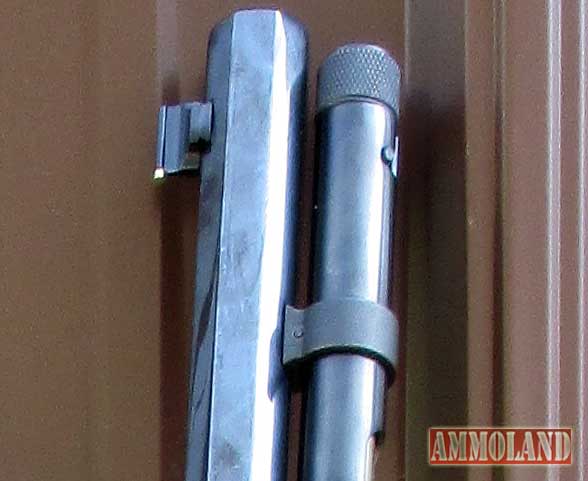 The Mare's Leg holds five rounds in the magazine tube and one in the chamber. You can get one more round in if you use 38 Special ammo. Tim Sundles at Buffalo Bore Ammunition (www.buffalobore.com) has this great 38 Spl + P Outdoorsman ammo that moves a 158 gr hard cast Keith bullet out at 1250 FPS (20H/20).
Remember that is revolver ballistics. Always keep in mind that 12.9 inch barrel on the Henry.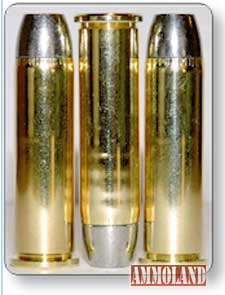 When I was testing the Henry, I shot Buffalo Bore Heavy 357 mag ammo: the 158 gr JHP (19C/22), the 125 gr JHP (19D/22) and the 140 gr Barnes XPB-lead free (19K). The one that really got my attention was Mr. Sundles' Heavy 357 mag Outdoorsman, 180gr LFN-GC bullet (19A/20). This is the one you want when hunting hogs at night on the Red River in south west Oklahoma.
Carrying the Mare's Leg is an issue. You can use a rifle sling. However it is too "pretty" (not a manly word) to go drilling and attaching after- market sling swivels. I suggest you get a no-swivels looped sling that gets the job done without marring the finish.
Johnny Gardner at Grassburr Leatherworks (www.grassburr.com) makes a very nice (excellent quality) holster for the Mare's Leg. It allows you to wear the Mare's Leg on your side like any other pistol; it is just a little longer and heavier. The Henry Mare's Leg weighs 5.79 pounds; this is why recoil is not an issue with this firearm.
Henry has been making the Mare's Leg for six years. Last year they shipped 15,000 pistols out, about half rim-fire and the other half center-fire. Then I was advised they have produced 100,000 Mare's Legs since they started making these pistols—there is that unique firearms genre.
I must admit I was pleasantly surprised at how many Mare's Legs are out there in the shooting community. They are a big hit in Canada because they are not considered a handgun in that country (www.milarms.com). They are bought and carried as a rifle. Mil Arm's Mr. Gardner sends a lot of his holsters to Canadian shooters.
Shooting the Henry was a "hoot" and I can see why people want the 22LR version of the Henry Mare's Leg, just because it is so much fun to shoot. If you live in a state that allows open carry of loaded handguns in a vehicle, the Mare's Leg would be an attention getter. Many times just getting evil's attention is the deterrent.
The Henry Repeating Arms Mare's Leg, Mr. Sundles' ammunition and Mr. Gardner's holster make an excellent well-rounded package that meets the needs for enjoyable social shooting, putting food on the table and stemming the tide of evil.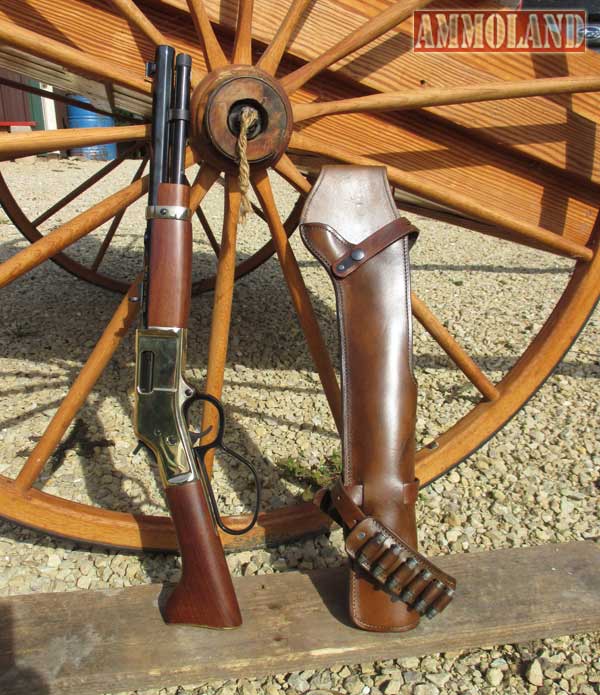 Henry Arms Mare's Leg Lever Action Pistol Resources:
Henry Arms Mare's Leg Lever Action Pistol Manual
New & Used Henry Arms Mare's Leg Lever Action Pistol For Sale
Henry Arms Mare's Leg Lever Action Pistol Webpage : https://www.henryrifles.com/rifles/mares-leg/
Henry Arms Mare's Leg Lever Action Pistol Leather
.357 Ammo that works in the Henry Arms Mare's Leg Lever Action Pistol
Henry Mare's Leg Pistol Accessories
Major Van Harl USAF Ret.
[email protected]
About Major Van Harl USAF Ret.:Major Van E. Harl USAF Ret., a career Police Officer in the U.S. Air Force was born in Burlington, Iowa, USA, in 1955. He was the Deputy Chief of police at two Air Force Bases and the Commander of Law Enforcement Operations at another. He is a graduate of the U.S. Army Infantry School.  A retired Colorado Ranger and currently is an Auxiliary Police Officer with the Cudahy PD in Milwaukee County, WI.  His efforts now are directed at church campus safely and security training.  He believes "evil hates organization."  [email protected]
---
See What NRApubs has to say on the Henry Arms Mare's Leg Lever Action Pistol in this bonus video:
---