By Major Van Harl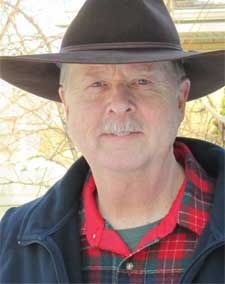 Wisconsin –-(Ammoland.com)- I repeat MAYBE…
"We have a production problem," words the guns manufacturing industry does not want to hear. Management sees the bottom line slipping. The production staff sees headaches in parts manufacturing and the assembling of final products. The sales department sees the loss of products going out to customers and worst yet the loss of income coming in.
No one is happy when you hear the words "we have a production problem."
Now that might not be the case when the "troops" at Henry Wisconsin hear there is a production problem. Henry's folks in Wisconsin have no problem producing firearms product, their problem is they cannot meet the demand for the product fast enough.
Henry released their new lever action Henry Arms Lever Action 410 Shotgun this year, with hopes for a fair opening season with the new shotgun. Other gun manufacturing companies had made a lever action 410 shotgun but none are still making that model. These companies alleged that there was not a strong demand for a lever action 410 shotgun so, production was discontinued.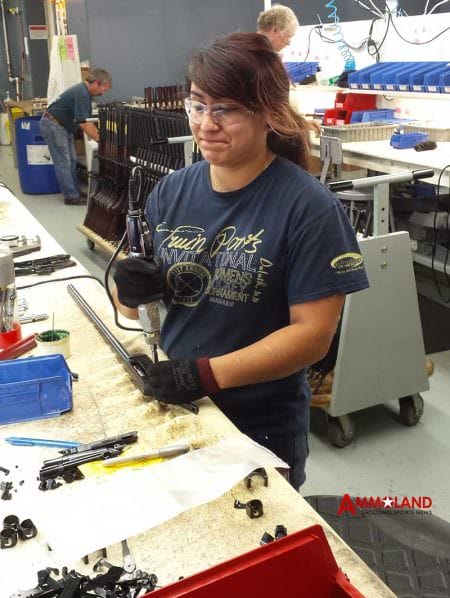 All the steel receiver lever action long guns in the Henry inventory are made by Henry Wisconsin in Rice Lake, Wisconsin. Since the new lever action shotgun is built on a steel receiver it was only natural that the lever 410 was going to be built in "God's Country."
Henry had no idea what they were in for when they shipped the first lever action 410 shotguns. After the 2016 election the demand for guns and ammo sales has dramatically dropped. Some gun manufacturers have seen a 20% or more drop in demand for their products. Big box retail gun outlets have been having sales ever since the first of the new year. Some of these sales are discounts that no one has ever seen in the firearms industry. There is just too much product in the overall gun and ammo sales industry inventory. Something has to give and in most cases it is the bottom line of both the wholesale and the retail sale of guns and ammo.
So in the world of slow gun sales imagine Henry's shock, that then turned to delight, when their new lever action 410 shotgun took-off in nationwide sales. It seems everyone wants the new Henry 410 and demand is out-stripping production. Therefore Henry has a production problem. You know what, on a good-to-bad scale for a company to have a production problem, I would suggest Henry's production problem is manageable, maybe even a bit enviable.
All Henry has to do is just make more 410 lever guns. I mean isn't that something they should be able to do? Suddenly they have to increase their product output perhaps as much as 100%. Now Henry has to do this almost overnight to meet the pent up demand for the new 410. Also, they have to do this without cutting into the production of other Henry products.
Quality cannot suffer while trying to increase production to such a new rate of capacity. If it is not made with profoundly excellent quality by Henry Wisconsin it is not made at all.
The two major parts that will need the most attention in the pressured increase of Henry 410 shotgun production are the generation of receivers and barrels. Tolerances are critical and small mistakes would ruin potentially excellent quality 410 shotguns. So what this means is the spending of millions of dollars for new computer controlled milling and barrel making machines. Of course you need the skilled operators who make sure the Henry standards of production are critically adhered to.
I would suggest there is probably not going to be as much ice fishing this season by folks at Henry Wisconsin. With the slowing of sales throughout the gun industry, it is a nice position for Henry Rifles to find themselves in where a noted increase in productions and sales is needed to meet the desires of the Henry buying community.
I have to admit I got one of the first Henry lever action 410 shotguns when Henry began shipping the new lever guns out. I can tell you it is one of the most expensive plinkers on the market today. You load up the 410 shotgun and since it weighs seven pounds there is very little felt recoil when you start shooting it. You shoot and then you reload and shoot again and reload and shoot yet again. After going through boxes of birdshot, buckshot and slugs, all while having a great time you realize you just shot up a lot a ammo.
410 shotgun ammo is not the cheapest shotgun ammo on the market, but shooting it out of a Henry lever action is a heck of a lot of fun. Everyone I handed my Henry 410 to, loves to shoot it and reload and shoot it some more.
Of course they never seem to have any of their own boxes of 410 ammo with them…?
Some of these new 410 defense loads that are manufactured for revolvers that shoot 410 shells, are supposed to be fired though a rifled barrel. They are alleged to not work as well in a smooth bore shotgun. I am here to tell you after shooting lots of them, if a "walker" is charging down the hall of your home at two in the morning these new defense loads will meet your needs on a dark and stormy night. The 410 buckshot that is on the market will also delay evil that might show up on your doorstep.
Anthony Imperato, the president of Henry Repeating Arms, has a winner on his hands. Yes, he has a production problem but I suspect there are any number of firearms manufacturing companies who would love to have Henry's problem.
There have been some disappointed Henry buyers who could not get the lever 410 and have made their concerns known to the company. According to Andy Wickstrom, the General Manager of Henry Repeating Arms, the shipping of 410 lever action shotguns has increased and back orders are slowly getting filled. Even some of the old and slightly grumpy Henry family members who have waited patiently (well maybe not all that patiently) to get their hands on a 410 lever gun have happily come around when that 410 was in fact in their hands. They were even more pleased when they started shooting it and discovered it really is an expensive but exceptionally fun plinker. I bet you can't shoot just one box of shells.
I was out at the farm over Labor Day Weekend shooting Henry rifles with my daughter. She is in medical school and brought a couple of fellow students with her. Before the day was over I had three new converts to Henry rifles. Her time is limited and her mother and I are happy for any of that time she can spend with us at the farm.
After shooting rifles for a while she asked where the 410 shotgun was that I keep talking about. I had not brought it out to the farm and suggested perhaps if she could get away from school for another day I would be delighted to bring the Henry 410 to shoot.
If the lure to shoot the new Henry 410 lever action can get my daughter to break away for a few hours of her studying and come out and see the old man and her mother at the farm I will start stocking up on 410 shells. By the way, you should have seen that girl and the way she cycled the Henry All Weather Big Boy rifle in 357 mag we were shooting. Ten rounds in ten seconds and ten less "walkers" in the world of evil. I will bet even Carl on the Walking Dead show cannot work a lever action rifle as well as my daughter the Air Force Reserve medical officer can. It is about delaying evil.
She is my only child and she will be doing my estate sale when I am gone. My great granddaughters will have a lot a nice Henrys to inherit from their doctor-grandmother. Quality lasts, whether it is in your family or in the Henry family.
4 Sept 2017 / Major Van Harl USAF Ret. / [email protected]
About Major Van Harl USAF Ret.:Major Van E. Harl USAF Ret., a career Police Officer in the U.S. Air Force was born in Burlington, Iowa, USA, in 1955. He was the Deputy Chief of police at two Air Force Bases and the Commander of Law Enforcement Operations at another. He is a graduate of the U.S. Army Infantry School.  A retired Colorado Ranger and currently is an Auxiliary Police Officer with the Cudahy PD in Milwaukee County, WI.  His efforts now are directed at church campus safely and security training.  He believes "evil hates organization."  [email protected]