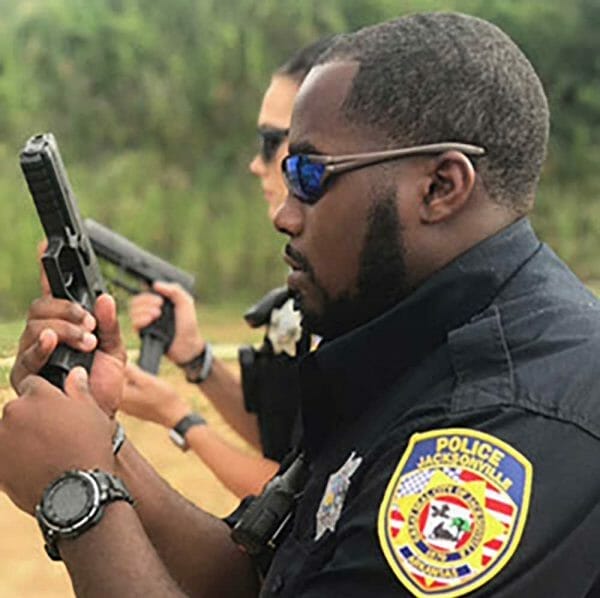 Newington, N.H. –-(Ammoland.com)- SIG SAUER, Inc., is pleased to announce the Jacksonville, Arkansas Police Department has transitioned to the SIG SAUER P320 as their official duty firearm. The Jacksonville Police Department has a complement of 56 sworn officers protecting nearly 30,000 citizens.
"We are extremely pleased with our decision to transition to the SIG SAUER P320 as our official duty firearm," commented Lt. Brett Hibbs, Support Services Division, Jacksonville Police Department. "All of our officers have completed the training and instruction process with the new pistol and we've found, overwhelmingly, that the P320 has made them more proficient shooters due to the ability for the officers to choose their preferred grip size, the smooth trigger, and ambidextrous controls."
The P320 is a modular, striker-fired pistol available in full-size, carry, compact, and subcompact sizing. The serialized trigger group makes the P320 adaptable to multiple caliber, size, and grip options. The P320 is available in 9mm, .357SIG, 40S&W, and .45ACP, with a choice of contrast, or SIGLITE Night Sights. The intuitive 3-point takedown requires no trigger pull for disassembly, and safety features include a striker safety, disconnect safety, and optional manual safety.
"We are honored that the Jacksonville Police Department has chosen the P320 as the official duty firearm to assist its complement of officers carry out their mission – to protect the property and lives of its citizens for a better Jacksonville," said Tom Jankiewicz, Executive Vice President, Law Enforcement Sales, SIG SAUER, Inc. "SIG SAUER's commitment to the entire law enforcement community is to provide them with superior firearms to protect and serve their communities, and the superiority of the P320 exemplifies this commitment."
---
About SIG SAUER, Inc.

SIG SAUER, Inc. is a leading provider and manufacturer of firearms, electro-optics, ammunition, Advanced Sport Pellet (ASP) airguns, suppressors, and training. For over 100 years SIG SAUER, Inc. has evolved, and thrived, by blending American ingenuity, German engineering, and Swiss precision. Today, SIG SAUER is synonymous with industry-leading quality and innovation which has made it the brand of choice amongst the U.S. Military, the global defense community, law enforcement, competitive shooters, hunters, and responsible citizens. Additionally, SIG SAUER is the premier provider of elite firearms instruction and tactical training at the SIG SAUER Academy – a world class, state-of-the-art, 140-acre training facility. SIG SAUER is headquartered in Newington, New Hampshire, and has more than 1,700 employees across eight locations, and is the largest member of a worldwide business group that includes SIG SAUER GmbH & Co. KG in Germany. For more information about the company and product line visit: sigsauer.com.