Ohio – -(Ammoland.com)- Lawsuits are expensive and require OFCC to devote substantial operating revenue for court costs and attorney fees for as long as 2-3 years at a time.
We do this knowing that, even if we prevail, we may not recover every dollar spent. We need your help to protect the sanctity of statewide preemption in Ohio. Please consider a donation, and/or Join OFCC if you are not a supporting member, and ask 2-3 of your friends to join. Share this news on social media and help us defend your rights in Ohio.
---
Friday, June 22nd, 2018: Today Ohio Attorney General Mike DeWine's office filed a motion seeking permission ("leave") from the courts to file an Amicus Curiae ("Friend of the Court") brief in support of the cases Ohioans For Concealed Carry and the Buckeye Firearms Foundation simultaneously filed against both of The Cities of Columbus and Cincinnati, Ohio yesterday.
The State of Ohio states in their brief that they seek:
…to vindicate the effectiveness of a duly enacted state law, R.C. § 9.68, that the Ohio Supreme Court already has determined to be "a general law that displaces municipal firearm ordinances and does not unconstitutionally infringe on municipal home rule authority."
The AG's office makes succinct points about the legislative intent of statewide preemption, and how what Columbus and Cincinnati have done is a direct example of what the legislature intended to solve when it enacted R.C. 9.68:
(emphasis ours):
Ohio Revised Code 9.68 does not of its own authority preclude state regulation of the sorts of parts or components that the City seeks to outlaw. Rather, it specifies that any such regulation must be accomplished by "uniform laws throughout the state."

The "patchwork" problems that the statute works to avoid, which would threaten differing prohibitions and penalties from jurisdiction to jurisdiction, is demonstrated by a comparison of this Columbus ordinance with a related but by no means, identical ordinance recently adopted by the City of Cincinnati.

That measure, codified in the Cincinnati Municipal Code as § 910-24, targets any "device designed or functioning to accelerate the rate of fire of a firearm to approximate an automatic weapon, including bump stocks, trigger cranks, slide fire devices, and other similar accessories." Cincinnati Municipal Code § 910-24(a). This definition appears to overlap with, but not mirror, the Columbus City Code definition at issue.

And the penalties for violation appear different: The Cincinnati ordinance (which unlike the Columbus ordinance also covers sale of such parts or components) declares a violation to be "a misdemeanor of the first degree," Cincinnati Municipal Code § 910-24(c), which pursuant to § 902-5 would call for imprisonment of up to six months and a fine of not more than $1,000.

The Columbus ordinance, by contrast, purports to create "a misdemeanor punishable by up to one year in jail with a mandatory 6 minimum jail term of at least one hundred eighty (180) consecutive days" and "up to a $1500 fine."

Those differences in statutory scope and in potential punishment illustrate the "confusing patchwork of … restrictions, and criminal penalties" that would confront Ohioans (and others) "as they travel from one jurisdiction to another" within the State if the General Assembly's design to displace local ordinance is not honored.
We are thrilled that the Ohio Attorney General's office sees the need to defend the legislature's intent and the State of Ohio's interests in this regard.
Their help in defending this critical state law from local politicians who are spending taxpayer money grasping at straws looking for ways to circumvent the rule of law is greatly appreciated.
You can read the Columbus brief here and the Cincinnati brief here. These briefs state "proposed" in their titles as they are contingent on the respective courts allowing the brief to be filed.
---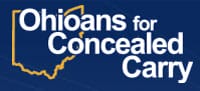 About Ohioans for Concealed Carry:
Ohioans for Concealed Carry, founded in 1999, is a grassroots political activist organization. When founded, the primary goal of OFCC was getting concealed carry passed into law in Ohio. With that accomplished, our mission became to refine the concealed carry law and to expand and preserve the rights of all gun owners in Ohio. Visit: Ohioccw.org