Mike reviews the Bowers Group Bitty .22 Silencer which claims to be the smallest rim-fire silencer in production today.
USA – -(Ammoland.com)- Over the years of shooting countless rimfire silencers, I came to a realization: They do not need to be very long to be effective on most .22 caliber rifles, particularly when combined with subsonic ammunition.
For the past two years, I had been searching for the shortest hearing safe silencer that I could find. The leading candidates were typically modular cans that were run in short mode. My goal was to find one that was about as long as a typical muzzle brake or flash suppressor.
With the help of Silencershop.com and the Bowers Group, I found it in the Bowers Group Bitty .22 Silencer.
Bowers Group Bitty .22 Silencer
The Bowers Bitty is about an inch in diameter and measures 2.8″ in overall length. It weighs 2.6 ounces and to my knowledge, it's the smallest suppressor of its type.
According to company literature: "No wet, no wipes, no equal". This means it does not use the old fashioned wipe system and it does not require water, wire pulling gel or any other ablative to make it sound quieter.
That appears to be the truth and this little silencer is rated for is rated for 17 HMR, 17 WSM (Winchester Short Magnum), 22 Short, 22 long-rifle, 22 Magnum, 22 Hornet, FN 5.7×28 and it is rated for full auto in 22 lr.
Construction consists of a titanium body and spacer, stainless steel Omega baffles, with aluminum end caps. The threads in the mount are aluminum as well.
We took it out to the range and tried it on our Beretta Model 70 and our Savage 22 bolt-action along with a few hundred rounds of Gemtech subsonic 22 long rifle ammunition.
Bowers Group Bitty .22 Silencer The Good
On our Savage, the Bitty performed extremely well. With a rimfire bolt action and just about any silencer, you're going to sound like you are shooting a pellet gun, particularly when using subsonic ammunition. We remember the first time we tried this combination a few years back and honestly thought our first round was a squib it was so quiet.
The size really looks more flash suppressor than sound suppressor and it is just about the same diameter as the heavy barrel contour. So if you are after the toned down and discreet look, this is the one that you want.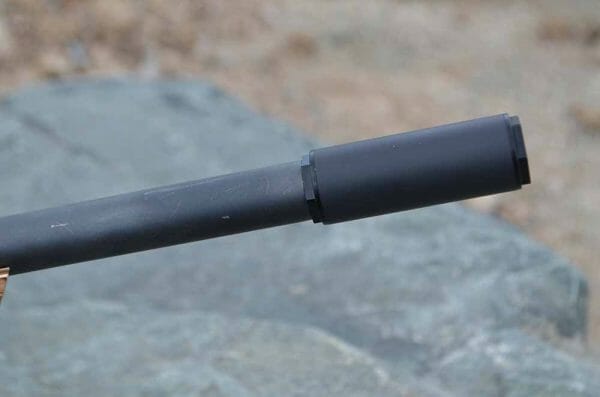 Another great attribute about the Bitty is that it takes down for cleaning with the included take-down wrench. The Omega baffles are constructed from stainless steel and the titanium tube mean it's safe to use in the ultrasonic cleaner when you dirty it up.
If you run a rimfire AR or even a threaded FN PS90, this is a suppressor that you could leave mounted all the time.
The best part is the packaging. The Bowers Bitty ships in a box that looks like a small cardboard box of 22 lr ammunition. Okay, maybe not the best part, but it is cool!
Bowers Group Bitty .22 Silencer The Bad
This is not bad in the sense of "Don't even think about this" but more to do with versatility.
While mounted on our Beretta Model 70 it was a bit louder than we would have preferred. It was still hearing safe, but loud enough that it sounded like a firecracker.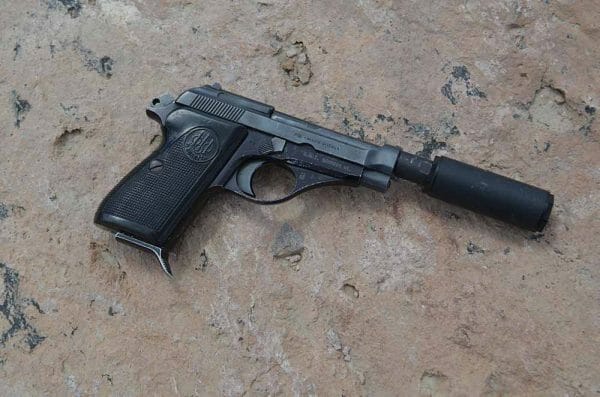 Not that there's anything wrong with that. This has to do with the nature of pistols having a shorter barrel that is not containing all of the burning powder and associated gases. It definitely takes the sound down, but you're not going to get that "movie quiet" sound that you would on a longer rimfire can. Personally, it does not bother us, but we had to put it out there.
Bowers Group Bitty .22 Silencer The Reality
The Bowers Group is long known for their superb line of high volume submachinegun silencers and big bore rifle cans. We found the Bitty to be an excellent and exciting addition to their lineup. They make excellent pistol and rimfire cans as well, but the Bitty takes their efforts to a whole new level.
Price wise the Bitty comes in at about $325 retail at Silencershop.com which represents a great value for such a unique can.
If you're looking to shut up a rimfire rifle, and want to keep the length and weight down, this is all you need.  If your only 22 host is a pistol, it will do the job, but to really appreciate its silence, it needs to be mounted on a rifle.
For more information you can check out Silencershop.com or go to Bowers directly.
Bowers Group Bitty .22 Silencer Specs:
Weight:   2.6 oz
Length:   2.8"
Diameter:  1.0″
Caliber:   22 LR
Caliber Rating: 17 HMR | 22 Hornet | 22 LR | 22 MAG | 5.7×28 FN
Color: Black
Finish: Cerakote
Build Material: Aluminum | Stainless Steel | Titanium
Mount Style: Direct Thread
Thread Pitch: 1/2×28
User Serviceable: Yes
Full-Auto Rated: Yes, on 22 LR
---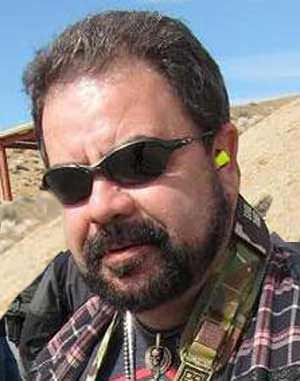 About Mike Searson
Mike Searson's career as a shooter began as a Marine Rifleman at age 17. He has worked in the firearms industry his entire adult life as a Gunsmith, Ballistician, Consultant, Salesman, Author and was first certified to teach firearms safety in 1989.
Mike has written over 2000 articles for a number of magazines, websites and newsletters including Blade, RECOIL, OFF-GRID, Tactical Officer, SWAT, Tactical World, Gun Digest, Examiner.com and the US Concealed Carry Association as well as AmmoLand Shooting Sports News.
Homepage: www.mikesearson.com
FB: www.facebook.com/mike.searson
TWITTER: www.twitter.com/mikesearson