Gainesville, Ga –  -(AmmoLand.com)-   Honor Defense is pleased to announce the introduction of a new line of hi-performance self-defense ammunition for consumers.
The new Honor Defense Hi-Performance Hollow Point Ammunition features:
Precision-drilled hollow point
Frangible

Maximum terminal behavior in soft tissue
Reduced ricochet
Core projectile body remains intact for maximum penetration
Perfect for steel plate training or self-defense

Top pistol self-defense calibers

.380, 9mm, 10mm, .40 cal, .45 cal

Lead-free

Avoid lead issues for ranges

Virgin Brass
Hi-speed projectile

Maximum cavitation (9mm @1350 FPS)

Passes FBI protocols

Bare gel/Light clothing/Heavy clothing/Wallboard/Plywood

Made in the USA

Like all Honor Defense products, we feature USA craftsmanship
The result is an unmatched self-defense round for consumers. With maximum effectiveness to stop threats and reduced ricochet for bystanders, the new Honor Defense ammunition offers un-matched performance.
Historically used by LE/government, this projectile will now be widely available for consumers. The product will be available to retailers through Sports South.
Retail locations announcements will be made soon.
For more information, contact Honor Defense at 678-943-8035 or visit them at: https://honordefense.com/hollow-point-ammunition/
---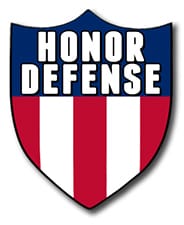 Honor Defense firearms represent the next generation of modular handguns. Honor Defense firearms have more features than any other sub-compact pistol. Every part is manufactured in the U.S.A. to our highest standards. You can't buy a better pistol right out of the box. To create their pistols, Honor Defense secured input from a panel of professionals that have defended our nation or have extensive credentials in self-defense training.
For more information, please visit HONORDEFENSE.COM