U.S.A. -(Ammoland.com)- Earlier this summer I wrote an article about the problems with getting an AR-15 chambered in .450 Bushmaster to run properly. I found that most of the real problems existed not with the rifle, but with the magazine. Not long afterward, I was contacted by a Michigan company that claimed to not only have resolved the problems with the .450 magazine but also were making the most advanced, purpose-driven AR hunting rifles on earth. That company is Brenton USA of Lansing, MI.
I have spent a great deal of time with the .450 cartridge in the last year and have developed a good understanding of what makes it tick- or not. For those that don't want to go back and read up on my whole article series, even though I'd encourage it, I will sum up some of the problems here.
The .450 Bushmaster is a cartridge that is only popular because of state hunting laws. It is, overall, a poorly designed round that has a number of problematic features, including a rebated rim and slight body taper. This leads to feeding difficulties and reliability issues, especially in the AR-15. I do like the .450 despite these concerns but had yet to see an AR rifle that could run reliably and accurately with it right out of the box. I tested some that cycled but couldn't hit a pie plate at 100 yards and others that were very accurate but prone to jamming between every shot.
All that changed when I put my hands on Brenton's Ranger Carbon Hunter rifle. The gun is aesthetically pleasing, highly engineered, accurate, and very reliable, but more on all that soon. First I need to tell you the story of how it is that I am delivering you the exclusive on this fine rifle.
Brenton USA was started by a dedicated group of engineers, project managers, and academics. They all shared a common interest in hunting and wanted to make the best rifles possible for the task. Unlike many companies that start out as generic AR builders that eventually specialize, Brenton was founded to provide rifles dedicated to hunting.
As such, you won't find anything tactical or cringe-worthy images of mall ninjas in full regalia when looking at these guns. These guys make hunting rifles and they are damn good at it. Brenton rifles feature custom MarbleKote camo finishes and HunterSize controls for easy manipulation in harsh hunting environments. You won't find anything like this from any 'black gun' maker.
The rifle I will be reviewing here is the culmination of the effort to build the best hunting rifle possible. Instead of just slapping generic parts together, Brenton builds their Ranger Carbon Hunter rifle out of parts that they either make in-house or have made to their exact specification by specialized makers. When I toured their facility I was impressed by the degree of precision involved with each rifle, but also how little effort the construction took.
I was personally present for the building of the rifle in the photos. I can assure you that every part went together before my eyes and I can attest to the fact that nothing was picked out in advance before I arrived. Brenton rifles are made so precisely that you'd think that you were watching the assembly of aerospace parts. I've built dozens of AR rifles over the years and have experienced play, wiggle, and rattle. There is none of the above with these rifles.
The magic sauce lies in not just the parts used, but the way they are assembled. If you haven't noticed the carbon fiber handguard and its unusual method of attachment yet, you'd best look. The barrel nut alone is a completely different design than anything I've seen and it attaches in such a way that it is as rigid as if it and the rest of the upper were a single piece.
As I mentioned, every single part is specifically re-engineered to meet the demands of the discerning hunter, and many are patent pending. You'll notice little things on the rifle such as the sound-deadened dust cover, extended rear takedown pin, ambi safety, adjustable match-grade trigger, rifle-length buffer tube with carbine conversion insert, and proprietary thread protector.
Brenton does not recommend the use of a muzzle brake on the rifle. I asked why and was told that it simply doesn't need one. Firing other .450 rifles can be jarring, but not so with this gun. It isn't a .223, but it is very soft shooting and doesn't cause the inner-ear pain a braked rifle does. A substantial amount of thought went into every single part of this fantastic rifle and you just don't see that level of craftsmanship today in the AR platform. The engineering in this rifle makes it softer shooting and more accurate by nature. Even the gas port in the barrel was researched and drilled specifically to the .450 cartridge.
Three very noteworthy features of the rifle are small and hard to notice but show the dedication that Brenton brings to the AR-15. First is a captured rear pin spring. A set screw keeps it in place, which means it won't come shooting out if the stock is removed. Second is a spring-tensioned pressure pin that provides consistent lockup of the upper and lower receivers. The upper has a special groove machined into it to allow the pin to index on its own against it, which is remarkably clever and simple at the same time. Lastly, the rifle features an unstaked gas key on the bolt carrier. Staking, or not, has always been somewhat controversial, but Breton assured me of the science behind it. Their method of attachment is proprietary and far stronger and more consistent than staking.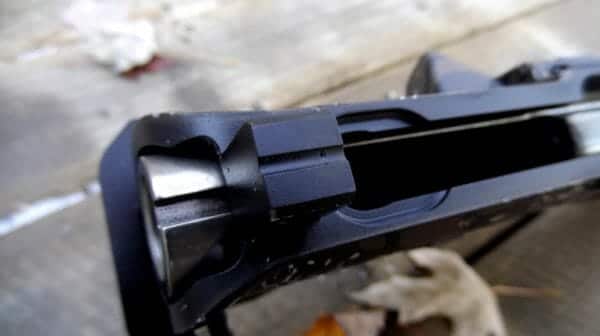 Brenton recommends the rifle be used with Hornady ammunition, so I tested it with both loads that are currently offered, those being the 250gr FTX Custom and 250gr FTX BLACK. The two loads performed identically out of the 22", 1:24" twist barrel and had a difference of only two feet per second when looking at their averages. The Custom load shot at 2234fps while the BLACK ran at 2236fps. Both shot to the same point of aim and had identical group sizes. Average accuracy for these loads was .75" for five shots from a rest at 100 yards. I backed off to 200 yards, the realistic max range for most hunters, and was pleased with 2" groups. I fired on my 10" steel plate from field position and found the rifle to be more than capable of connecting at any distance the .450 is effective.
In addition to the recommendation of Hornady ammunition, Brenton suggests putting quality Leupold glass on their rifle. Leupold sent me their excellent Mil-turret Mark AR Mod 1 3-9x40mm and a 1" mount to use for this review. This scope is calibrated for the Hornady 250gr FTX at 2200fps. It works well with the longer-barreled Brenton rifle just fine, as 36fps isn't enough to significantly alter trajectory. I tested the bullet drop compensation feature by zeroing at 100 yards and the dialing in at laser-ranged distances. The BDC works quite well and gives that extra bit of confidence to the hunter.
The Ranger Carbon Hunter rifle is simply packed with extremely useful features that put it in a class far above other AR-platform rifles. There was no issue with feeding, as Brenton also makes the magazines under their Long-Load brand. These are literally the best magazines available for the .450 Bushmaster today and yes, they are available separately. Again, the magazine and its internals are specifically engineered to address the issues associated with the .450 Bushmaster. If I had known about these when I wrote my earlier article addressing .450 mag problems, I would've saved myself the time of typing all of it out. This is the only commercially available magazine you should consider for the .450 and I don't say that lightly. The Ranger Hunter ships with one, but you'll want more.
The Ranger Carbon Hunter is available in several colors and hunting chamberings as of the time of this writing. Different barrel lengths are also available. To see more, go to www.brentonusa.com.
Overall, I am extremely pleased with both the rifle and Brenton USA. To have a Michigan company making what is arguably the best AR hunting rifle in the world- and one of the best AR rifles in general- is a great source of pride for me. Brenton USA is a young company, but their approach to the already crowded AR market comes from a place of confidence. They truly have something that nobody else has and they aren't even getting started. The rifle in this review is the first one in private hands and the first in the hands of a reporter. Great things are happening at Brenton USA and you heard it here first.
---
About Josh Wayner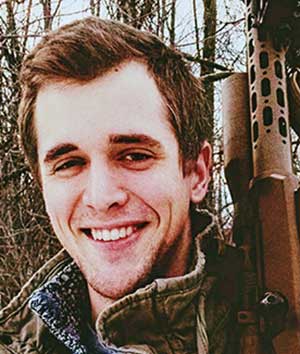 Josh Wayner has been writing in the gun industry for five years. He is an active competition shooter with 14 medals from Camp Perry. In addition to firearms-related work, Josh enjoys working with animals and researching conservation projects in his home state of Michigan