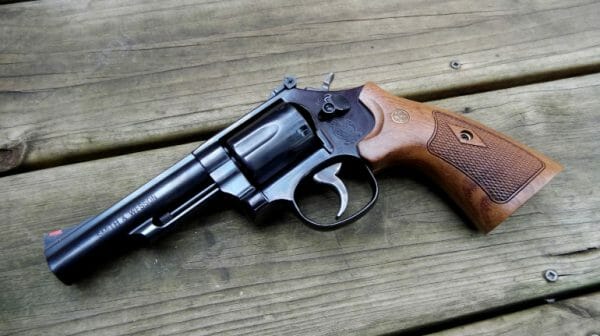 GRAND RAPIDS, MI USA -(Ammoland.com)- The .357 Magnum has always been a round that inspires confidence and Smith & Wesson's Model 19 is a name that does the same. The two have been hand-in-hand since the mid 1950's and have very famous names associated with them, such as Elmer Keith and Bill Jordan. The Model 19 became the 'peace officer's dream' gun and it saw a long and storied history of use. Today we are going to take a look at S&W's re-release of the historical gun in the form of the new Model 19 Classic.
There are many ways to look at guns like this in today's world. The newbie and plastic fantastic lover may wonder why S&W would go through the effort to release a gun that is, on the outside, far behind in terms of technology, capacity, and weight. Lighter, faster, and softer-shooting guns are available everywhere, so why would a person consider dropping hard-earned cash on a vintage-styled six-gun?
The answer to this is simple: the past never really dies. There are those who look at the way things were and can't understand the draw of those golden years. Many people are comfortable in the idea of the present, where new and exciting things are always happening. Rarely do they stop and ask themselves where they are being led. Then there are some of use that look at the past and see that it speaks of the times when lawmen knew everyone in town by name and reaching the moon was a dream worth pursuing. The guns of our peace officers are a sad commentary about the realities of living in a world often governed by feeling and not facts.
The lines of the Model 19 Classic take you back to those special days. It is very likely that your father or grandfather had a gun like this, albeit a first run sample. The six-gun is linked to the American spirit, and the .357 Magnum is inseparable from the national legends of gangsters, G-Men, hunters, and famous fighters. It could be said that the Model 19, and even the earlier Model 27, are equivalent to the Colt SAA in our most recent century. The .45 Colt was a standard for decades and achieved many great things, just as the .357 Magnum did in the decades after the old soldier lost popularity.
It should be no surprise to you now why Smith & Wesson chose to bring this gun back. Unlike many legacy guns, the Model 19 has some significant uses today. The .357 Mag has never lost effectiveness in any role that it has been used for, be it hunting, self-defense, target shooting, and law enforcement. There are likely thousands of officers across the country that still rely on this cartridge as a back-up.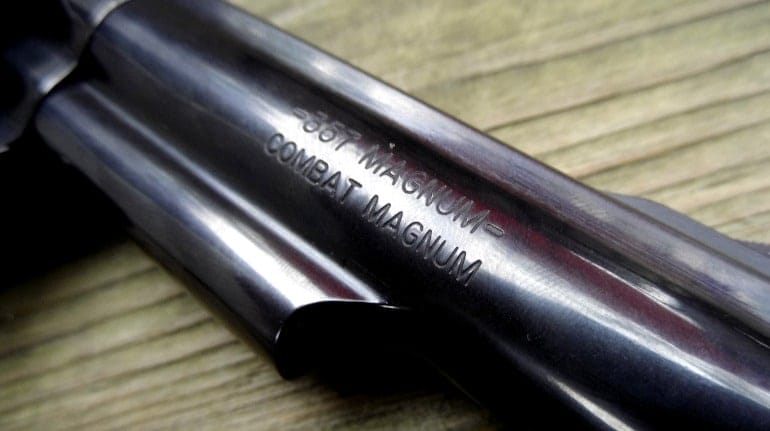 The Model 19 Classic differs from the originals in several ways. It incorporates an integral trigger lock and a frame-mounted firing pin among other small changes. It is not a 1:1 copy of the original, but rather a modernized take. Just like the original, it has a beautiful blued finish and wooden grips. Overall, this is a solidly built revolver that has all the handling characteristics of those from years past.
The nice thing about this gun, as opposed to others made today, is that it takes advantage of a heavy barrel. The balance of this 37oz piece is great and making shots at 50 yards from a rest is easily done. The forward weight of the barrel helps to reduce muzzle jump and allows for fast and accurate close to medium range shooting. Many of these features were revolutionary at the time they were introduced, which is why the original Model 19 was so sought-after by lawmen.
For my review of this gun, I decided to test several .357 Magnum loads from some great manufacturers. I tested the loads for accuracy at 25 yards from a rest. Groups are the average of three, five-shot groups. Velocity results are the average of five shots taken over my Oehler 35P chronograph.
Hornady 125gr XTP———————————————————-1330fps, 2.5"
Hornady 135gr Critical Duty FTX——————————————-1225fps, 1.9"
Hornady 158gr XTP———————————————————–1212fps, 2.8"
Black Hills 125gr JHP———————————————————-1424fps, 1.75"
Black Hills 158gr JHP———————————————————-1200fps, 2.2"
HSM 158gr JSP——————————————————————1210fps, 1.75"
SIG SAUER 125gr FMJ———————————————————-1347fps, 2"
This gun was a pleasure to shoot and the accuracy was great coming from the 4.25" barrel. The trigger broke clean and I was impressed with how easy it was to make follow-up shots. The Hornady loads all did very well and I wouldn't hesitate to carry any of them. The best performer among the Hornady ammo was the Critical Defense 135gr FTX. This is a load that I have fired quite a bit in the past and I think that it is a great balance in power and recoil.
The two Black Hills loads had much more snap than those from Hornady, but they made up for it with a bit more of a ring on the steel plates. I had no issues with accuracy at all with these two JHP loads and was very happy with how they felt in this wood-gripped gun.
SIG SAUER's 125gr FMJ is a great practice round that is both accurate and affordable. I ended up putting the highest volume of this particular round through this gun and it ran great. The nice thing about it is that you can train with the affordable FMJ variant and carry the V-Crown JHP, which is identical in muzzle velocity and felt recoil.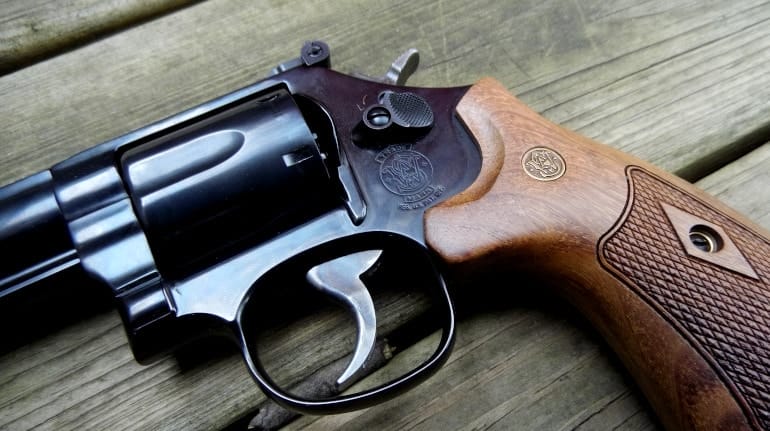 The last load I tested was the HSM 158gr JSP. This is a classic bullet type and is very similar to some of the original .357 Magnum loads. This load was very, very mild in terms of recoil, but it delivered great accuracy and velocity. It had the least muzzle jump of any load tested.
I think that, at the end of the day, this is a gun for a very specific person. Many will shrug at it, but this is a solid gun that takes some of yesteryear and blends it with some of today's features. Would I like to have a true, 100% replica without the internal lock and a fixed firing pin? Sure, who wouldn't? However, the odds of finding a good condition example from the early years is very difficult. With this gun, you can have your vintage cake and eat it, too. I think that Smith & Wesson did a very good thing by bringing this classic back. If you wrap your hands around one at your local gun dealer, I'm sure you'll agree with me.
For more information on the Model 19 Classic, go to www.smith-wesson.com. Ammunition used in this article can be seen at www.hornady.com, www.black-hills.com, www.sigsauer.com, and www.hsammunition.com.
---
About Josh Wayner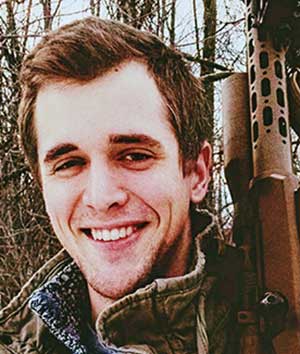 Josh Wayner has been writing in the gun industry for five years. He is an active competition shooter with 14 medals from Camp Perry. In addition to firearms-related work, Josh enjoys working with animals and researching conservation projects in his home state of Michigan.