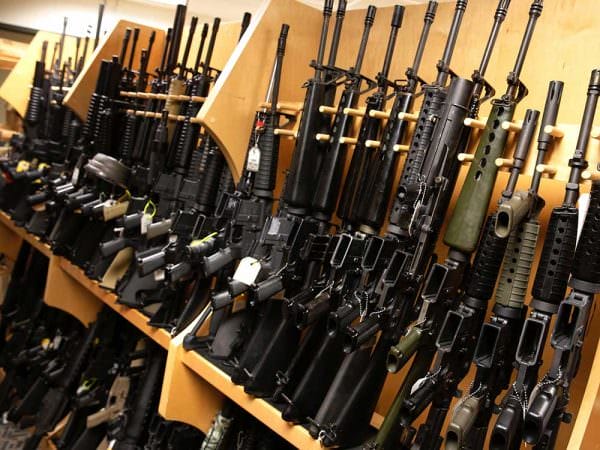 U.S.A. –-(Ammoland.com)- House Democrats plan to push for universal background checks for all firearms transfers in the new session of Congress.
Rep. Mike Thompson (D-Calif.) will be introducing the bill in the upcoming year. If Thompson gets his way, all private transfers would be required to go through a background check. The background check will be performed using the FBI's flawed National Instant Background Check System.
Unlike previous legislation, Thompson's bill will not have an exception for the transfer of firearms between family members. It would mean even the transfer from a husband to a wife would require going through an FFL.
Thompson believes that the legislation will prevent mass shootings like that shooting that took place at Parkland Florida. Seventeen students were killed in Parkland by a deranged gunman who was able to pass a background check.
At least one Republican will join the Democrats in their push for universal background checks. Rep. Peter King (R-N.Y.) told the far-left magazine, Mother Jones, that he would support the bill when it is introduced.
King has a history of supporting gun control in Congress. In 2017 he co-sponsored H.R. 4240 with Thompson. That bill, which was known officially as the Public Safety and Second Amendment Rights Protection Act of 2017, was also a universal background check bill. Fourteen Republicans co-sponsored the bill which never reached the House floor.
Gun rights advocates worry that universal background checks will create a national gun registry. A gun registry would make a gun confiscation more viable by creating a database of all firearms and who owns them. Right now, 78% of all gun transfers are done with a background check.
The NRA, GOA, and most other gun rights organizations vehemently oppose any type of universal background checks. The NRA's Dana Loesch has pointed out that NICS currently doesn't work and has failed to prevent multiple mass shootings.
"This madman passed a background check. How was he able to pass a background check? He was able to pass a background check because we have a system that's flawed," Loesch said at the CNN Town Hall after the Parkland shooting. "It is not federal law for states to report convictions to the NICS system. It is not federally mandated. That's the big question, and I wish that this network had also covered this more."
Thompson has met with anti-gun groups such as the Brady Campaign to Prevent Gun Violence, Everytown for Gun Safety, the Center for American Progress, the Coalition to Stop Gun Violence, and Gillfords to help craft the legislation. All these groups have applauded Thompson's hardline stance and believe that they will be able to get the bill out of the House.
"The American people are on our side," Director of Government Affairs Robin Lloyd at Giffords told Mother Jones "We'll get strong universal background checks out of the House, and we believe it's going to be bipartisan."
It seems that this bill will be able to pass through the House of Representatives now that Democrats have control of that chamber. In the Senate, the measure most likely will never make it to the floor due to Republicans still having control of the Senate.
Even if the bill somehow made it through both the House and the Senate, there is little chance that President Trump would sign it since he opposes universal background checks and there is no chance of a veto being overturned.
---
About John Crump
John is a NRA instructor and a constitutional activist. He is the former CEO of Veritas Firearms, LLC and is the co-host of The Patriot News Podcast which can be found at www.blogtalkradio.com/patriotnews. John has written extensively on the patriot movement including 3%'ers, Oath Keepers, and Militias. In addition to the Patriot movement, John has written about firearms, interviewed people of all walks of life, and on the Constitution. John lives in Northern Virginia with his wife and sons and is currently working on a book on leftist deplatforming methods and can be followed on Twitter at @crumpyss, on Facebook at realjohncrump, or at www.crumpy.com.