U.S.A. –-(Ammoland.com)- The fighting guns of the United States Army holds a special significance to nearly all groups in our country. Some despise them and others hold them in reverence. In the gun world, we tend to do both, but for our own reasons. Today we are looking at the civilian version of SIG SAUER's M17.
When the P320 series was first released, it was met with some criticism. The negative press continued for several years as the design was put through other trials and a great deal of scrutiny. I remember there was even a bit of un-ironic laughter in some of my writer's circles when the P320 design was entered into the Army's XM17/18 MHS competition. It was believed that another brand of pistol, long a favorite of tactical and military groups, would handily win.
Yet, for all the damage and poor coverage, SIG emerged victoriously and their gun was officially dubbed the M17. Almost immediately there was a flurry of outrage, lawsuits, and general disbelief which shamed the community at large and brought dishonor to the names of those in denial about the Army's choice.
The infantile repudiation of the new M17 came as no surprise to many, as the opposition to it was primarily composed of an army of non-military fanboys who felt slighted that the 'better' gun had not won. The fact is the laundry list of complaints were not at all justified and the gun that actually won is the gun that followed the rules of the competition in terms of modularity and technical requirements. This gun, being a P320, makes use of a removable internal chassis.
The pistol we have here is just about as close to the actual M17 as you can get on the street. SIG released a limited run of the real deal in a collector's box with other goodies, but only to the tune of 5,000, which is small change considering how many other P320 pistols have sold in recent days.
The only real differences between this M17 and the military version are essentially cosmetic. The civilian gun features black controls as opposed to tan on the military model. There are also minor differences in the engraving and the type of anti-corrosion finishes used. Other than that, they are basically the same gun.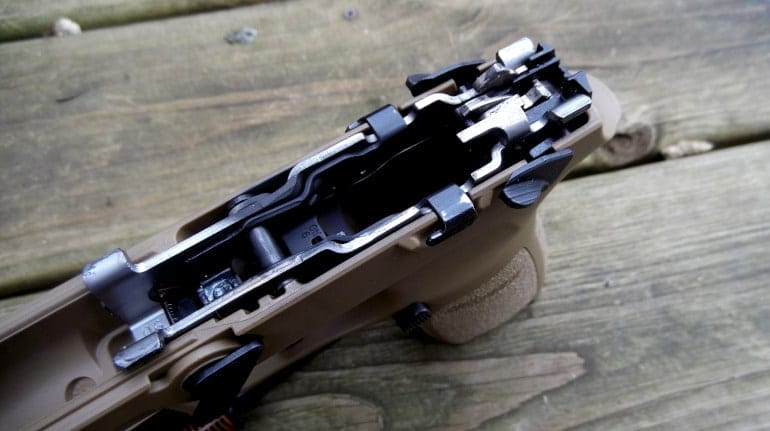 The pistol has a number for features that make it an excellent choice not just for those who enjoy military guns, but for the discerning shooter. While not a small gun, it is light at 29oz empty and can be easily carried. Magazines hold 17 rounds, but larger ones are available from SIG. The gun ships with two 17 rounders. Barrel length is 4.7" with an overall length of 8", making it similar in size to other service pistols.
Like many of SIG's new P320 pistols, the slide is cut for alternative sights. The plate on the back end of the slide carries the rear sight and it can be removed by backing out two screws hidden in the interior near the firing pin mechanism. I find this particularly handy and a great thing as you won't have to send it off to a gunsmith in the event you want to mount a red dot sight. The gun comes with a nice set of night sights.
Unlike other P320 pistols, the M17 has a manual safety. This was stipulated by the Army and it is an excellent addition to the design. I personally love having a safety on a pistol that I know I will be out in the brush with. While I understand that many people despise a manual safety, I personally see nothing wrong with it. I enjoy that it is a fast, easy to use, and ambidextrous. Another small but useful addition is a subtle loaded chamber indicator.
The trigger, of which there has been much discussion regarding the P320 series, is both light and crisp. My example breaks clean and resets quickly and audibly. When the safety is engaged, the trigger is rendered inoperable, but the slide can still be manipulated in order to load or unload.
Firing the P320-M17 is a truly enjoyable experience. After having completed a half dozen articles on the .44 Magnum across various media outlets in the last few weeks, this was a real treat. The recoil was very low, even with the top end of 9mm ammo. Follow-up shots were fast and accurate. In the course of my testing, I did not have a single issue to speak of as far as reliability. I fired about 700 rounds from the pistol after I took it out of the box. I did not clean it at all during any point of testing.
For the accuracy and velocity portion, I tested many kinds of ammo over my Oehler 35P chronograph. Accuracy is the result of three five-shot groups from the bench at 25 yards. Velocity is the average of those same groups.
SIG SAUER 115gr V CROWN————————1225fps, 2.5"
SIG SAUER 124gr V CROWN ————————-1201fps, 2.0"
Black Hills 115gr FMJ———————————-1195fps, 3.0"
Black Hills 125gr Honey Badger Subsonic———967fps, 2.25"
Black Hills 100gr +P Honey Badger——————-1349fps, 1.25"
Buffalo Bore 147gr Outdoorsman——————–1098fps, 2.5"
Buffalo Bore Barnes 95gr +P+ ————————–1544fps. 1.5"
Hornady 124gr +P Critical Duty————————-1215fps, 2.0"
Hornady 135gr +P Critical Duty————————-1175fps, 1.75"
Hornady Custom 147gr XTP——————————1019fps, 2.5"
Hornady Critical Defense 115gr FTX——————-1204fps, 2.5"
I hear it quite a bit that there is a problem with the P320 series in that they have a high bore axis and a muzzle that droops downwards when shooting rapidly. I have spent a great deal of time with many in the series and have never had this issue. While it is true that the P320 does have a comparatively high bore axis, it is not anything that borders on the extreme. I had no issues with it as far as shooting it accurately or quickly.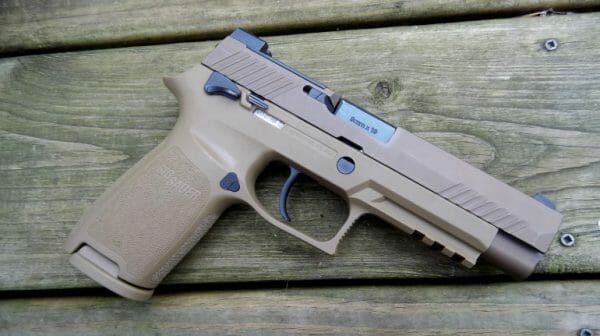 At the end of the day, this is not the same gun that the military has. It is, however, the same gun in spirit and function and will serve you well for years and years. The fact that you can own something essentially identical to the most advanced and modular service pistol in the world just a few months after it was adopted by the greatest military power ever says a great deal about SIG and how they value this design.
For more on this great pistol and SIG ammo, go to www.sigsauer.com. The ammunition used in this article can be seen at www.hornady.com, www.buffalobore.com, and www.black-hills.com.
---
About Josh Wayner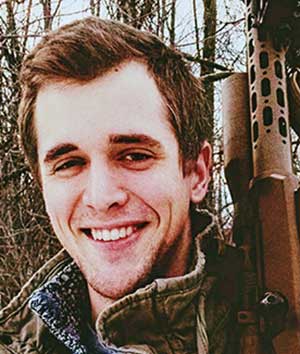 Josh Wayner has been writing in the gun industry for five years. He is an active competition shooter with 14 medals from Camp Perry. In addition to firearms-related work, Josh enjoys working with animals and researching conservation projects in his home state of Michigan