U.S.A. –-(Ammoland.com)- Sometime around 2008, I started hearing people recommend AR optic mounts from American Defense. It wasn't until 2017 that I picked up some mounts of my own. We are a bit beyond the one year mark now, and I'm quite pleased to report my findings. I'll front-load my conclusion for those with limited attention spans— they're rock-solid—good-to-go—bomb-proof—pick a positive OoRah statement and insert at will.
Let's talk about why I'm ready to sing American Defense's praises.
First, let's identify the examples I've been using. I have the:
Patented Technology
The patent is on their remarkable QD Auto Lock Lever System. In my opinion, here is the stand out attributes of this system:
The square steel cross bolts are created to work in both mil-spec and non-mil-spec rails. The positive locking tab will set position, preventing accidental displacement.
The Gen III lock lever angles outward and has vertical knurling for enhanced engagement.
These attributes and more translate into a lock mount that locks in place, hold on tight and refuses to lose zero. American Defense stays put as well as a Baptist grandmother saves her family's pew at a revival meeting.
Bomb-Proof Construction
These little mounts are no heavier than they need to be but substantial enough to be nearly indestructible. Your optic will fail before the mount will— there's no doubt about it. American Defense arrives at this rock-solid result by machining from 6061 T6 Aluminum and hard coat anodizing each part.
The cross bolts feature positive lock engagement, allowing for a precise fit; this exacting tolerance improves reliability.
Commitment to Industry Best Practices
American Defense is a part of the gun culture. They machine their mounts and rifles right here in the USA. They charge a reasonable price for an above average product. They build to the specifications they themselves want to use. They don't tolerate weakness. They intentionally produce mounts for a wide spectrum of optics. American Defense's selection of mounting solutions also includes packages that pair a mount with the corresponding most popular optics, ready to go. Lastly, they back their products with a 100% unconditional warranty.
Over the past year+ I've put a few thousand rounds through rifles wearing American Defense mounts. I've tried them on ARs from various manufacturers. I've used them in all kinds of weather. I wouldn't say that I've torture tested them, but I haven't come close to babying them. I would have torture tested them, but various others have already done so and the mounts have proven themselves consistently good-to-go. I personally don't own a red dot with a different mount manufacturer under it (on a rifle). I'm even considering replacing my current scope mounts but time will tell.
When someone asks about mounts, there's a short list that I recommend and American Defense Manufacturing sits at the top of that list.
What AR mounts do you like best? Let's talk about them in the comments below.
---
About Brian (Rev) Norris: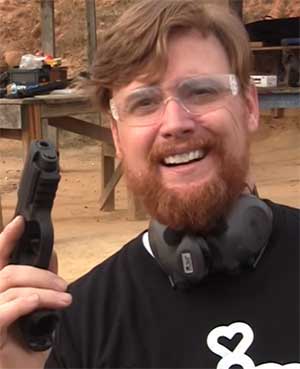 Brian (Rev) Norris, in addition to writing and talking guns and gear via video, is a pastor (hence the "Rev") who specializes in mentoring young men in the urban context. If he catches a moment of free time, you'll likely find him enjoying his family or heading to the range on his motorcycle. Brian has enjoyed the shooting sports since his father introduced them to him as a child. He's an outdoorsman who enjoys life to the full.