U.S.A. –-(Ammoland.com)- After spending a week in Las Vegas and walking the endless aisles at SHOT Show, here are my top five new firearms for the new year. These rifles/pistols are for one reason or another a product that I think will not only excite firearms enthusiasts but show innovation and growth from that company. More important, these firearms all continue to develop upon my favorite firearm platform: the AR-15.
First and by far my favorite product at SHOT Show this year, Brownells newest addition to their Retro line, the BRN-180.
Based on Armalite's AR-18 and civilian AR-180, which was originally designed in the 1960s as an upgrade to the M16 service rifle. Brownells' BRN-180 features many updates to this historic design.
Built on a reliable gas piston system, with a bolt carrier that rides on a pair of guide rods inside the upper receiver. This allows the BRN-180 upper receiver to function with any mil-spec AR-15 lower receiver! Although this compatibility is by far the best feature there is still much more, including the ability to utilize a side folding stock and remain functional while in the folded position.
Brownells BRN-180 is by far the most exciting product to be announced this year and with pre-orders currently selling at $799.99. Overall there is no doubt that this upper receiver deserves the first spot as the most interesting and awesome retro rifle to arrive yet!
Angstadt Arms was recently chosen by the US Army as one of six companies competing Sub Compact Weapon Program contract requesting an ultra-concealable 9mm sub-machine gun. Angstadt brought to the table the SCW-9 Sub-Machine gun and included design features such as last round bolt hold open on an empty magazine, the use of GLOCK magazines, and their patented SCW Stock.
Looking at this sub-gun it is very easy to see how this platform could be concealed, under a coat or in a bag by a security detail. The overall length when the stock is deployed is only 14.7"!
The most exciting part of the platform is the SCW stock system that will not only feature in the Army contract but will also be available for civilians and will work with AR-15s. The SCW stock is the shortest AR-15 stock on the market at only 2.5" collapsed.
The SCW stock rides high enough along the upper receiver when collapsed that it still allows full operation of safety selector. Also, the SCW stock only has one rail on the left side of the receiver which will allow unencumbered access to the forward assist on AR rifles. One last feature of the stock is that it does not have a button to extend it to the rear, simply pulling on it will place it into the extended position, making for much faster deployment from concealment.
In case you were wondering, yes, Angstadt is already developing a pistol brace similar in length and design to the SCW stock system.
SIG has been at the forefront of these top five lists for the past few years, whether its optics, rifles, or pistols. In this case, SIG has introduced a factory-ready-to-suppress MCX pistol.
Other than the suppressor and SBR, which you will have to wait for like everyone else, this rifle is ready to attach a can and shoot silent. If you are looking at the muzzle device and scratching your head, the CaneBrake is shipped with an inert training device that mimics the size and weight of a SIGSRD762 suppressor. The inert muzzle device works to protect the shooters hand from any muzzle flash so the firearm can be used while you wait for the ATF to free your suppressor from NFA-jail.
With the CaneBrake all the owner needs to do is wait for the ATF to process their paperwork and they will be ready to shoot the Rattler in its intended 5.5″ suppressed configuration. SIG Sauer has provided a complete package for anyone wishing to two-stamp a SIG MCX Rattler, and that is awesome!
SPECS
OPERATING SYSTEM – Gas Piston
CALIBER – 300 Blk
BARREL LENGTH – 5.5 in (140 mm)
Back by consumer demand, LWRCI has introduced the R.E.P.R. MKII-SC and it looks amazing! Fitted in this image with an 18" PROOF Research carbon fiber barrel, Magpul PRS stock, and a Geissele two-stage trigger. There were multiple other configurations, including a short barreled variant and others available in 6.5 Creedmoor.
Having a side charging handle will make for much easier manipulation of this rifle from prone and benchrest positions, and is ideal for this type of rifle. LWRCI has delivered a complete semi-automatic rifle for long range shooting, not sure much else needs to be said other than, I want.
Claiming the number five spot, because it was so awesome and yet so upsetting at the same time. Available for law enforcement first, and eventually for civilians once production and back stock are created, the Geissele Super Duty LE rifle line.
This is actually one thing I think will excite every AR-15 enthusiast out there: full Geissele AR-15s.
But with that excitement there is a catch. These rifles will not be available to civilian markets for at least the next year. When speaking to Bill Geissele at Industry Day at the Range, his explanation made perfect sense and it did lessen the blow of disappointment that unless I decide to don a badge this rifle will have to wait. The short story is the Super Duty line will be fully customizable, from barrel length, to parts kits, to trigger, and cerakote finish. These rifles will be speced to the specific law enforcement units and eventually down to the individual consumers wants and needs, which sounds like everything we could ask for from the AR-parts king that is Geissele.
So Geissele will run machines non-stop building receivers, barrels, and parts; assembling these custom dream rifles. They will receive feedback from real-world use from law enforcement and they will refine the product for us peasants, I mean civilians.
Since only LE can have it #1 became #5; sorry boo boo.
---
About Duncan Johnson: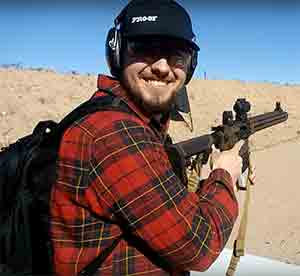 Duncan is a firm believer in the Second Amendment and that "shall not be infringed", means exactly that.  A life-long firearms enthusiast and a graduate of George Mason University, now competing regularly in 3 gun competitions, Duncan is always looking to improve his shooting skills. Duncan is a regular contributor to AmmoLand and assists in the everyday gun-news publishing as an assistant editor.