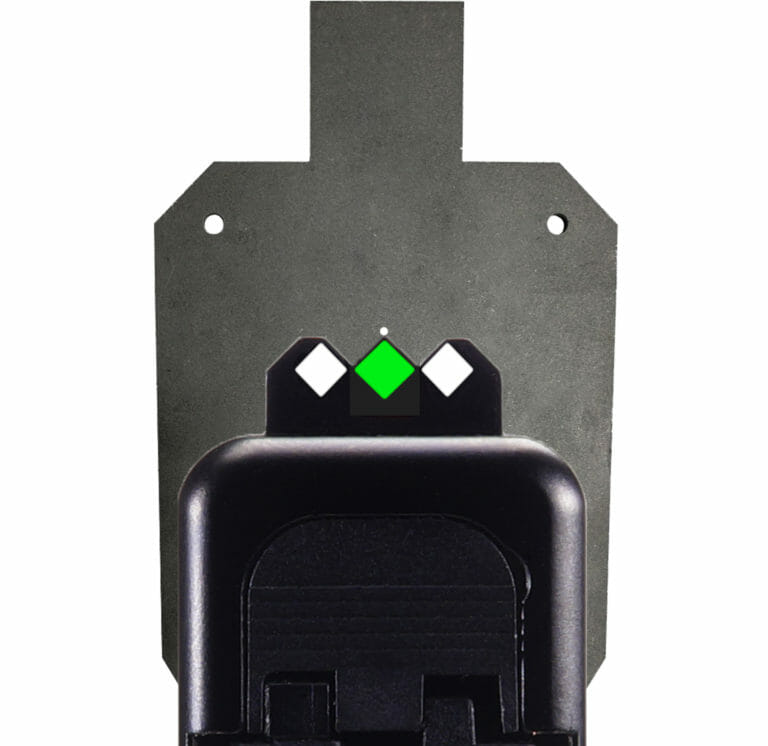 U.S.A. –-(Ammoland.com)- It is not often that I take the time as a writer to review a set of pistol sights. When I write reviews of handguns I will often point out the advantages or drawbacks of the factory sights. Of course, when building a pistol from the ground-up I will mention why a particular set of sights were chosen. However, I came across a new set by a company called Speed Sights that was a bit different than what is out there.
More so, the after-action report by a police officer who used these sights in a life or death gun battle made me want to evaluate these for myself.
The Incident
On June 22, 2015, Sergeant Jim Vogel of the Pittsburgh Police Department installed a set of Speed Sights on his Glock 17 duty pistol. He thought the installation was amazingly simple and like most of us, he loaded his pistol, placed it in his holster and went to work, thinking he could fine tune them at the range in the next day or so. A call out to respond to an active shooter derailed those plans.
The shooter was a felon who had just posted bail a few days previous and was awaiting trial for a host of charges including hit-and-run, drug-dealing and weapons possession. Armed with an illegally acquired AR-15 he began shooting at random citizens and carjacked someone to steal their vehicle.
He drove the stolen car down a crowded 4-lane highway only to get stuck in traffic.
Barricaded in the car behind a concrete road divider he was able to keep the responding officers at bay in what could have been considered a target-rich environment.
The officers were faced with a long distance protected target and armed only with their service pistols.
When Vogel arrived on the scene, he too was stuck in traffic and sprinted 200 yards in an attempt to close the distance to the shooter.
Sergeant Vogel was able to stop the active shooter with multiple headshots from at least 30 yards away with his newly installed Speed Sights on his Glock 17 while under fire from a gunman armed with a rifle. Although he credits his training and the actions of his fellow officers for bringing the incident to an end; he particularly gives credit his newly installed set of Speed Sights.
"It is amazing how fast these sights are to acquire. They gave me confidence and a real-world edge that morning on Route 51 in Pittsburgh. I made headshots from nearly 30 yards away while being shot at by rifle fire, even under that stress which included a 200 yards sprint into combat, I was able to focus on both the sight and the shooter at nearly the same time.  I believe these sights are one of the factors that enabled our successful resolution on that Monday Morning."
Sergeant Vogel's testimonial is a powerful one. It also seems to dismiss what too many trainers will tell you about not seeing your pistol sights in a gunfight. It seems it is one of those areas that is almost evenly divided. For as many gunfight survivors that will tell you they saw every machining mark on their front sight as they lined it up, an almost equal number will not remember using their sights at all.
Align the Sights or Point Shoot?
I find myself more of a "use your sights" type shooter, although I will admit that in some situations I have resorted to "point shooting". When shooting something like the Seecamp LWS with no sights it is literally the only way to do it.
Speed Sights sent me a set of their night sights for my Glock 30S. This is a bit of a "sleeper" pistol as not many folks have heard of it. Essentially it is a Glock 30SF (Short Frame) frame, with a slimmer Glock 36 slide mounted on it.
The advantages are a hard-hitting pistol in 45 ACP that makes for a smaller carry package with the bonus of being able to fit in holsters made for the more common Glock 19 or 23 due to the thinner profile of the slide.
The sights installed within minutes. After centering the rear sight, it was screwed down by a hex-nut in the center for extra security. These sights are low profile and the front has a nice rake to better fit in any holster.
At first glance, what jumps out at the user is the shape of the "dots" on the sights. Rather than the typical round profile, each one is shaped like a diamond. I found them much easier to align and see than almost any other night sight I have used. It is almost as if my eye is drawn to the profile better than a typical round dot.
I ordered the contrast set with an orange front and green rears. This was something I had never given much thought to in the past as I would typically go with all one color, either green or white. A charlatan instructor/salesman tried with the unconvincing argument years ago that contrast was necessary in order to not misalign the sights in complete darkness to make sure the front was always centered.
If that clown is still out there teaching, beware, he does not know how to teach his students the proper way to hold a pistol.
Seeing the contrast reminded me of my collection of Smith & Wesson and Ruger revolvers as well as a Colt Detective Special that I got from the late Jim Cirillo decades ago: those guns all had an orange ramp front sight for improved sight visibility. In the case of the Colt it was a post-factory modification, but it works well for its intended purpose.
The Glock 30S had never particularly impressed me with its factory sights, but the Speed Sights changed all that. I could see the edge that Sergeant Vogel spoke about. The Speed Sights seemed so much more crisp and brighter and it made all the difference at the range.
Another benefit of the Speed Sights is that they are completely visible during the day when most night sights just sort of wash out and take up space on the slide.
I thought I had sworn off aftermarket night sights years ago, based on their lack of performance in a low-light class. I find myself rethinking that decision, now.
In a sense, these sights represent the best of both worlds, whether you align your sights or rely on the "flash sight picture" of point shooting. Either way, your eye should be drawn to that diamond shaped front sight and as Sergeant Vogel can testify, you can focus on the sight and the target simultaneously.
Confidence
The number one complaint I hear from seasoned shooters looking at new sights is that they are uncomfortable with them. This is a mindset that affects about 5% of the shooting population based on my personal experiences. They simply will not open their minds to new concepts, particularly improvements on old designs.
Had this mentality been embraced by more people, we would still be shooting vestigial iron sights like those found on the original Colt Model 1911 or worse, the hammer mounted rear sights of the Colt Walker.
Don't get stuck in your ways, give new technologies and methodologies a chance. Sergeant Vogel did so and it made the difference between life and death.
MSRP for Speed Sights with Tritium inserts is $149.50 and they are available for Glock, S&W M&P, Walther and Springfield's XD line of pistols.
For more information go to https://speedsights.com/
---
About Mike Searson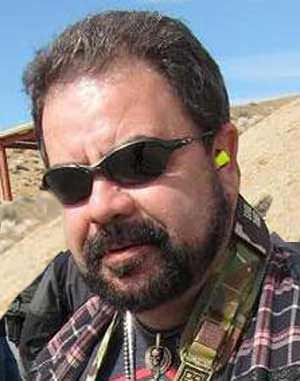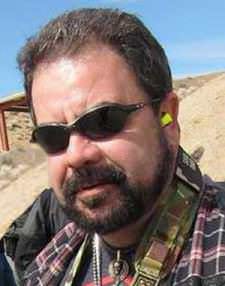 Mike Searson's career as a shooter began as a Marine Rifleman at age 17. He has worked in the firearms industry his entire adult life as a Gunsmith, Ballistician, Consultant, Salesman, Author and was first certified to teach firearms safety in 1989.
Mike has written over 2000 articles for many magazines, websites and newsletters including Blade, RECOIL, OFF-GRID, Tactical Officer, SWAT, Tactical World, Gun Digest, Examiner.com and the US Concealed Carry Association as well as AmmoLand Shooting Sports News.
Homepage: www.mikesearson.com
FB: www.facebook.com/mike.searson
TWITTER: www.twitter.com/mikesearson