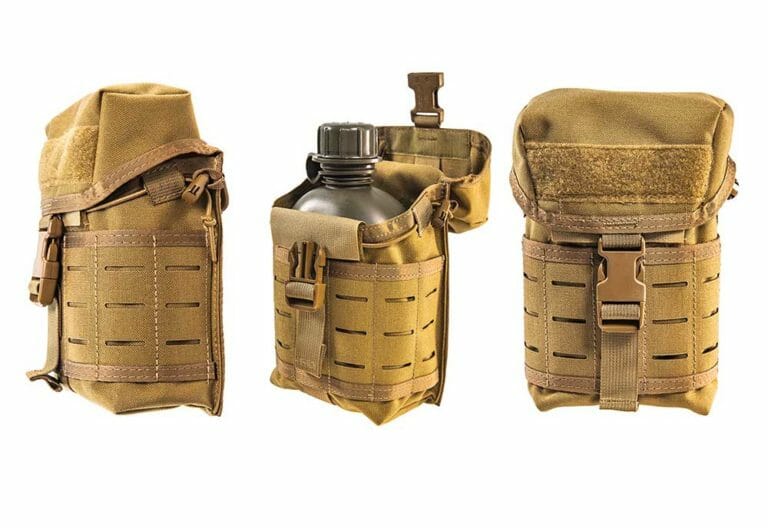 Swansboro, NC –-(Ammoland.com)- US manufacture of Battle Proven Tactical Gear, High Speed Gear is pleased to announce the addition of their versatile One-Quart Canteen Pouch to its military line of equipment.
This pouch is designed to fit standard-issue USGI canteens with canteen cups. The canteen pouch has plenty of room for both canteen and cup with an additional internal pouch for cup lid or small survival camping stove.  The pouch cover and integrated bungee keep your contents secure while at the same time minimizing noise generated by loose contents. Users can rest assured that their contents will stay secured during typical rigorous activity they're likely to encounter on military operations.
In addition to fitting standard size canteens, the One-Quart Canteen pouch is versatile enough to carry other items like stoves, MRE's, or multiple rifle magazines. Eight MOLLE rows surrounding the pouch, provide additional ability to mount equipment such as Tourniquet TACOS, Medical Packs, or ammo pouches to keep all your equipment in easy reach. The included shoulder strap is the final piece to making the One-Quart Canteen adaptable enough to be a hiking pack, day bag, or satchel for any mission, canteen related or not.
"Some will think, it is just a standard canteen pouch; but when you add a perfect fit for both canteen and cup, with additional mission adaptability, then you have a piece of essential equipment you won't want to leave behind." Stated, Daniel Chaney, Senior Designer for HSGI
Key Features:
Built with 1000D Cordura®, double-needle binding, and bar-tack reinforcement at stress points
Utilizes a 1" side release buckle closure with optional Velcro® backup and Velcro® silencing flap
Features (6) columns of laser-cut MOLLE across front and sides for attachment of small pouches or other items
Includes adjustable shock cord to cinch down opening, as well as removable shoulder strap
Features interior pocket for canteen cup lid
Available in black, coyote brown, OD green, MultiCam® and MultiCam® Black
Dimensions – 6" x 4" x 9" (216 cubic in)
Weight – 7.36 oz
MSRP: $ 48.00
For more information please visit: www.highspeedgear.com
---
About High Speed Gear
The High Speed Gear® company, is dedicated to building the best 100% Made in the USA, Battle-Proven Tactical Gear™. Our products are designed for the highest level of comfort, functionality, and versatility. Satisfaction is guaranteed for all of our customers, whether military, law enforcement or responsibly armed citizens. Our products are user driven and are designed based on the operational experiences of a wide variety of end users.