Opinion
U.S.A. –-(Ammoland.com)- I know I've said this before, but as a kid, I don't remember but a handful of knife manufacturers. Now? It is mind boggling as to how many there are. And even more mind boggling is how many models each company carries. So I lived a sheltered knife life. But a buddy that I rodeoed with in college introduced me to Puma knives. As far as I know there was not an SGB line, they were only made in Germany. At that time, I remember seeing the German brand which resembled the Puma SGB Skinner Commando Stag knife and wanting one bad. But being in college only making $1.50/hr. working on ranches and winning some rodeos it didn't allow for much spending money.
To make one clarification. In the old days Puma was made of German steel in Germany. The modern SGB line is still made out of German steel but is built in China. So same design, just more economical.
The Skinner has been their top selling model for 5-years running. It was introduced in the mid 50's by Puma GmbH and has been the go-to skinning knife for a lot of hunters.
When you buy the Puma SGB Skinner you have the option of a wood or micarta handle which comes with a ballistic nylon sheath or the one which we're reviewing today which is a Puma SGB Skinner Commando Stag which comes with a leather sheath. I have a ton of knives with Kydex or ballistic canvas sheaths but for my hunting knives I prefer a leather sheath. Probably just because I'm a cowboy and was raised with leather. (The stag handle is actually a synthetic handle that Puma came up with which will be a story for another day).
If I can only have one knife to carry while out in the mountains, then it will be a clip point. The Puma SGB Skinner Commando Stag has an upswept blade which will suffice. There are just too many daily tasks that I do that requires some kind of a stabbing motion. And, you may find yourself liking to skin with an upswept blade better than you do with a clip point since it will skin a little more on the order of a drop point knife than a clip point.
The Skinner has a 5.2-inch blade which may be to big of a knife for kids and petit women or even smaller men. And it is a little bit of a handful for skinning, or maybe I've just got more used to using a 3 ½-inch blade the last 30 years. Maybe I've just changed my preferences, because I have skinned a ton of cows with a 6-inch blade.
I like the definite finger guard that it has and the grooves on the back of the spine. It has definite grooves so your thumb is stable and you will have a firm grip while skinning. For my size of a hand it fits perfectly.
As far as looks, I think that it is a nice-looking knife. The brass bolster sets off nicely against the stag handle and shiny silver blade along with the brass pins.
The only thing that I would change is that I might remove the leather thong that is included for a tie-down. The knife sets down deeply and snugly into the sheath but it has a thong on top to help tie/hold it in place. I see it hanging on brush while you're hunting and while I don't think that it would dislodge the knife, it might be a pain (It hasn't done this yet with me but it looks likely to happen. I think eventually I will remove the thong.
But still so I don't put any unnecessary fears in your head, the sheath is plenty functional and holds the knife securely in place.
The MSRP is $69.99 and as is usual we will close with the specs:
1.4116 German Cutlery Steel Blade
Blade Length 5.2″, Total Length 9.4″, Knife Weight 7.0 oz.
Commando Delrin Stag Handles with Brass Bolster and Pins
55-57 Rockwell Hardness, Tested and Proof marked
Handsome Leather Sheath with Lanyard Strap
---
About Tom Claycomb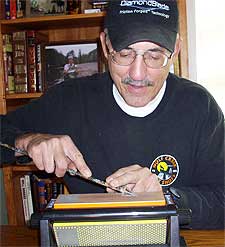 Tom Claycomb has been an avid hunter/fisherman throughout his life as well as an outdoors writer with outdoor columns in the magazine Hunt Alaska, Bass Pro Shops, Bowhunter.net and freelances for numerous magazines and newspapers. "To properly skin your animal you will need a sharp knife. I have an e-article on Amazon Kindle titled Knife Sharpening for $.99 if you're having trouble."
Disclosure: Some of the links below are affiliate links, meaning at no additional cost to you, Ammoland will earn a commission if you click through and make a purchase.