WASHINGTON, DC –-(Ammoland.com)- The American Suppressor Association (ASA), the unified voice of the suppressor community, fully supports President Donald Trump's nomination of Chuck Canterbury to serve as the next Director of the Bureau of Alcohol, Tobacco, Firearms, and Explosives (ATF). ATF has been without a permanent director since B. Todd Jones resigned in 2015.
"As the regulating body of our industry, ATF has a tremendous amount of control over our ability to operate and create jobs," said Knox Williams, President and Executive Director of ASA. "Because of their influence over our businesses, the ATF Director is, for us, one of the most important politically appointed positions that President Trump will fill. His nomination of Mr. Canterbury, which does require Senate confirmation, falls directly in line with his campaign promise to work with the firearms industry and protect the Second Amendment. Mr. Canterbury's resume and reputation highlight that he is the leader that ATF needs in order to become the bureau that they are intended to be."
For the past 16 years, Mr. Canterbury has served as the President of the National Fraternal Order of Police (FOP). During his tenure, in 2009, Mr. Canterbury went on record saying, "I want no mistake to be made. I take a back seat to no one in my reverence for the Second Amendment." Prior to FOP, he spent 26 years on the Horry County, South Carolina police force, ultimately achieving the rank of Major (Deputy Chief).
---
ABOUT THE AMERICAN SUPPRESSOR ASSOCIATION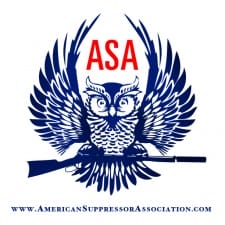 The American Suppressor Association (ASA) is the unified voice of the suppressor community. We exist for one reason and one reason only: to fight for pro-suppressor reform nationwide.
The ability of the American Suppressor Association to fight for pro-suppressor reform is tied directly to our ability to fundraise. Since the ASA's formation in 2011, 3 states have legalized suppressor ownership and 18 states have legalized suppressor hunting. Much of this would not have happened without your support. For more information on how you can join us in the fight to help protect and expand your right to own and use suppressors, visit www.AmericanSuppressorAssociation.com.