U.S.A. –-(Ammoland.com)- FN Manufacturing has been producing quality firearms for close to 130 years. One of their latest civilian designs known as the FN SCAR (Special Operations Forces Combat Assault Rifle) 20S boasts a proud US military background.
It is based on the FN MK20 SSR (Sniper Support Rifle) which is currently fielded as a Designated Marksman Rifle (DMR) with USSOCOM (US Special Operations Command). The SSR, in turn, is based on the SCAR-17, FN's successful semi-auto rifle based on the SCAR-H (Heavy) or Mk17 also used by the US Military.
The SCAR-17 seems to be one of those rifles that shooters either love or hate. I never formed an opinion either way. I have always liked the looks of the rifle but heard it was extremely hard on optics. The price tag kept me away, but only because I have several rifles that can perform the same tasks. So, I walked into this review with a fairly open mind.
For a pistol grip, FN went with a rubber Hogue model with finger grooves. Controls are ambidextrous, and the reciprocating charging handle can be moved to either side of the receiver.
Keep in mind where you place your non-shooting hand while shooting or that reciprocating handle may bite you.
Differences between the SCAR 20S & the SCAR-17
The first thing that hit me about this rifle was its weight. It is a full three pounds heavier than the SCAR-17 coming in at 11.2 pounds. The stock does not fold like the SCAR-17'sand the receiver is longer as are the bottom and side rails. Instead of the folding stock, the SCAR 20S has a stock adjustable for length of pull and cheek rest height.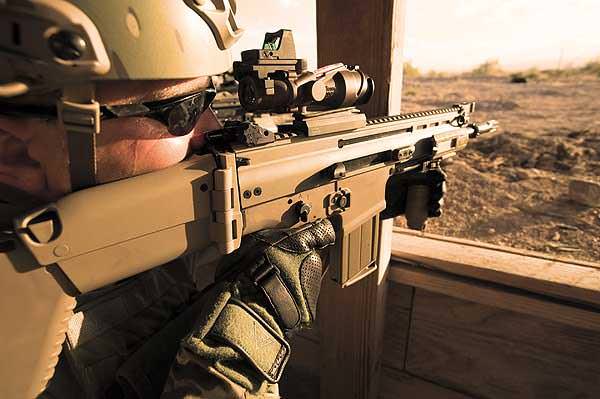 So, it may not be "just like a SCAR-17″, but it is almost exactly like its military counterpart, the SSR.
Noting that this is more of a precision rifle than a battle rifle, I checked out the barrel.
I am of the opinion that FN makes some of the best barrels in the world and they make barrels for a number of other firearms companies. The FN SCAR 20S sports a heavy contoured, cold-hammer forged, chrome lined 20″ barrel with a 1 in 12" twist. It is tipped with a three-prong flash suppressor threaded 5/8 X 20" and the barrel is free floated.
If the heart of the rifle is its barrel, this rifle has a lot of heart. However, you cannot forget the trigger, which is the soul and in this case, FN chose to go with the Geissele "Super SCAR" trigger.
The Geissele Super SCAR is designed similarly to the Geissele SSA. The Super SCAR is a 4.0lb. non-adjustable combat trigger that is a precision two-stage trigger and allows precise and accurate trigger control.
In spite of its weight, I found the rifle to balance extremely well.
FN SCAR 20S – Accessories
For most reviews, I try to keep things simple and not overload the gun with accessories. I'm a fairly minimalist type of shooter when it comes to add-ons.
However, there are a few that are must-haves with the SCAR 20S: optics, scope mount, rings, and a bipod. If this were going to be my own personal rifle, I would add a sling and there are plenty of mounting points for one.
FN provided a test scope and mount with the rifle in the form of a Nightforce ATACR 4-16×50 riflescope with a 34mm tube. More about this in the range report.
Although most commonly I run Harris bipods on my rifles, I wanted something a bit more robust, so I went with Accu-Tac's HD-50.
The Accu-Tac HD-50 is a rock-solid bipod that was designed for use on 50 BMG sniper rifles. It has the ability to cant, the legs are telescopic and instantly retract, the feet are removable without tools, the stance on the bipod is so wide that it is impossible for the rifle to tip over and this robust piece of CNC machined aluminum is backed by one of the best lifetime warranties in the industry.
Accu-Tac bipods do not mount via sling swivel stud but install directly on M1913 Picatinny rails. It firmly bolted into place in less than a minute.
From the factory, the FN SCAR 20S ships with a single 10-round short magazine. This allows for easier shooting from the prone position or from a bench, particularly when it comes to magazine changes from the prone position. The rifle will still accept standard capacity 20-round SCAR 17S magazines as well.
One of the reasons I had to add the bipod was because of the aforementioned weight of the rifle. I did not want to try shooting this off-hand (standing) or using the old Marine Corps hack of using a backpack for a rest. Tipping the scales at 11.2 pounds before you add ammo and an optic, it's more than 3 pounds heavier than the SCAR 17S. Add another 5 pounds with optics and bipod, too.
This added weight might not be a completely bad thing as the weight helps reduce the felt recoil and makes for a very smooth shooting platform.
FN SCAR 20S – At the Range
The test rifle was equipped with a Nightforce ATACR 4-16×50 rifle scope with a 34mm tube. The scope is nice bright and crystal clear. This is the ideal class of scope you want to use on a rifle like this. The 50mm objective is big, but not too big and the scope has a nice sleek look to it. It measures 13.1 inches and weighs 33 ounces.
Looks aside, what really impressed me was the size of my first five-shot group at 200 yards.
For ammunition, I tested 150 rounds of Federal Premium Gold Medal loaded with 168 Grain Sierra MatchKing Hollow Point Boat Tail bullets. This is the same ammunition I shoot in my M40A3 and Steyr SSG-69. Muzzle Velocity is 2650 feet per second with a muzzle energy of 2619 foot-pounds.
Although it was a few inches to the left and above my true point of aim, the widest part of this group was 0.881". I honestly think this was the tightest rifle group I have shot at this distance with a semi-auto in a long time. Some shooters have been cutting that almost in half!
The farthest I could shoot at this particular range was 300 yards. After making my elevation adjustments and corrections based on my point of impact at 200 yards I found the rifle shooting true to point of aim. This time the group measured 1.335". The easy and fine adjustments on the Nightforce made this effortless.
For the record, I am not a regular precision rifle shooter outside of occasional reviews of long-range/precision rifles, but I could see a rifle like this turning me into one. If I could shoot groups like these on my first time out, a better-disciplined precision rifle shooter, like most of Ammoland.com's readers, could probably perform much better with this rifle.
You have to keep in mind, though: with a quality rifle at this price point; you need to put the money into optics, ammunition and other incidentals like a clear spotting scope, range finder, etc. So that $4500 sticker price is still a baseline for a rifle with no sights. To have this rifle up and running properly will cost a minimum of at least another 50% of what you spend on the rifle.
Beyond being what may be the ultimate precision gas gun, the FN SCAR 20S is a dead ringer for its military counterpart and built to that standard.
You definitely get what you pay for with this rifle and it is well worth it.
Technical Specifications:
    Caliber: 7.62x51mm NATO
    Barrel Length: 20″
    Barrel Twist Rate: 1:12″
    Weight: 11.2 pounds
    O/A Length: 40.6″ – 42.5″
    Operation: Short-stroke gas piston
    Finish: Flat Dark Earth (FDE)
    Capacity: (1) ten-round magazine; compatible with FN SCAR 17S 20-round magazines
    Trigger: 3.5-4.5-pounds Geissele Super SCAR trigger (factory installed)
    MSRP: $4,499
---
About Mike Searson: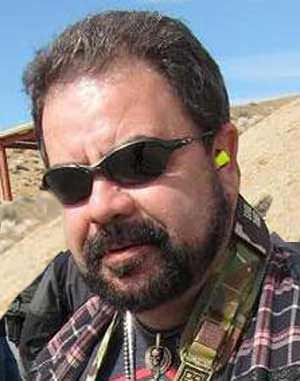 Mike Searson's career as a shooter began as a Marine Rifleman at age 17. He has worked in the firearms industry his entire adult life as a Gunsmith, Ballistician, Consultant, Salesman, Author and was first certified to teach firearms safety in 1989.
Mike has written over 2000 articles for a number of magazines, websites and newsletters including Blade, RECOIL, OFF-GRID, Tactical Officer, SWAT, Tactical World, Gun Digest, Examiner.com and the US Concealed Carry Association as well as AmmoLand Shooting Sports News.